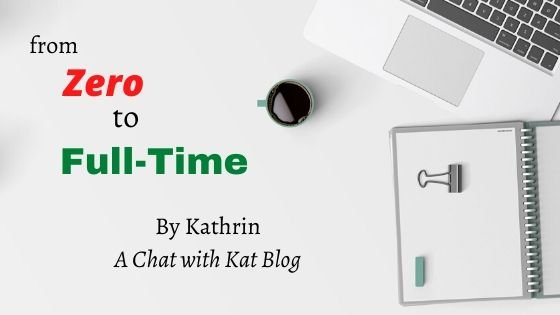 This week we have our first guest post on Cash for Kat! Today's article is about building a freelance income from scratch and it is written by Kathrin from A Chat With Kat blog.
0 to Full-Time Income
The red brick house loomed up ahead, casting a shadow over the street. Dark, empty windows stared down at me. I dropped my suitcase, wiped the sweat from my forehead, and walked up the driveway to ring the bell. No answer.
I returned to the street and sat down on my worn-out suitcase, wondering why nobody had told me London could be this hot in September. I longed for a shower after my uphill climb from Wembley Station to my Airbnb. Instead, I was stranded in this new city with no hosts insight, no friends, and no job. 
Point Zero
That was in 2017, my Point Zero. After completing my teaching degree in Switzerland and my Pilates certification in New York, I arrived in my city of choice, London, to start my career. All I had were the names of five recommended studios from my New York Pilates school.
Eventually, my Airbnb hosts arrived and I was let in. The bed was lumpy and the floor was dirty, but at least I had somewhere to stay and get started on my endless to-do list. 
Here are the steps I took to start my freelance career from scratch:
Before I moved to London, I researched Pilates jobs in the area through platforms like Indeed. I applied to a few, but none of them replied. Still, this allowed me to see what different neighborhoods there were and where many of the jobs were located. 

When I moved, I brought enough cash to last me for 6 months. I figured that this would be a good amount of time to determine whether living in London as a Pilates teacher was viable or not. 

The week I arrived, I researched the studios recommended by my school in NYC and messaged two. The personal recommendation really helped and, although they were cold emails and neither studio was actively looking for a teacher, both invited me for a trial. One offered me a temporary cover position, the other a permanent position. I still teach for that second studio five days a week, currently online but hopefully on site again soon. 

I kept messaging more places on Indeed and got some other interviews, one of which eventually led to another job. Once I was in the country and had a UK address, they were much more likely to respond to my application. 
After three months, I had a handful of clients and could pay my rent, if not my other living expenses. I was pleasantly surprised at my success and set myself the goal of covering all of my expenses by Month 6. 
Part-Time to Full-Time Income
In an effort to make more money and reach my 6-month target, I decided to branch out. 
"I saw an ad for a juice bar. They need baristas," I told my mother on the phone. 
"Isn't there something more closely related to your CV that you could do?" she asked. "Something that might lead to further opportunities?" 
So, thinking of my university degree in teaching, I googled 'German Teacher London' and found a listing: "German teacher needed immediately for class on Tuesday nights." 
I applied, went for an interview, and got the job. They were desperate to fill the vacancy, but I ended up being a great fit and stayed with them for two years. Through my Indeed search, I also found a tutoring website that allows tutors to connect with students all over London.
The combination of this newfound language teaching gig and the Pilates clients at the studio allowed me to meet and exceed my target earnings by Month 6. 
My mother was right. She always is! 
Full-Time Income and Beyond
As my clientele grew, I developed a reputation for being responsible and friendly. New client requests kept coming in, aided by personal recommendations from current students. The studio owner referred me to a lady looking for a corporate Pilates teacher, landing me a very well-paid gig at a law firm. Soon, I was making more than I needed. 
My earnings as a freelancer are directly related to how many hours I work, and this sparked an interest in personal finance. I researched what to do with my extra income and started investing. I cut out unnecessary spending that didn't make me happy and as my earnings kept growing, the savings rate skyrocketed until it stabilized at around 60% of post-tax earnings. 
The Ultimate Goal
At the beginning of my journey, I was very stressed about money. Would I ever be able to earn enough to support myself? What if my clients left? 
That's why I decided to save a large portion of my income and work towards financial independence. My goal is to uncouple my work from my finances: to have enough passive income from investments that I can work because I enjoy it, not because I need it to survive.
This freedom will take a lot of pressure off and allow me to fully focus on the clients' needs, without worrying about my own need for an income. Being financially free will not only give me more options but also allow me to better serve my students. 
Actionable Tips for Starting a Tutoring Business
Here are a few steps you can take if you'd like to explore tutoring as a side hustle idea. One of the main advantages is the flexibility of this kind of work: you can do one hour per week or you can work every day and make it your full-time job. 
Decide whether you'd like to teach in person, online, or both. Then, research some tutoring platforms to apply to. An example of a site accepting international teachers is LimLessons. 

Make a list of 5-10 platforms and spend some time applying to them. Some will work well for your subject and area, others won't, but you learn the most by trial and error. 

Actively try to find students on your chosen platforms. Make sure to leave your profile up for a few months, as it sometimes takes time for students to start requesting you. 

Deliver great sessions and ask your students to spread the word! 
Tell me about your experience: have you ever taught anything? What's your top tip for a brand-new tutor?
I am a language teacher, Pilates instructor, and blogger from Switzerland, currently living in London. Come join me for a talk about finance, fitness, and more on A Chat with Kat.