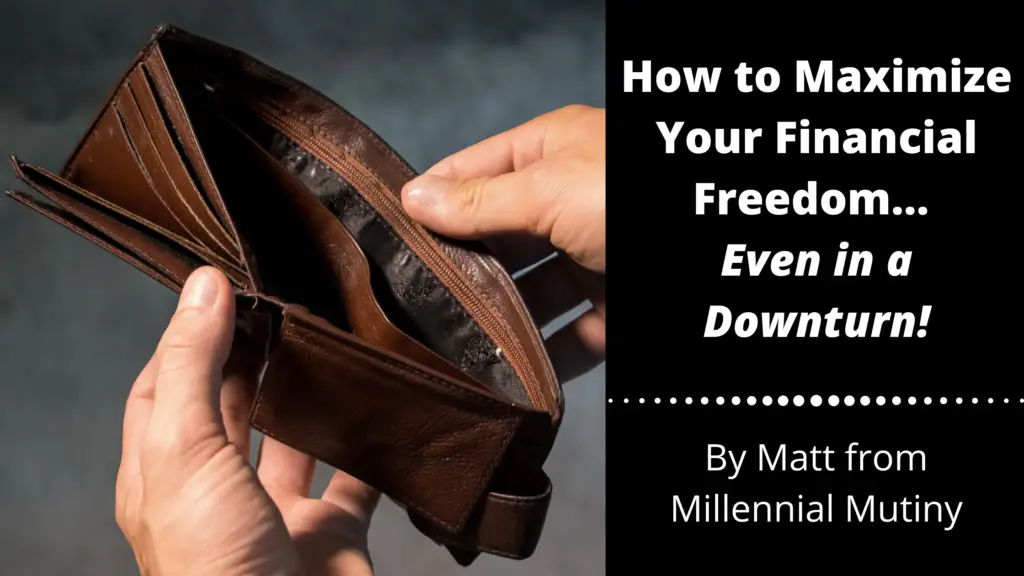 "How to Maximize Your Financial Freedom- Even in a Downturn", is our latest guest post by Matt at Millennial Mutiny!
This is Cash for Kat's 4th guest post! If you would like to start at the beginning, check out Zero to Full-Time Income by Kathrin from A Chat with Kat blog. Our last guest post was on Property Investments in South Africa by Johannes van der Spuy.
Without further ado, here is how you can maximize your financial freedom, even in a down turn!
Table of Contents
How to Maximize Your Financial Freedom- Even in a Downturn
So I think it goes without saying that 2020 will not go down in the history books as one of the easiest years in financial history. Not a day goes by at the moment without media reports of businesses closing, job losses, cutbacks and not to mention the stock market turmoil.
With all of this going on outside, it would be easy to get swept up in it all and put your own plans on the back burner. Perhaps it feels like things are hopeless right now and that it would be silly to be making long term plans, but that couldn't be further from the truth. Sometimes the middle of a crisis is the best time to reassess your long-term goals and aspirations.
Crisis often presents opportunity and this crisis is no different. If you had been hoping to achieve True Financial Freedom in your life, don't let Covid-19 hold you back. Now is the time to double down on your dreams – here are 3 tips to help you maximise your financial freedom, even in the midst of a crisis:
1 – Control the Controllable to Find Financial Freedom
There is so much to worry about during a crisis, it can be really hard to focus, but the best strategy is always to focus on controlling the controllable. This is especially true when it comes to your finances.
Ok, so perhaps you have lost you job – perhaps the stock market took a dive and hurt your investments, perhaps your car just broke down on top of everything else. These are all things largely outside of your control, but your response to them is within your power.
Let's take a job loss for example. That's pretty crappy – let's be honest. But – how you react to losing your job could be the difference between financial success and failure in the years to come.
Perhaps you have been wanting to start your own business (or blog perhaps) and you have been scared because it would mean walking away from your nice secure income. Well… now that income has gone away, it could be an opportunity to give that new business venture a go – after all, you now have nothing to lose.
Equally, perhaps you would like to find a new job, but in a different sector or industry. A job loss could finally give you the time to take that course or qualification that could allow you to move into that dream position a few months from now.
If the investment markets have taken a dive, now could be the perfect opportunity to invest some more money into the markets and take advantage of the lower prices. The stock market is the only market in the world where people panic when they have a sale on. In any other store, people would be delighted if their favourite products (read – favourite shares) were discounted.
After my near-death experience, it would have been easy to give up on my financial dreams while I recovered, but I kept pushing on. I didn't want to let the outside world control what was going on in my head.
2 – Review Your Budget
Now is a fantastic time to review your budgeting. Although losing a job or your income falling can be devastating, you can help improve the situation by taking a long, hard look at your budget and cutting back on unnecessary expenses.
I strongly recommend that you write down a list of all of your expenses over the past 12 months and then divide the list into 4 categories as follows:
Bedrock Expenses – Totally Essential – Think Food, Utilities, etc.
Foundation Expenses – Kind-of-Essential- These are generally things like mobile phone subscriptions, Netflix, etc, which although we all agree are sort of essential, we know they are not really if push comes to shove.
Lifestyle Expenses – Not essential – Nice to have – Think eating out, cinema, etc
Luxury Expenses – Definitely not essential – Think holidays, weekends away, etc
Now is a great time to be reviewing your budget, whether you need to or not.
Budget Categories
I would suggest you deal with each of the categories as follows:
Bedrock Expenses – Is there anything in here that can be re-negotiated or reduced? Many people continue to pay for an overpriced home or auto insurance when a better deal could be just a phone call away. Perhaps you could find some coupons or loyalty schemes that would reduce your grocery bill.
If you have lost your job or had your hours reduced, the one asset you do have at your disposal is more time. Why not use that time to help reduce your expenses?
Foundation Expenses – There could well be items in here that you no longer use or don't get value from. Is there anything that could be canceled or reduced? A great tool to help you get started is Cash for Kat's Subscription Removal Worksheet, which helps you reduce your monthly subscriptions and calculate your savings.
Lifestyle Expenses – This is the area where a lot of people are surprised when they see what they spend. Lifestyle expenses are sneaky – they creep up on you without you realizing.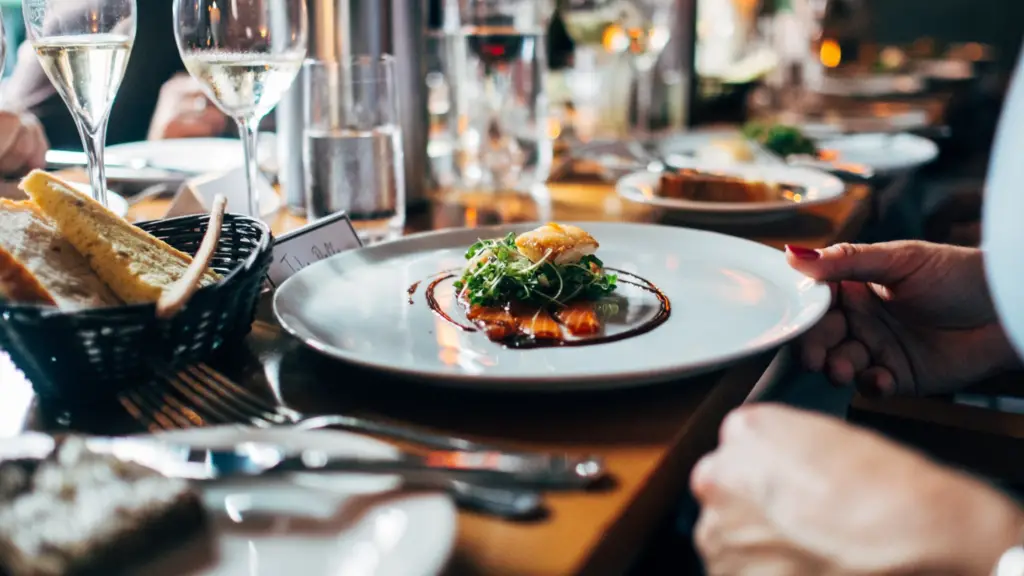 In fact, I think they are more dangerous than Luxury Expenses. You see, with big luxury purchases (holidays and cars for example) you tend to really think about these things.
You research these purchasing decisions and deliberate over the options. Lifestyle expenses are not like this. Lifestyle expenses are the quick coffee on the way to work, the meal with friends on a Friday night, the hair cut at the weekend.
We don't tend to consider these purchases nearly as much and, although they don't tend to be massively expensive individually, these things can really add up. It's not unusual to find people who spend several hundred dollars a month on eating out but have no idea about it.
Have a long hard look at your Lifestyle Expenses – is there anything in here that you are doing 'unconsciously' without realizing it. Is there anything you don't really get value from or could do without?
Luxury Expenses – Strangely, there is not much to do here at the moment.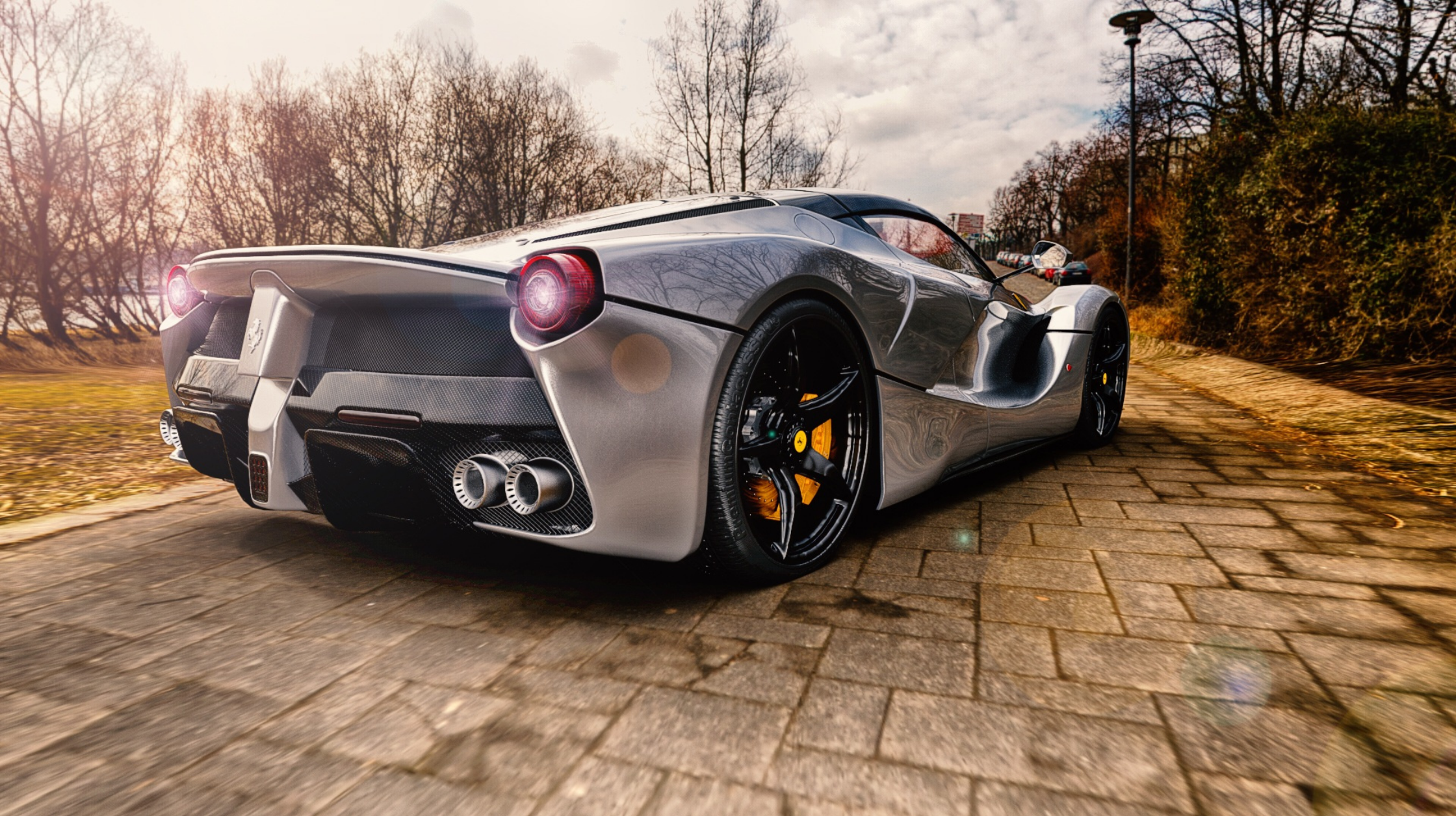 A lot of people are not able to travel due to Government restrictions and so for many, their expenditure here has fallen massively (I know mine certainly has). This tends to be an area where people don't spend money unless they can afford to.
If you do find you are spending less, you could use 'lockdown' as an opportunity to save or invest some extra money – in a crisis, you never know when you might need it!
You can find a full guide to budgeting on my website, where I also talk about envelope budgeting – my absolute favorite budgeting strategy of all time!
3 – Part of Financial Freedom Means Making Some Money!
Ok, so I know that this is easier said than done, but, there are now a ton of strategies that you can use to quickly and easily earn a little extra money from home. Now don't get me wrong, these strategies might not replace your old income if you have lost a job, but surely some income is better than none?
The internet is full of things you can do to earn a little extra income (either on the side or full time) and so there is something there to suit almost any taste or skill set. The internet is also full of scams as well, so if you are planning on making some money online, please make sure to do your research and avoid giving away any personal information until you have done your research.

Also, please remember that you are trying to make money and not spend money. Any 'make money online' scheme which asks for you to pay or 'invest' money first is probably a scam and should be avoided at all costs.
The great news about an online side hustle is that it can be lucrative and flexible. You could do some online website testing or online surveys. Perhaps you have some skills that people would pay for on Fivrr or Upwork?
There are loads of things you can do online that can probably earn you between $20 and $100 a day. Although it may not sound like much, every little bit helps. If you have no income at all at the moment, $20 a day is a good start. Even if you already have a job, imagine the difference that $20 a day (that's over $400 a month!) could make to your budgeting and saving for the future.
So there we have it, three things that you could do to help maximize your Financial Freedom, even in the middle of a crisis. Most importantly, stay safe, stay well, and look after those you love.
This guest post was written by Matt Smith at Millennial Mutiny, a blog for Millennials who want to stop living paycheck to paycheck, give up soul-destroying corporate jobs, find Financial Freedom, AND have a great life in the process!