I passed my Magic Ears Interview and I am now officially a Magic Ears Teacher! After interviewing with VipKid and iTutorGroup, I found that Magic Ears was able to offer me the best base rate as well as the easiest interviewing experience.
Magic Ears Interview Experience
I had to do more than one Magic Ears Interview before I passed. It took me a total of three attempts before I finally was able to do my demo successfully enough to get an offer.
It is ok to not pass on your first try! These interviews also act as your initial training and feedback, since you will mainly learn via webinars after you are hired. Most of the platforms have a similar interview process where it often takes multiple attempts to pass. Do not get discouraged!
I did my first few demos with one of their coaches before doing my final demo with a student. Typically there are 3 to 4 students in a class, but for my Magic Ears Interview, there was only one. Be prepared for weird things to happen… my student was trying to play with a lighter during my interview! Just remember to respond as positively as possible and ask the student nicely to participate.
After Your Magic Ears Interview
You will continue to work closely with your coach to get feedback on your first few classes after you pass your Magic Ears Interview. This is great because you are able to improve your teaching skills faster as well as qualify for promotions within your first few months.
As I mentioned above, there are also lots of helpful webinars that are hosted by current teachers. For most of the webinar, you are listening to the senior teacher to share their experiences. Toward the end, there is an opportunity for all the new teachers to ask some questions and share some of their experiences.
I was pleasantly surprised that they offered ongoing support beyond my initial Magic Ears Interview. This created a great sense of community and enabled me to feel much more confident during my classes. 
Magic Ears Teacher Base Pay (2020 and beyond)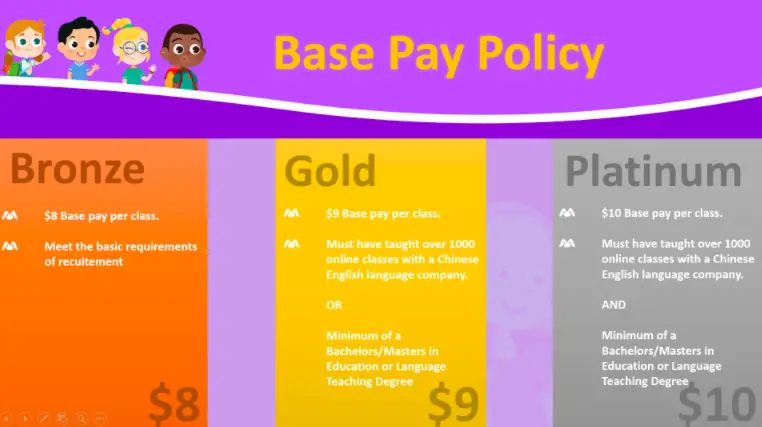 After I completed my initial Magic Ears interview, they sent me a follow-up email with details about my next interview and pay structure.
The lowest base rate is now $8 for one class that is 25 minutes long. This equals $16 an hour without accounting for bonuses or any prior experience. If you already have experience teaching online, then you may be eligible for a higher pay tier. Unfortunately, it does not appear that you can get paid extra based on your in-class teaching experience.
No matter what pay rate you are offered, you will have the opportunity to increase your pay via bonuses. For every class that you teach, you have the ability to make an extra dollar or two by doing simple things. Things like showing up on time or getting good feedback from students. This is also known as just doing your job well!
Bonus Pay For the Eager Magic Ears Teacher
As of October 1st, 2019, there are two ways to increase your pay through bonuses.
The first way is by showing up to your classes at least 3 minutes early. If you are able to do this, then you will receive an extra dollar for the class! The best part is, if you are teaching back to back classes, they will only look at your first class because they know you are already online teaching your last class. 
This is by far the easiest extra dollar to earn because you will likely want to get on the platform a bit early to review your slides before class. You do not have to do any other preparation besides this because the Magic Ears platform is fairly easy to use and they provide everything.
The other way you can get an extra dollar is by having over 60 classes available during peak times throughout the course of one month. Now, this does not mean you will end up teaching all of those classes, but you just need to have that many time slots open. 
And remember that each class is only 25 minutes long! That means you really only need to commit to 30-hours of peak time availability a month to get this extra money. 
If you break it down, you can choose to work 3.5 hours on Saturday and Sunday to easily hit this bonus. If you decide to work late weeknights/early mornings it will be even easier to make this bonus pay!
Please reach out to me if you are interested in learning more about becoming a Magic Ears Teacher!
Total Monthly Magic Ears Earning Potential
This depends on how many hours you decide to work since they have no minimum hours requirement. If you are looking to do this as your side hustle outside of your 9-to-5, then you will likely be working their peak hours. 
Peak hours, which every English teaching platform has, is usually the evening and weekends (Beijing Time). That is because most of your little English learners live somewhere in Asia and are taking this in their non-school hours. For a US citizen, this usually translates to working very early in the morning or late at night, which makes it a good side hustle for those who want a few extra bucks.
If you work the just peak hours, you can make around $800 a month if you make your bonuses. If you are looking to make more than that, you can likely clear $2,000 a month depending on your booking rate. This is hard to guarantee because the platform assigns your classes and it might not be able to fill all of your availability.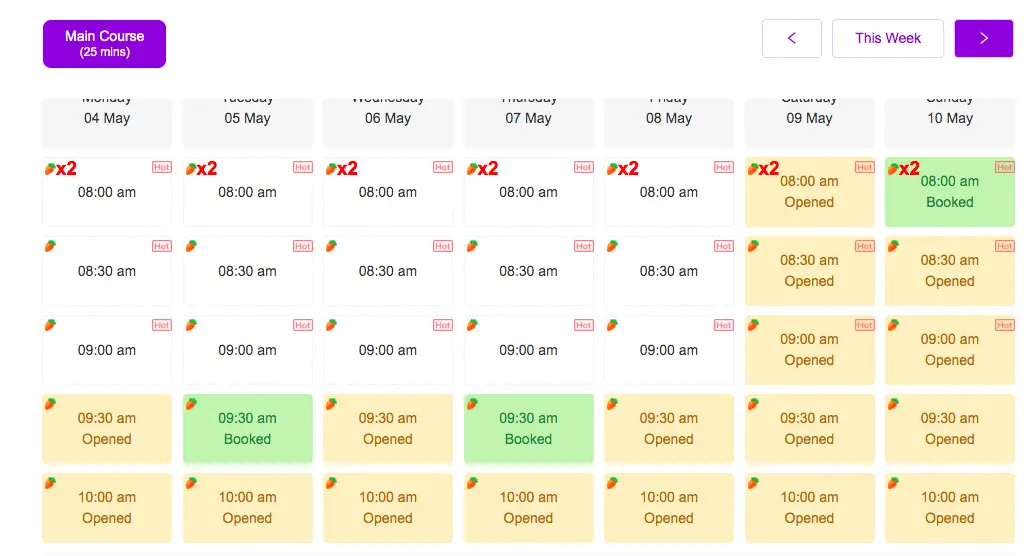 Since you aren't guaranteed every class that you open up, your income each month can vary. That is why I am continuing to put effort into my other side hustles, like freelancing on Upwork.  I make an average of $35 per hour on Upwork and I want to focus on growing this more in the next few months. Magic Ears is a great way to make sure I'm making money every month!
Magic Ears Schedule and Working Hours
As you can see above, your magic ears schedule is completely customizable to your availability. If you are based in the Americas, be aware that most of the peak hours are going to be outside of the typical 9-to-5. Peak hours are when there are more students available than teachers. Naturally, this occurs after school and on weekends when the students have time for online classes.
The Magic Ear's working hours are typically after 5 pm Beijing Time Monday thru Friday and 8 am to 9 pm Beijing Time on the weekends. This usually translates to very early morning/late night if you are located in the US. I think the scheduling actually makes this a perfect side-hustle to pair with a full-time gig. 
There is also no additional working hours outside of the time slots you open on the schedule. Since Magic Ears provides all of the materials you need, there is no lesson planning! Simply review the lesson a few minutes before your scheduled classes and you should be good to go.
My Magic Ears Offer
I was somehow able to qualify for the $9 an hour base pay per 25-minute class! This was surprising because my BA is not related to education and I have not taught online before. I can only assume that because my BA is writing-related and I have prior teaching experience they may have been more generous.
I taught my first class yesterday and I can already see my pay being updated on their website. I also noticed that they paid me a contract signing bonus for my demo class during the interview process! That added $12 that I was not expecting.
With the aforementioned bonuses, that brings my hourly rate to about $22. This actually pays better than my in-person teaching job in Cambodia. I was only making $22 for teaching an hour and a half in-person! This is shaping up to be a lucrative side hustle, though I am still putting a lot of energy into Upwork.
Please reach out to me if you are interested in learning more about becoming a Magic Ears Teacher!
The Reality of Making Money with Magic Ears
Within 1 hour of opening my availability earlier this week, I was able to have about 4 classes booked! This was very exciting because I was worried about getting any classes. The online teaching market is getting pretty saturated due to COVID-19.
What I didn't realize is that the scheduling algorithm adds and subtracts classes randomly throughout the week. So don't count on those classes for income until you get the confirmation email the day before! Until you rank up, you are the bottom priority. You will likely have fewer classes than you may want for the first two weeks.
I gave almost 100% availability and it looks like I will only be getting about 5-6 classes a week ($50 approx.). After about 10 classes, you move from the newbie 'Sophmore' rank to 'Junior'. I've been told that once you get seniority, you will be able to gain more classes. Since I am working on having multiple streams of income… I am just happy to have another source of cash!
How Does Magic Ears Pay Teachers?
Yet another excellent question! Magic Ears makes payment fast and easy by paying via Paypal or directly to your bank account. They even pay the fees for Paypal so you don't have to worry about missing some of your money!
If you want to receive your payment via Paypal, it will come instantaneously on payday. If you want it deposited to your bank account, then it will take an additional 2-5 days to process and your bank will probably add on an additional fee.
As far as I know, Magic Ears has a reputation of paying on time every month but you can be sure I will update this article if I have any issues down the road!
When Do Teachers Receive Pay Checks?
This is probably the second thing you were planning on googling, right after "How Much Does Magic Ears Pay". Have no fear, your pay schedule answer is here!
Like most English teaching platforms, Magic Ears pays on the tenth of the month. Why? I have no idea but it seems to be some magic number for them. Perhaps it is related to payment processing times and sending money abroad.
Pay is based on the month prior, so you would get paid for any classes you taught from January 1st to 31st on the 10th of February. You only get paid once a month, but again this is common for most English teaching platforms.
Do I enjoy being an Online English Teacher?
Yes! So far, the kids have been really sweet and friendly. They are very eager to participate and make classes go by very quickly. Most of them are familiar with the lessons and class is usually more of a reviewing session for them. 
Another reason that I enjoy teaching is that there are tons of resources provided. The lessons are provided and are easy to understand. There are optional training sessions with senior teachers on a variety of topics. You have a designated recruiter, training coach, and access to IT/Communications teams.
And my favorite thing? I absolutely love being able to walk to my desk right after a snack and immediately start teaching. It is really easy to go from working on my Upwork freelancing gigs right into teaching a quick 25-minute class. I just toss on a nice shirt and I'm good to go! Much better than any commute.
Please reach out to me if you are interested in learning more about becoming a Magic Ears Teacher! If you would like to learn more of my money making side-hustles be sure to subscribe.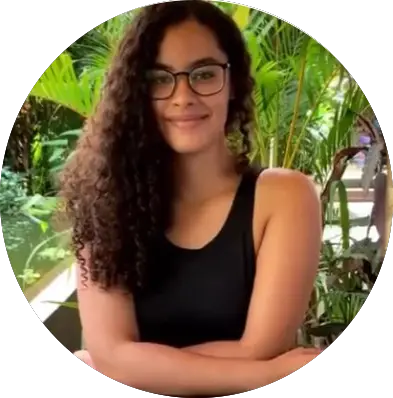 Kathryn Rucker is a sales consultant and content writer. With 7+ years of sales experience, she is passionate about helping businesses and individuals grow their sales pipelines by improving their online presence.
She has been traveling full-time since 2018 thanks to the location and financial independence she has gained from her business, Kat Rucker Consulting Group. You can connect with her on LinkedIn.
Kathryn Rucker is a sales consultant and content writer. With 7+ years of sales experience, she is passionate about helping businesses and individuals grow their sales pipelines by improving their online presence.
She has been traveling full-time since 2018 thanks to the location and financial independence she has gained from her business, Kat Rucker Consulting Group. You can connect with her on LinkedIn.