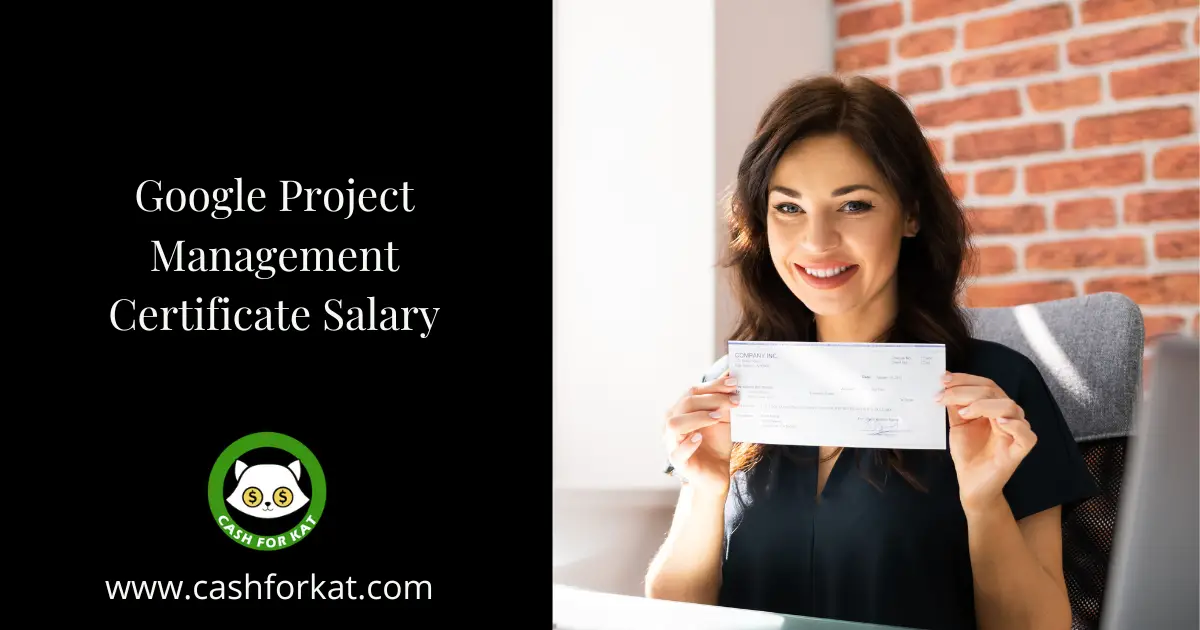 In this post, I will share information about how Google's Project Management Certificate can have a positive impact on your salary.
You'll find useful information on how much project managers make on average as well as how much Google estimates you will be able to make with their certificate.
If you read all the way to the bottom, I'll even reveal my actual salary as a project manager!
Google Estimates You Will Earn a $77,000+ Salary
In their advertisement for the project management certificate program, Google cites Lightcast™ US Job Postings as the source for this salary estimate.
I honestly tried to find the original research behind this number but couldn't find the right URL.
That being said, I do think this is a super realistic number for most entry-level project managers to shoot for.
Actually, I think that you would even be able to obtain this kind of salary as a project coordinator! This type of role would be a lot easier to obtain if you are new to project management.
Unfortunately, this is an industry that is a bit challenging to get started in. Though you often see crazy high salaries posted on Google's Project Management Job Board, these are often for more senior roles.
The Average US Project Manager Earns a $96,525 Salary
According to Glassdoor, the average US-based project manager can make $96,525. This includes all bonuses and additional compensation!
I was actually surprised to see PM roles averaging this high. I will say, I do think that these numbers are heavily skewed.
There are many different types of project managers out there. From construction to tech, wherever there is a project there might be a project manager!
In tech, there are what is called "agile project managers". These project managers work on things like software development and incorporate user feedback into the ongoing design and development.
That sure sounds like it pays well, doesn't it?!
Revealing My Project Manager Salary
Time for the grand reveal!
During my time as a project manager, I was earning over $50,000 annually (including annual bonuses, etc).
Do you want to know the best part? I was living in Cambodia at the time!
So that being said, I 100% believe that you can make a decent salary as a project manager in the United States.
If I were to apply for project management roles in my home state of California, I would likely be looking for at least a $80,000 base with additional bonuses on top of that.
That being said, the tech sector is struggling right now so your mileage will really vary these days depending on how long the layoffs continue and what state you are based out of.
Google Project Management Certificate Salary Impact
If you read my review of Google's project management certificate you would know already that I do believe it is worth the money I spent on Coursera to obtain it.
That being said, I did not notice a massive impact on my base salary due to this certification.
I DID bring it up during my performance review. I feel that I was able to solidify a good evaluation with this certification under my belt. Ultimately, I think this helped when it came to obtaining my annual bonus!
How to Earn More as a Project Manager
I would definitely start out with Google's Project Management Certificate, but I wouldn't stop there!
This certification can also be used toward the learning hours for the PMP® Certification. This is the gold standard certification in this industry.
While I feel that Google's project management certificate can help you get a job as a PM or even land a raise at work, it is the PMP® Certification that will likely help you earn the most.
The PMP® certification is often listed in the "nice to haves" section of the job description. The Google Project Management Certification is not as well known. I rarely see it listed in the job descriptions at all!
Final Thoughts on Using Google's PM Certification to Increase Your Salary
Overall, I would say that this certification could definitely help you with negotiating your salary.
Whether it is during a job interview, annual performance review, or just during your mid-year request for an increase, having a new certification is always a great way to formalize your learnings.
I would not take this certification assuming that it will guarantee you a bonus or raise. Unlike other certifications in project management, you will likely need to present a case as to why this certification is valuable.
Did you notice a change in your salary after completing Google's Project Management Certification? Do you think hiring managers consider this certification when making a salary offer? I'd love to hear from you in the comments section!