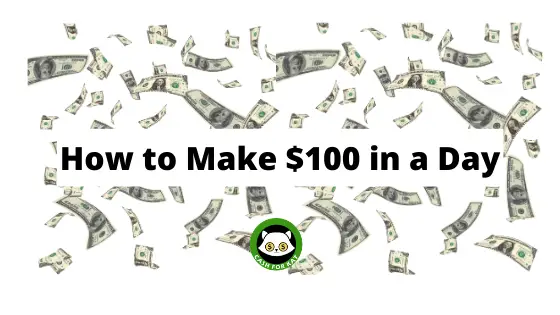 "How to make $100"- Your new daily goal!
If you are able to make $100 a day, by the end of the year you will have $36,500. If you use some of my money-making tips, in addition to your 9-5 job, you could be ending the year with some substantial savings.
Some of these tips are about making money as fast as possible. Others involve some upfront learning, but once that is accomplished the actual time to make a significant profit is very fast and easy.
Want more money-making tips? Be sure to subscribe!
How to Make $100 easily
Making an extra hundred dollars is much easier than you might think. There are so many crazy ways that people have made money, including participating in sleep studies or playing games for money! 
Here are the top ways I would go about making an extra $100:
Dividends
Research Surveys
Sell Stuff
Freelance
English Teaching
Use an App
Consulting
Drop Shipping
Dividends:
Granted, this one requires you to already have a lot of money on hand but I wanted to include it to show the power of saving and investing the money you make!
If you have $1,500 invested in the stock market, assuming a 7% average rate of return, then that is the most passive $100+ dollars you will ever make. And the best part is you are set to make this $100 every year! This rate of return is a combination of your stock's price increasing AND earning dividends.
For the purpose of this post, I want to focus on dividends because they are a bit more stable than market fluctuations. Dividends are a company's way of saying "thanks for investing with us!" by giving you a small amount of their profits. You can receive dividends any time, but they are commonly paid out quarterly or annually.
Last year I was able to make $147.76 in dividend payouts from my traditional and ROTH IRAs (about 6k in investments). My 401k, which has about $9k invested, made me an additional $192.87.
Total investment in 2020 so far: $15k+
Total dividend earnings in 2020 so far: $340.63
In addition to these dividends, the portfolio itself increased by about $1k in unrealized gains during 2020.
Author Update: As of December 3rd, 2020, my dividends earned me an additional $675. My investments also grew to pass $20k, thanks purely to market gains. I have not added to my investments in 2020 since I took a year off to travel the world.
Interested in being nosey and seeing more of my personal finances? Be sure to subscribe!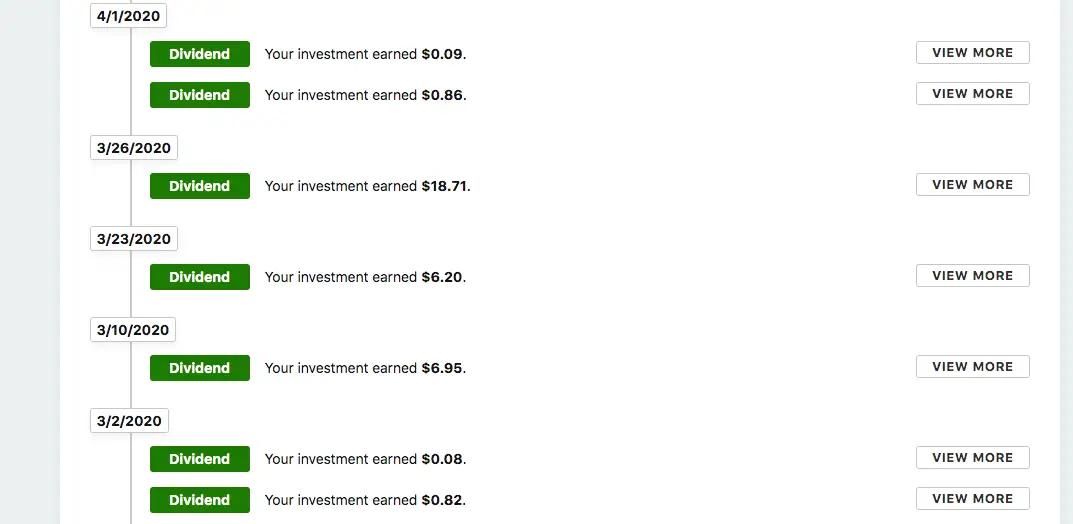 How to make $100 by participating in research surveys!
The survey group in San Francisco
Participating in research surveys is the best I've ever been paid for my time. I've done this twice, once in San Francisco and also in Ho Chi Minh, Vietnam.
It doesn't matter where you are, companies are looking to sell to you and want to know how to do it better. And they are willing to pay a premium just to hear your thoughts!
The first time that I participated in one of these studies, it was for my local coffee chain, Peet's. Apparently they noticed that I spent a ton of money on their coffee every month and wanted my opinion on how to organize/design their new menu boards. 
They sent out an email to loyal customers offering $100 for our time in a 90-minute long focus group that would be taking place in San Francisco. That's right, I made $100 for giving my opinions on coffee! Anyone who says your coffee drinking habit is why you won't be a millionaire is flat out wrong.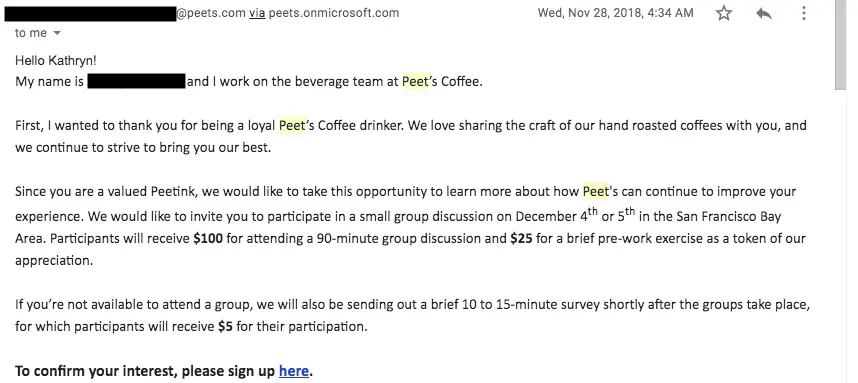 The survey group in HCM, Vietnam
The second group I got to participate in was when I was living in Vietnam for a few months in 2019. I spent all of 2019 traveling throughout Southern Europe and Southeast Asia. In fact, I'm still traveling! I currently am based out of Cambodia and working on this blog full time.
As an expat, you need to stay plugged into what is going on in the area and the easiest way to do so is by joining local Facebook groups. This is how I learned about the opportunity to participate in a survey group for 3,000,000 Vietnamese Dong in-store credits. That is the equivalent of $128 USD, but 3 million Dong sounds way cooler.
This study was on what local expats think about the various malls in the area. I'm not sure what the end result of the study was meant to be but they asked us a lot of questions about what places we like to shop at and why. 
It was only an hour of our time and the credits were great because they could be redeemed at stores and restaurants. At the time, I lived across the street from a mall and I spent most of them at the all you can eat Korean BBQ. 
These kinds of opportunities are everywhere, but most people ignore them when they come up or don't bother to apply. Don't be that person, check out this list on Bella Wanana's list of Surveys that Pay Cash Instantly and get started!
Sell Stuff
Hands down one of the quickest and easiest way's to make money is by getting rid of something that has value. Most other ways of making money involve at least an hour of your time and attention. It is so sad that we now live in such a throwaway society that we would rather toss items that still have value instead of taking the time to try to re-sell or recycle them.
Selling stuff takes 5 minutes to take pictures for a post and another 10 minutes of coordinating a pick-up time with a buyer. Of course, you could run out of things to sell but in a quick pinch, this will always be number 1 because it takes little time and skill to achieve.
I never really thought about this one until I sold everything so that I could travel the world for a year (or longer…. I have yet to return!). If you have stuff that you are ready to part with then you should find a new home and make a quick profit. Remember: One man's trash is another man's treasure!
I managed to sell off most of the items I had lying around in my apartment within 3-4 days. All in all, it only took me about an hour to list everything on social media and coordinate the pickup! When all was said and done, I actually managed to make $200 and some of that money came from items that I had received for free. What a great return on investment.
How to Make $100 via online work
Market your skills as a freelancer
Often your employer is just one extra barrier between you and a client. That means a portion of the money is taken before you ever see it. Remove this third party from the equation and watch your piece of the pie get larger.
Now I am obviously not endorsing poaching clients from your employer. That's both morally wrong and potentially a lawsuit you don't want to have. But you should look to monetize the skills you already have through freelance work!
When I left my corporate job in 2018, I leveraged my sales skills into helping me start my own sales consulting business as and I also do various freelance projects on UpWork.  I've written a guide to take you from earning $15 an hour to earning $30+ on UpWork. 

This guide was meant for the average Jane or Joe to follow, but if you already have an in-demand skill set you can start your rates higher! At $30 an hour, it would take less than 4 hours of work to make $100 and you can easily find a project that has that many hours available.
It only took me about a month and a half to start landing these bigger projects. Even if you keep your rate at $15 an hour, this is well over the federal minimum wage and goes even farther if you decide to do this in a foreign country.
Freelancing has the ability to earn you much more than a quick hundred bucks. I recommend checking out Bella Wanana's post, Fast and Furious: How to Make 1000 Dollars in a Week, for a more extensive list of Freelancing options! 
Become an English Teacher
It may not be glamorous but teaching English online still pays great. At $20-$26 an hour, it is hard to find an easier way to make money online with minimal start-up requirements.
As long as you have your BA, a computer, and a good headset you could make your first $100 in as little as 4 hours! I did a write up of my experience as a Magic Ears Teacher if you are looking for more information on how to get started.
I really like how easy their platform is and the fact that classes are only 25-minutes long! It was surprising to learn that I actually really enjoy this kind of work. And the kids are very sweet, which makes the time fly.
Ready to start making money online? Be sure to subscribe to learn about my many side hustles! 
Saving and Investing Apps
I love automating my savings because it is the fastest way to build up a nice chunk of change. While this is not necessarily the same as making money, I wanted to include it in this list because it feels like the money came from nowhere.
These days, saving money is easier than ever before thanks to apps like Digit. This app analyzes your spending and takes out small amounts of money that you won't even notice!
It sets the money aside for you, which you can easily withdraw once you've hit your savings goal. Or you can just let it grow and be pleasantly surprised by how much you are able to save. Seriously, I've used Digit in the past and remember waking up one morning to a $100+ balance. Easiest $100 I've ever set aside, by far!
Another money app that beginners may enjoy is Acorns. This app works similarly to Digit by taking a small amount of money out of your accounts on a regular basis. Unlike Digit, Acorns then invests the money into stocks! This is an excellent beginner's portfolio for those who are looking at a more hands-off investing experience.
How to make $100 easily by leveraging advanced skills
Market your skills as a consultant
I know what you are thinking, "Didn't I just read about freelancing earlier in this post?" Yes, yes you did! That is because freelancing and consulting are two different things.!
Freelancers tend to work on more short term projects and often are very hands-on doing the hard work themselves for an hourly/daily rate. As a consultant, you shift more into a 'big ideas' advisory capacity and are considered more of a specialist in your field. Thus, you can often charge a much higher rate than a freelancer because you are leveraging a very specific skill set. 
For example, when I am freelancing I tend to take on projects that involve writing sales copy for ads. When I am sales consulting, I advise my client on their long term sales strategy, adjustments that could be made, and the outcome of various methods.
If you are an expert in a specific niche, it is best to try and land consulting projects because you will be paid better for your time. Once you've done that, you can use your free time to generate passive income streams and make money while you sleep.
I post regularly about how much I earn through freelancing, consulting, and my other online income streams. Be sure to subscribe so you don't miss out on the money-making fun!
Dropshipping
This one can have a steep learning curve, but it can be done fast if you know what you are doing. Drop shipping is the process of finding products cheaply online and selling them through your own online storefront. You drive prospective purchases to your site by running your own marketing campaigns and then you process the orders in bulk at a steep discount. 
Drop shipping is great because it doesn't have the costs associated with traditional businesses like the cost of a brick and mortar building or employees. I've seen experienced people actually make thousands a day off of their Shopify drop shipping stores.
 In fact, many of the ads you see on Instagram for intriguing products or clothing are often actually for quickly tossed together Shopify drop shipping sites! If ever you've wondered about why they have a strange name and weird social media page, now you know.
How are you making $100 a day in 2020? Share your tips in the comments section below and don't forget to subscribe! 
Disclosures and Disclaimers: The above references an opinion and is for entertainment purposes only. It is not intended to be investment or insurance advice. Seek a duly licensed professional for your financial planning. Bear in mind that some of the links in this post are ads/affiliate links and if you go through them to make a purchase I will earn a commission (thanks!). Keep in mind that I link these companies and their products because of their quality and not because of the commission I receive from your purchases. The decision is yours, and whether or not you decide to buy something is completely up to you.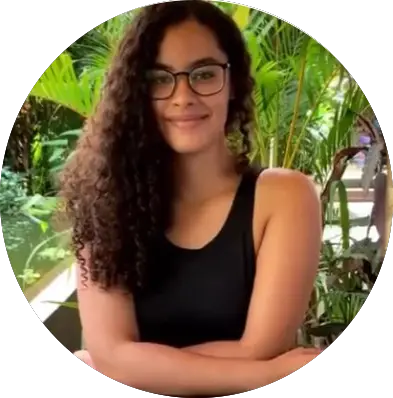 Kathryn Rucker is a sales consultant and content writer. With 7+ years of sales experience, she is passionate about helping businesses and individuals grow their sales pipelines by improving their online presence.
She has been traveling full-time since 2018 thanks to the location and financial independence she has gained from her business, Kat Rucker Consulting Group. You can connect with her on LinkedIn.
Kathryn Rucker is a sales consultant and content writer. With 7+ years of sales experience, she is passionate about helping businesses and individuals grow their sales pipelines by improving their online presence.
She has been traveling full-time since 2018 thanks to the location and financial independence she has gained from her business, Kat Rucker Consulting Group. You can connect with her on LinkedIn.