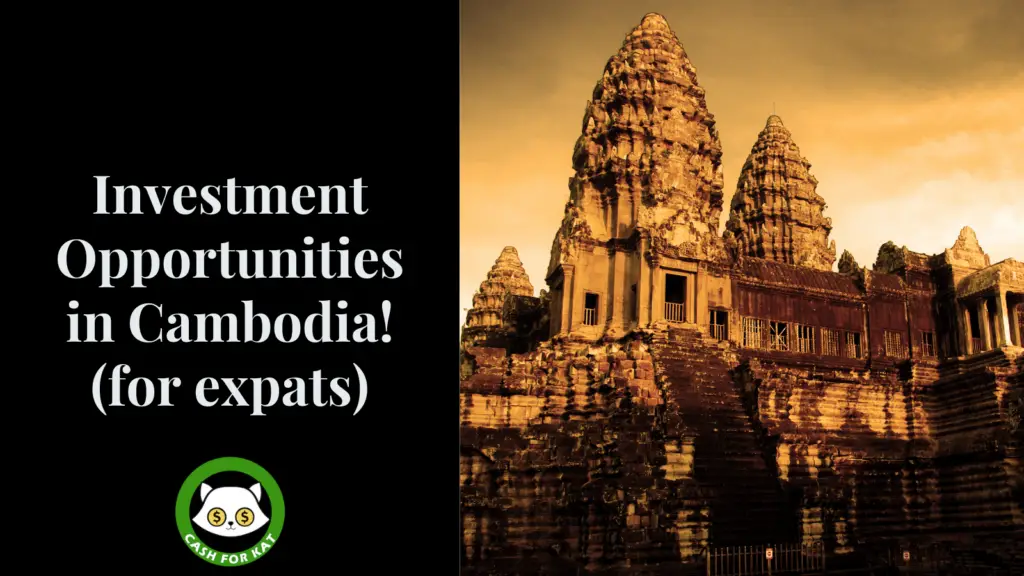 I am originally from California and, as a result, I've always looked at housing costs in San Francisco ($750,000+ ) and my hometown of Sacramento ($400,000+). Needless to say, the idea of owning a home was something I pictured would happen in my 40s.
When I quit my job to travel the world, I found I had a deep curiosity about what the housing market was like in different countries. After I ended up living in Cambodia long-term, this curiosity broadened to include all the many types of investment opportunities I could find.
Did you know that in many parts of Southeast Asia you can still buy an apartment for around $100,000 USD? And that the price of starting a small restaurant or bar here can be as low as $10,000? 
In this post, I'm sharing the top four most common ways for foreigners to start investing in Cambodia!
Top 4 Investment Opportunities in Cambodia
After chit-chatting with many expat owners here at some of my favorite hotels and restaurants, it was easy to identify the most obvious opportunities for foreign investment. I have put them in order from most common to the most complex. Here  are the four main investment opportunities in Cambodia that I  have encountered during my 2 years here:
Running a business
 Buying an apartment  or condo
 Exports
 Cambodia Securities Exchange 
Is Cambodia a good place to invest?
Before we jump too deep into the details, I wanted to provide some background information that may help you determine if Cambodia is a good place to invest. As with any investment,  your mileage may vary!
 One of the most exciting things about investing in Cambodia is that it is developing at an extremely fast pace. With a workforce of over 9 million and a GDP of $1,512, this country is full of opportunities. In addition, Cambodia has also navigated the COVID-19 crisis surprisingly well!
Overall, I would say that there are many reasons to invest in Cambodia. The key is to choose your investment wisely, work with people you trust, and understand that you need to have a very high-risk tolerance.
Risks of Investment Opportunities in Cambodia (or any foreign country)
Of course, there are some other aspects to consider as a foreigner investing here. There are usually special rules and restrictions for most kinds of investments that you won't find in your home country. This is to help prevent foreigners from running a monopoly in certain industries or pricing out the locals.  
As with any investment, you might experience volatility. There are also fewer guarantees about the security of your investment when you aren't in your home country. You will likely have more variables to consider such as how long you plan on being in the country, economic fluctuations, and liquidity concerns.
Running a business in Cambodia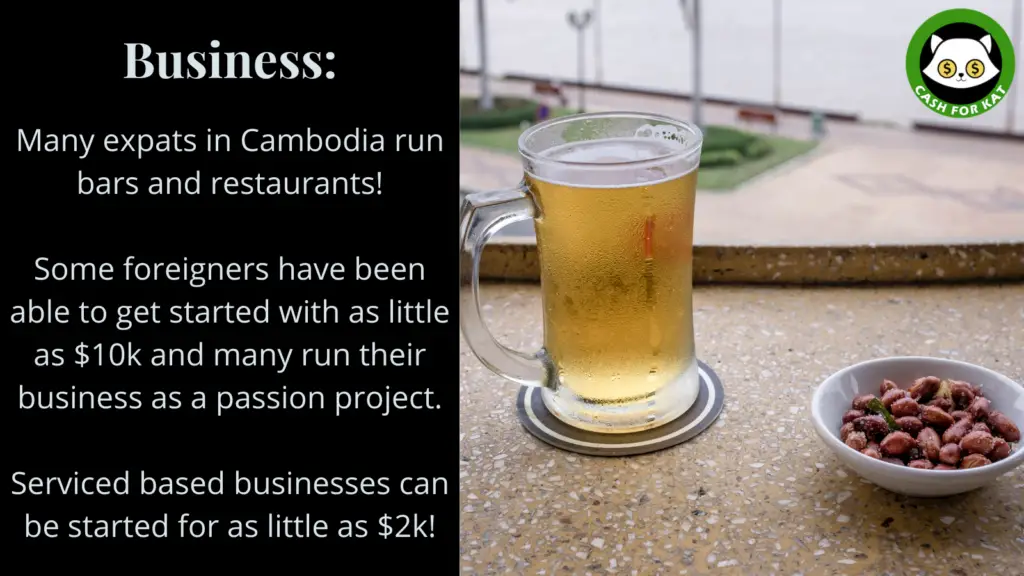 There are many foreigners from all across the globe who have been able to start businesses in Cambodia.
Not surprisingly, some of the most popular foreign-run businesses include bars and restaurants. In recent years, there are also more and more foreigner-run startups in a variety of industries.
From the research, I did around registering my business and anecdotal stories from friends, it appears the process to starting a business is pretty straightforward. You have to file paperwork,  pay a fee of around $2,000, and ultimately most foreigners end up having a "fixer" handle most of this process for them.
Additional benefits to starting a business in Cambodia
Cambodia is considered one of the easier countries to start a business as a foreigner. Once you're able to start your business, you can also hold your own Visa instead of relying on a company to sponsor your visa for you. 
There are two things that can be tricky about running a business in Cambodia. The first is the buying limitations you will encounter if you are trying to purchase the property or store. The second is the monthly taxes that you have to pay, however, most expats end up hiring an accountant to handle this.
In the next section, I will provide a bit of information on the real estate market. You will notice that a lot of the rules will be similar for both commercial locations and residential.
Investing in Cambodian Real Estate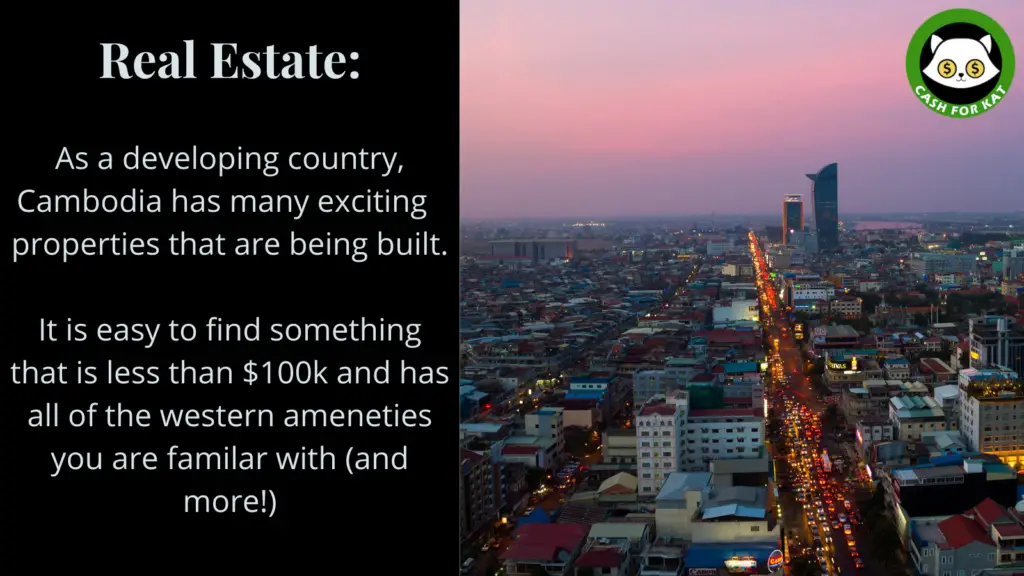 If you follow me on Twitter, you might have seen a tweet about how I was curious about potentially buying real estate in Cambodia. Though the process is not easy for foreigners, it is possible to purchase apartments and condos. On the other hand, investing in land is an option that is currently only open to locals but you can still find roundabout ways to do this too.. they are just a bit more challenging!
What interests me the most is that you can usually find a condo or around $100,000  in a luxury building that is serviced (comes with cleaning!). While this is great on its own, you can also rent the place out for around $400 a month to build a nice income stream!
For foreigners who plan on staying in Cambodia for more than three years, investing in a condo may not be a bad idea. Unfortunately, you have to navigate the complex system they have in place. And believe me, trying to get a  house or land is even more complicated than apartments!
Your options for investing in real estate in Cambodia typically include:
having a local purchase the house with you
taking out a 50-year lease
I'm sure the last 2 might have sounded like a joke,  but I'm serious! Let's dig into this topic a little deeper by answering one of the most Googled questions about property in Cambodia.
Can foreigners buy property in Cambodia?
The main methods for foreigners to buy property in Cambodia are pretty indirect. It is almost impossible to fully own a property or land here in the way that you could in your home country.
Like many developing countries, there can be few disputes over who the true owner of a property or piece of land is. More importantly, most property types must be purchased with a local who has a majority share. This is a rule that is common in Southeast Asia and the countries neighboring Cambodia tend to have similar regulations on their real estate market.
I was amused to find that there is a bit of a workaround on this though. If you've ever watched the movie Burlesque, you may remember the concept of air space. It's crazy to think that this is true, but many times foreigners will instead buy the air space within a condo rather than the physical space! 
Another crazy option is essentially a long-term lease that lasts for 50 years. You typically are able to do all the normal house-related things with a 50-year lease, including renting the space out. I do have a few friends who have purchased houses or apartments, so it is not impossible for a foreigner to buy a nice place in Cambodia!
Exporting goods from Cambodia
I wouldn't exactly call this a common investment opportunity, because to start an export business takes a lot of connections, start-up capital, and experience. Of course, I would only assume these things because I do not know anyone who is currently exporting goods from Cambodia. I do know a lot of people would talk about it though, including myself!
Manufacturing is huge here and many popular brands are producing products in the factories of Cambodia.  When I first arrived I was surprised to see so many people wearing luxury items. That is until my boyfriend explained that they were likely fakes or factory rejects!
In addition to clothing, there are many agricultural exports that are sourced from Cambodia. This includes the popular Battambang rice and Kampot pepper. Cambodia also produces very high-quality wood and has a variety of naturally occurring gemstones. 
Maybe one day I will figure out how to start an exporting business because there is definitely a lot of opportunities here! 
Cambodia Securities Exchange (CSX)
It was actually when I was researching the Cambodian Securities Exchange that I was inspired to write this post. I put this option at the bottom because the stock exchange for Cambodia is very new and only started in 20012. 
With less than 20 companies listed,  CSX is one of the smallest stock exchanges in the world. The CSX hasn't really produced any remarkable results yet but you never know what the future may hold! It sounds like they are trying to increase the number of listed businesses, so perhaps there will be future opportunities here.
What is the Best Investment Opportunity in Cambodia?
If I were to invest in Cambodia, I would definitely be looking into starting some sort of business. This path seems to be the most standardized so far. There are also plenty of local organizations with experience that are happy to help expats start their businesses. 
In addition, I think that there is a huge opportunity to have a business here that provides administrative-type services to western companies. This business model is popular in places like India but doesn't seem to be as common in Cambodia. 
This kind of business could provide more well-paid employment opportunities for locals while teaching business principles to the new generation. To me, investing in the people and growth of this country is one of the most exciting things about living here. 
Have you ever invested in a foreign country or would you consider it? What do you think about these investment opportunities in Cambodia? Let me know in the comments below!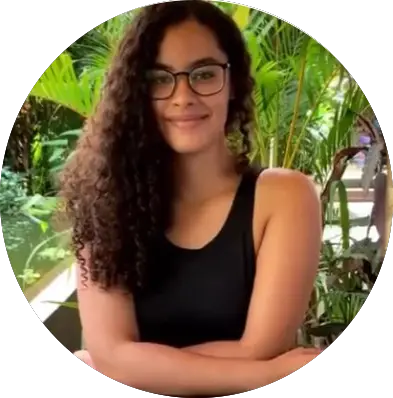 Kathryn Rucker is a sales consultant and content writer. With 7+ years of sales experience, she is passionate about helping businesses and individuals grow their sales pipelines by improving their online presence.
She has been traveling full-time since 2018 thanks to the location and financial independence she has gained from her business, Kat Rucker Consulting Group. You can connect with her on LinkedIn.