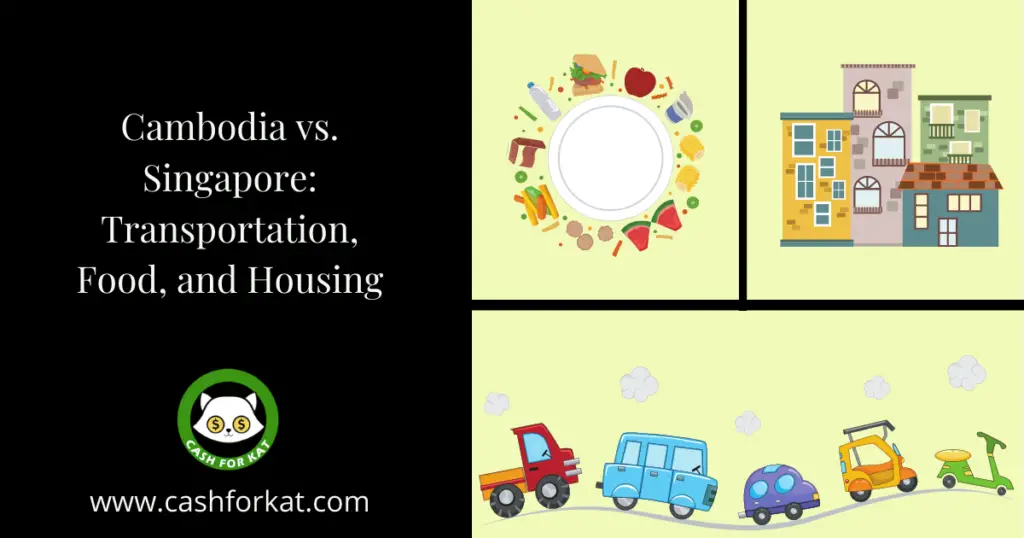 I've been living in Cambodia for the last 3 years (2019-2022). In December of 2022, my husband and I were lucky enough to get the opportunity to move to Singapore for his new job.
Cambodia and Singapore are like night and day. In this post, I will share some information about the basics of living in both countries, both good and bad. All prices in this post, unless otherwise noted, is listed in USD.
Table of Contents
A quick history lesson
Before jumping into the details, I think it is essential to have a general understanding of both countries. Many people have heard of Singapore, often in the context of it being called one of the most expensive countries in the world. On the other hand, when I told my friends I was living in Cambodia… most of them couldn't even place it on the map.
Here is a quote that you might find interesting.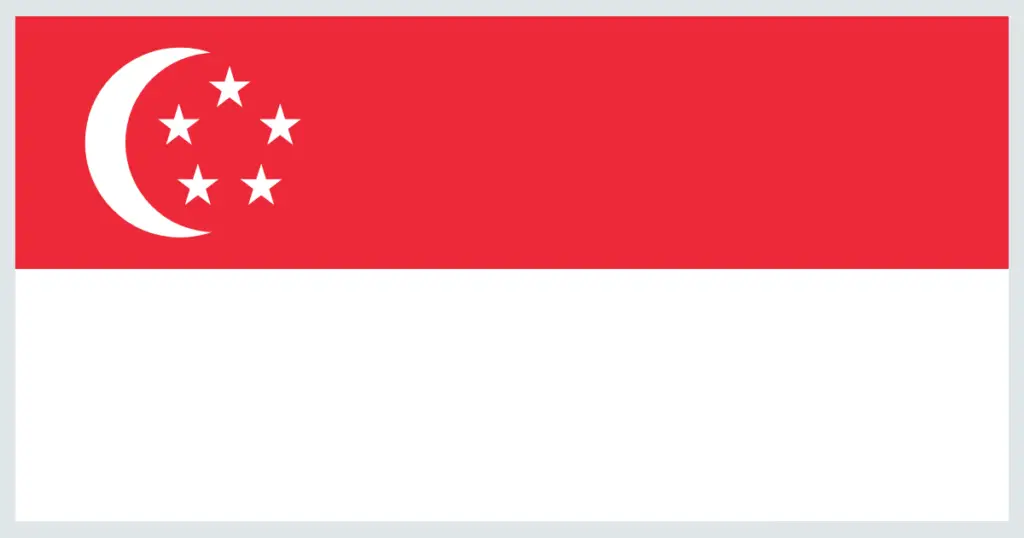 "…during several visits to Cambodia in the 1960s, Lee Kuan Yew, the first Prime Minister of Singapore, was so impressed by the beauty and new architecture of Phnom Penh that he expressed the desire for Singapore to be developed along similar lines."

Phnom Penh Post
So what changed between 1960 and now that makes Singapore so globally recognized while Cambodia is less visible globally? Unfortunately, the answer is dark: Genocide.
In 1975, Cambodia was under the control of the Khmer Rouge. It was horrific, it was deadly. In a mere 4 years, they were able to set the country back by decades.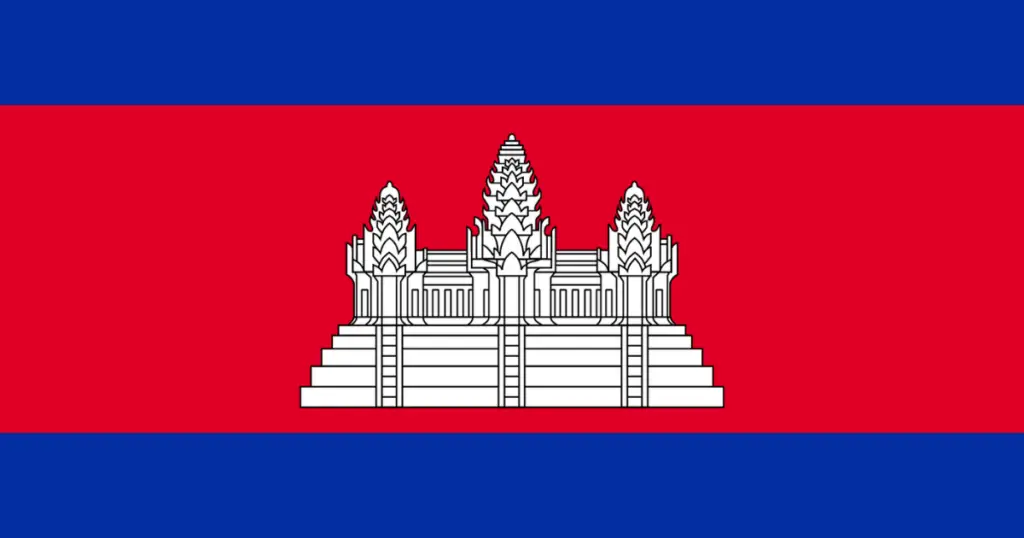 Modern-day Cambodia is advancing rapidly. It has many of the conveniences of any big city, though often on a smaller scale. You can pay with apps on your phone, see 4DX movies in theaters, and easily communicate with the locals as coffee shops often have information in English. 
Despite these advancements, there is still a lot of work to be done. This is what makes Cambodia an excellent place to consider investing in and affordable to live in. They may not have all of the bells and whistles of big cities yet, but it has a charm that is magical and unique.
Cambodia vs. Singapore: Transportation
Transportation in Cambodia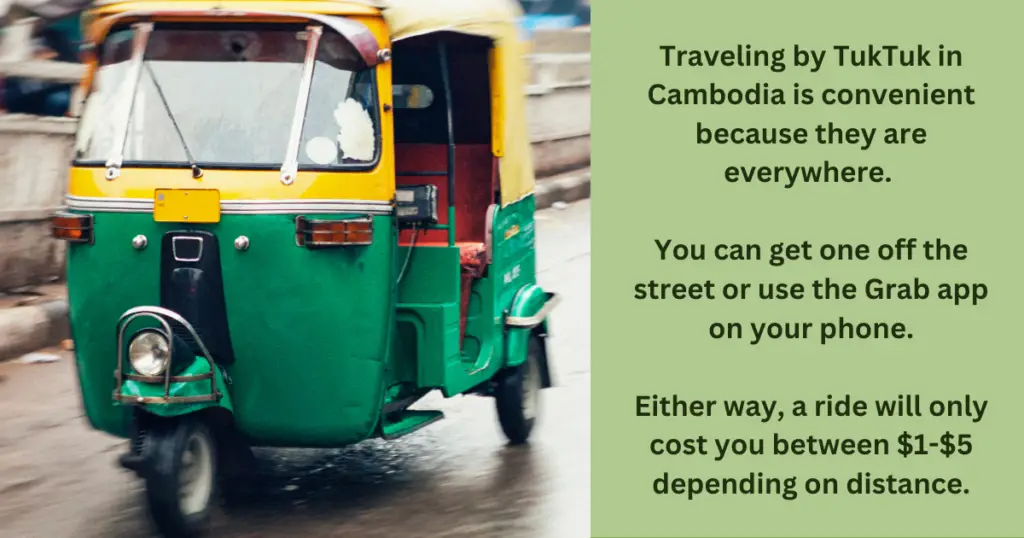 The primary modes of transportation in Cambodia are by TukTuk or motorcycle.
A TukTuk is a small motorized vehicle popular in countries like Thailand and India. Trips are often cheap, costing around $1-$2 to travel most of the city. 
The streets of Cambodia are very busy. Sometimes I would jokingly sing to my husband, "red lights are just a suggestion!"
And it's somewhat true… the main rule everyone seems to abide by is to worry about what is in front of you, not what is behind you. Luckily everything is at a pretty low speed, but it is still wild!
Transportation in Singapore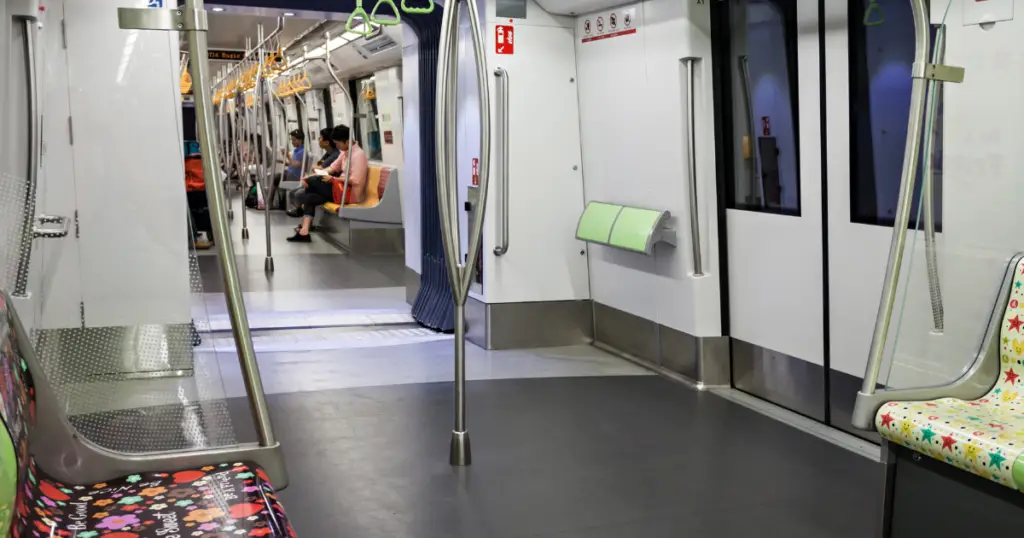 For Singapore, the most common mode of transportation is actually public transportation via the MRT!
There are no Tuk Tuks to be found here. Instead, they have an extensive system of trains and buses that makes it easy to travel to every part of the country (Singapore is an island city-state).
You can pay for everything in Singapore using your Apple wallet and I've heard they actually have a plan to go cashless by 2025.
In both countries, Grab is the main transportation app for calling a car. In Singapore, you can also use it for food and payments though these are features that aren't as widely used yet in Cambodia. 
Grab is essentially the Uber/Lyft of Asia and is a must-have if you are traveling in this region. In Vietnam, it is used for hailing a motorcycle ride!
Cambodia vs. Singapore: Food and Prices
Grocery Stores
I would say grocery stores in both countries are comparable both in price and variety. I think the reason for this is that both countries have available imported goods from a variety of countries. 
It is important to note that this is my experience as an expat. In Cambodia, I was shopping at grocery stores whereas most locals would likely go to an outdoor market. This is likely why I feel that costs for groceries is similar to me in both countries.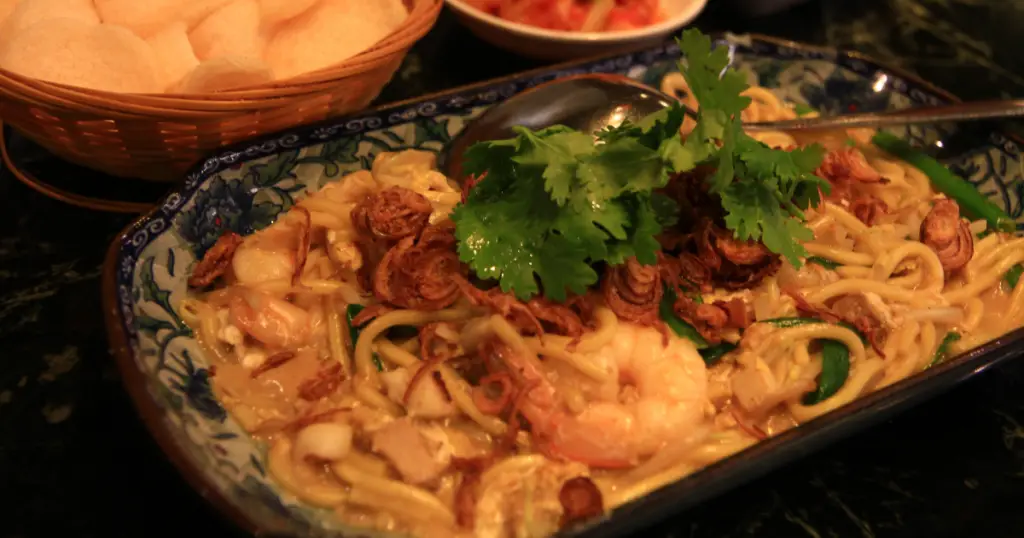 Singapore is an island that imports 90% of it's food, though it is now looking to introduce urban rooftop farming on a large scale. 
Cambodia actually only imports around 5% of its food, but many brands I was familiar with are available in the capital city of Phnom Penh. The French colonized Cambodia for almost 100 years, which impacts the cuisine of Cambodia to this day. Freshly baked French-style goods are widely available and French food imports are quite common.
Additionally, during the Khmer Rouge reign many Cambodians fled to France and many families have returned over the last several years. There are quite a few French Cambodians, some french schools, and quite a few French expats in Cambodia as a result.
Restaurants
As far as eating out goes, you can find excellent food in both countries. Singapore is known for its affordable hawker centers where you can still find a meal for $5. That being said, eating out is usually more expensive with most restaurants charging around $17. 
In Cambodia, I would probably steer clear of street food unless you have recommendations from a local. You can still find local cuisine in a restaurant-style setting, which is probably more friendly to an expat's stomach as food safety is not well understood or regulated. There are also amazing expat restaurants serving everything from Ethiopian to Greek and beyond. 
On the low end, you can find Asian dishes for around $5 and expat-style food for around $10. For fine dining, you might pay around $25 but can go up to $100+ if you are looking for a mind-blowing experience.
Cambodia vs. Singapore: Housing
Housing in Cambodia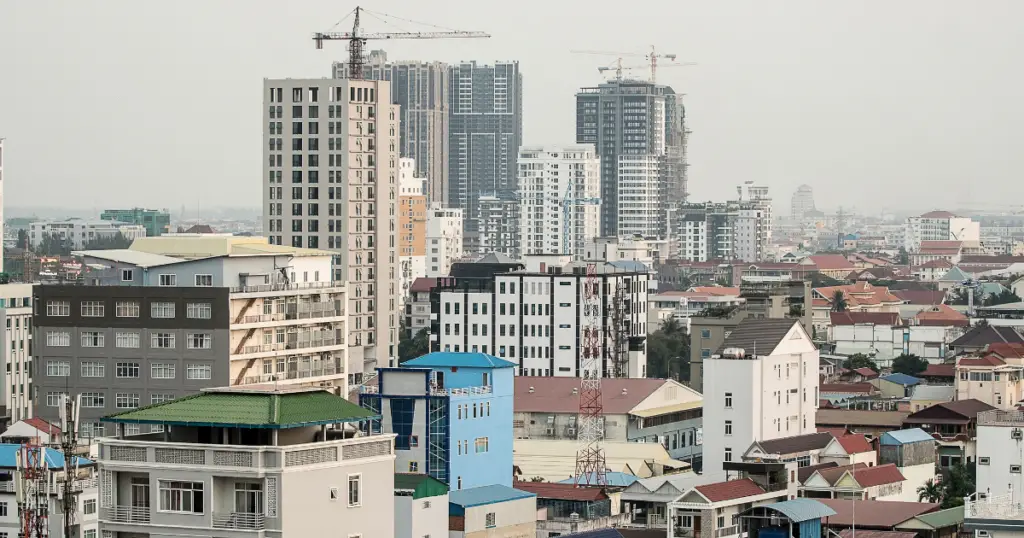 As you might be able to guess, Cambodia is much more affordable housing-wise than Singapore. 
On the low end, you can get an apartment in the capital of Phnom Penh for about $250 a month. Personally, my husband and I were paying around $750 for a one-and-a-half bedroom (office)/two-bathroom apartment. Our place was a serviced apartment with cleaning 3 times a week, a rooftop pool, and a gym. 
Typically you will pay the first month's rent and a security deposit equal to the first month's rent to move in. Lease terms are flexible, though most landlords will do a one-year contract that can switch to month-to-month after the initial lease expires. You will likely sign a simple one-page document in Khmer and English to finalize the agreement.
Housing in Singapore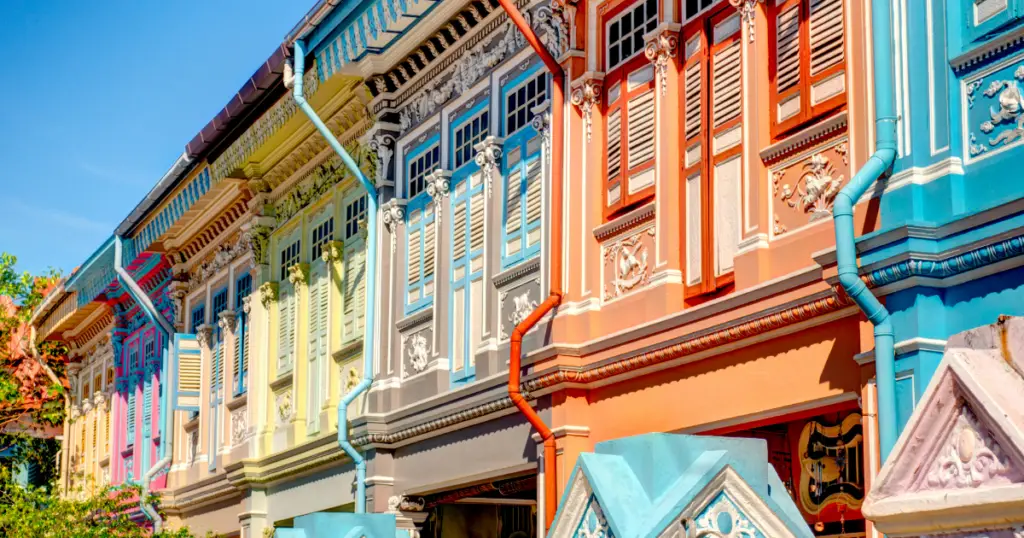 Our current Singapore apartment, which is a 3-month rental, is a converted shophouse. Our unit is basically a medium-sized studio that costs $2,800 a month and is located in a popular (more expensive) part of town. 
In Singapore, there is now an upper limit on what you can pay. Across the street from our house, there are condo apartments that cost $16,000 per MONTH! The real estate market here is, in my opinion even worse than in San Francisco. 
To secure an apartment in Singapore, most landlords want leases that are two years long. You will pay the first month's rent and a two-month security deposit, which can easily make your move-in costs $9,000+.
There are a lot of other legalities as well. Instead of trying to list them myself, I will provide a screenshot of the information we received from an agent before we moved to Singapore.
Cambodia vs. Singapore: Things to do
Activities in Cambodia
Cambodia's capital, Phnom Penh, has a more "medium" sized city feel vs. Singapore which definitely feels like a big city. This is something to keep in mind as I compare the two of them.
Some of the more interesting places to hang out in Phnom Penh would be the playground (archery, foot-pool, ax throwing, board games, etc.), rollerskating at Coconut Park, or movies at any of the theaters (3-D, 4DX, VIP). There are also some small-scale comedy shows, a surprisingly decent live music scene, and painting workshops. 
There aren't really concerts that frequently and unfortunately Cambodia is often overlooked by major artists that visit this region. The best ways to find out what is going on in town are the expat Facebook group and Foodie groups.
 Aside from what I listed above, most of the remaining activities tend to be drinking-related. There is a small "party street" called Bassac lane that is perfect for pub crawls and a more local expat bar scene at Langka Lane. 
If you are looking for more activities, I wrote a post called What to Do in Phnom Penh!
Activities in Singapore
Since I've only been in Singapore for two weeks, there aren't many recommendations I can give yet. I will say that Eventbrite seems to be as active here as it was back home in California, and there is a wide variety of events available from concerts to toastmasters.
Singapore is also such a walkable place, with many interesting things to see and do everywhere. There are Ferris wheels, massive parks, and shopping opportunities like you wouldn't believe.
Below you can see the infamous Marina Bay Sands, which is a must-see! It is a mall/hotel and has quite a few activities inside. The super trees are located right next to it and you can easily access both by MRT.
Here are some photos I've taken since moving to Singapore!! pic.twitter.com/MK1f2GYET7

— Kat Rucker | Cash for Kat | Founder of KRCG (@cash4kat) February 14, 2023
Final thoughts on Cambodia vs. Singapore
I personally do not like to label any country as "better" than another. Each place is unique and which one is best for you really comes down to your budget and what you hope to experience. 
If you have a more limited budget, then Cambodia is an obvious choice. You can find a range of experiences there, from backpacker style to luxury that is still budget-friendly.
Singapore is awesome if you are looking for a city that is "cutting edge". I'd easily recommend this city over San Francisco for its use of technology, easy transportation, and insane cleanliness.