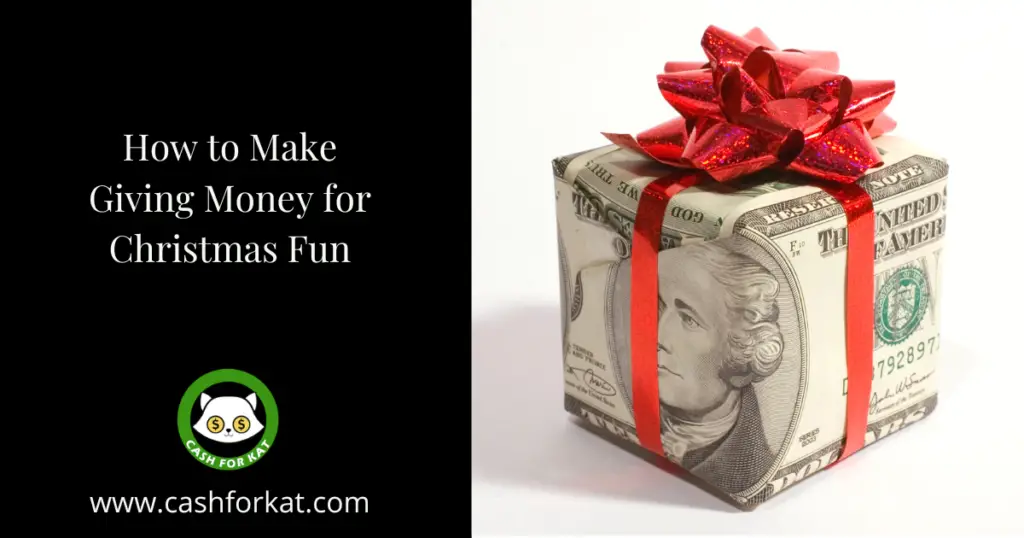 Christmas is a time for giving, and what could be more fun than giving money as a gift? Sure, you could just hand your loved one some Christmas money as a gift… but why not get creative and have some fun with it?
In this blog post, I will share some fun and unique ways to make giving money as a Christmas gift fun. Whether you are looking for something funny or something elegant, I have you covered! 
So read on to learn more about how to make your Christmas money gifts stand out from the rest.
How to Make Giving Money for Christmas Fun
Maybe you've been so busy making money for Christmas that you've run out of time to shop for presents. Have no fear! I'm going to share a simple secret about giving money for Christmas.
The real key to making money gifts fun is to really consider the personality of your recipient. For example, giving a "fun" gift to a coworker will be vastly different than what your best friend might consider fun!
Below is a list of basic ideas to help you make giving money for Christmas fun. You'll want to customize these gifts as needed to suit your needs!
1. Money filled Christmas Ornament
One of the easiest ways to give money for Christmas is by making the money a part of the gift itself. You can put money in a clear ornament and hang it on your Christmas tree. This is great because the money doubles as decoration!
If you want, you can write a cute note on the back of the gift to explain the reason you put money in the ornament. You can even take the time to decorate the ornament in a style the recipient will love. Try adding bows in their favorite colors or adding cute sayings to the ornament in sharpie!
2. Cash or Gift Card Stocking Stuffer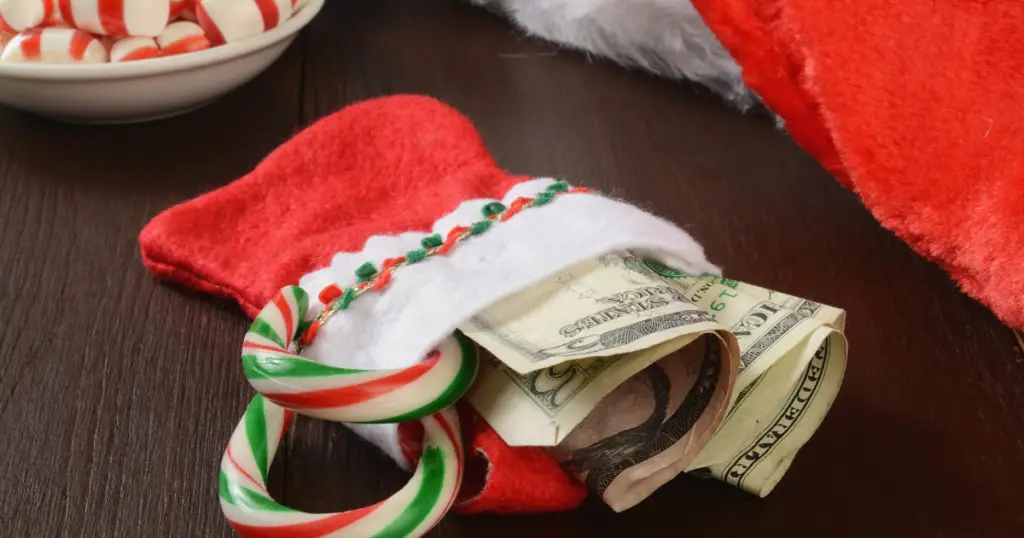 Another fun way to give money to put it inside a Christmas stocking as a gift card. This is especially fun for kids, who will love finding their surprise Christmas present waiting for them at the end of their stockings!
The best part about giving money inside a Christmas stocking is that you don't actually need to wrap it. You can place the gift card directly in the stocking, put it in a cute envelope, or tape it inside a card. No matter what you decide, this is sure to be a nice surprise!
3. Donate money on their behalf and gift them the certificate
Another great way to give a gift of money is by donating it on behalf of a loved one. This is a particularly nice gift if your loved one isn't a fan of material gifts or "already has everything" they need.
You can go through a charity organization that you know your loved one admires, or you can ask for their advice on a favorite charity. Some good options include their university, places they've volunteered at, or local community charities.
Gifting them the certificate is a unique holiday present. Not only that, but it is great to keep in mind the needs of others during this special time of the year. For more ideas, check out this list of charities that help children at Christmas time.
4. Money Origami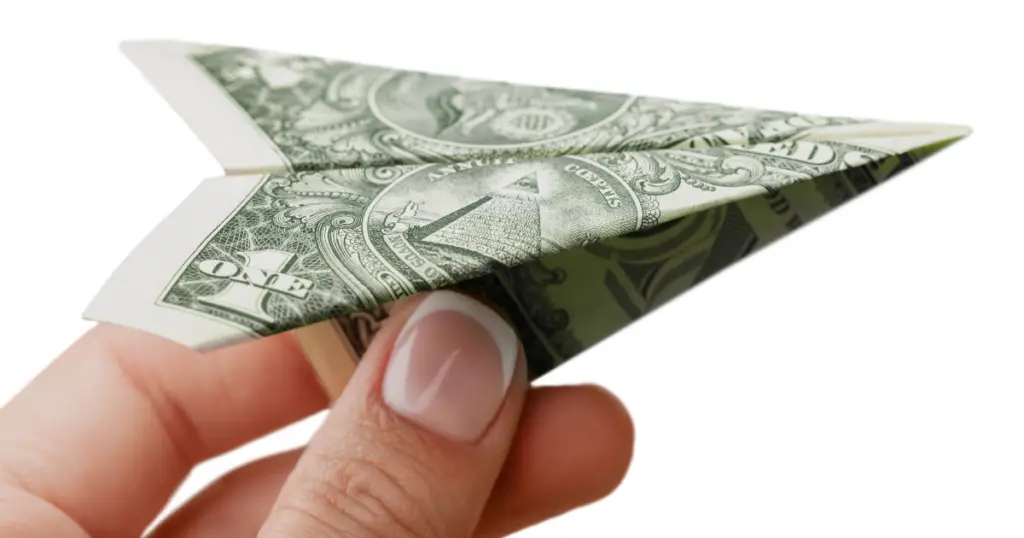 Money origami art is one of the most creative and unique ways to give money as a Christmas present. It is easy to do and your loved one will never guess how you managed to make it!
For kids, this can be a great way of helping them to learn how to save. The more fun the design, the less likely they are to spend it because it will undo the cool present. Bonus points if you use less common types of bills, like the $2 or $50 notes!
Some simple origami money designs to start out with include butterflies, hearts, and stars. You can wrap a cute handkerchief around the origami or place it somewhere fun, like on the tree.
5. Handmade Money Cards
Now here is one of the easiest and least expensive ways to make money as a Christmas present. You can create a fun handmade card!
DIY money holder Christmas cards make the money the card's decoration, so your gift is front and center. Since most people just stuff the cash in a card, this can be a fun way to make the gift more engaging.
6. Christmas Money Scavenger Hunt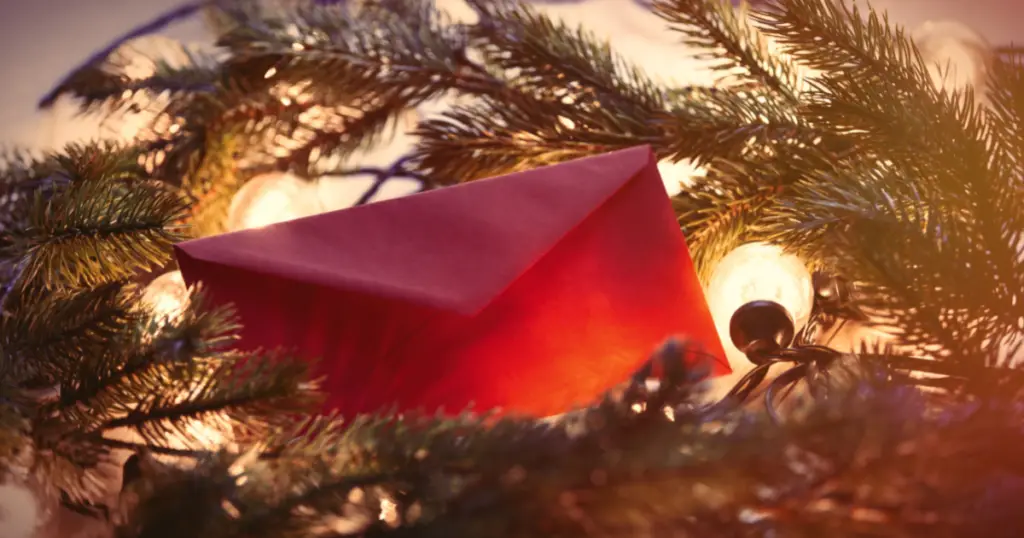 A small Christmas envelope works perfectly for turning a money scavenger hunt into a seasonal game. The key to this simple gift is spreading the money out into different envelopes and making a game of it!
For example, if you want to give a $20 gift, then you could place $1 bills in 20 different envelopes. Or you can vary the amount in each envelope to make it even more exciting.
Simply place the envelopes on different parts of the tree for the kids to find! Another option would be to make a scavenger hunt, with each envelope giving a clue to the next one's secret location in the house.
7. Pre-filled piggy bank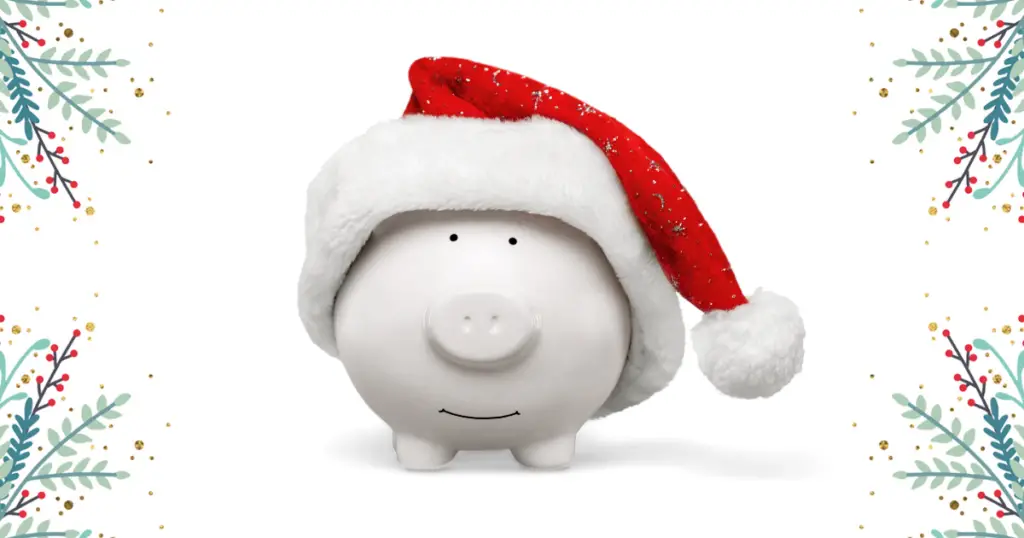 The simplest and cheapest way to give the gift of money this Christmas is by giving your loved one a piggy bank. You can decorate the piggy bank yourself, or give a blank one to kids along with some colored sharpies so they can customize it!
You can also decorate it with stamps, stickers, or other art supplies. Make up a note on the outside of the jar or basket with a special message while showing your love for them and wishing them merry Christmas! 
An alternative to a piggy bank can also be a well-decorated Christmas jar filled with some starter cash. You can even get creative and make the shape of the money container the first letter of their name!
8. Money Advent Calendar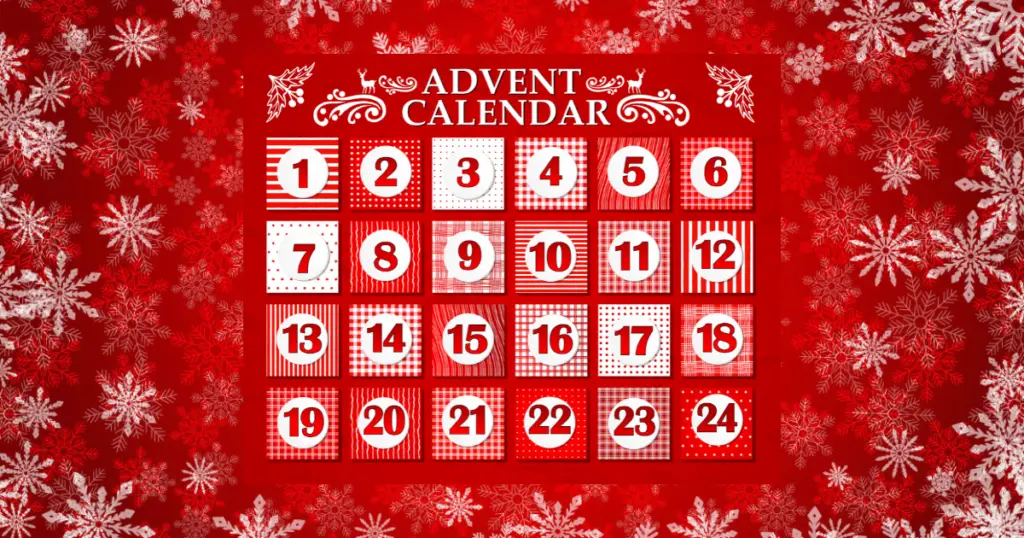 Making a money advent calendar is another cute way to make money as a Christmas present. You can make it simple by just putting the money inside a number of small, numbered Christmas gift boxes that your loved one has been wanting to open up. 
If you are looking for something a little less "DIY", you can also purchase empty advent calendars on Amazon.
9. Festive Money Mug
Another fun way to give cash as a gift is to add it to a festive mug. These items can be found at most stores this time of year, and they make great additions to any Christmas decor. 
Plus, your loved ones can use them as decorations long after Christmas has passed. It's easy and quick and it is something they will always remember.
Check out your local dollar store for some super affordable mugs! Or for something more personalized, Etsy would be an excellent option. Now you just have to remember to give them the mug in time!
10. Make a Christmas wreath out of dollar bills
A wreath made out of dollar bills is a very cute and unique way to give money as a Christmas present. You can even attach it to the doors in the house to help decorate even further… just make sure you don't decorate the outside door!
This is a very quick project that anyone can do in a few minutes or even within an hour. Even making these presents are a great way to build lasting memories with your loved ones this holiday season.
11. Attach cash to an ugly Christmas sweater
Another great option for giving money as a gift is to attach it to an ugly Christmas sweater. This may not be the most elegant option on our list, but it sure is funny! 
And who doesn't love getting laughs from their friends and family during the holidays? Everyone who wears it will have something hilarious and unique to talk about for the rest of the Christmas holiday!
12. Let your Elf on a Shelf hold it!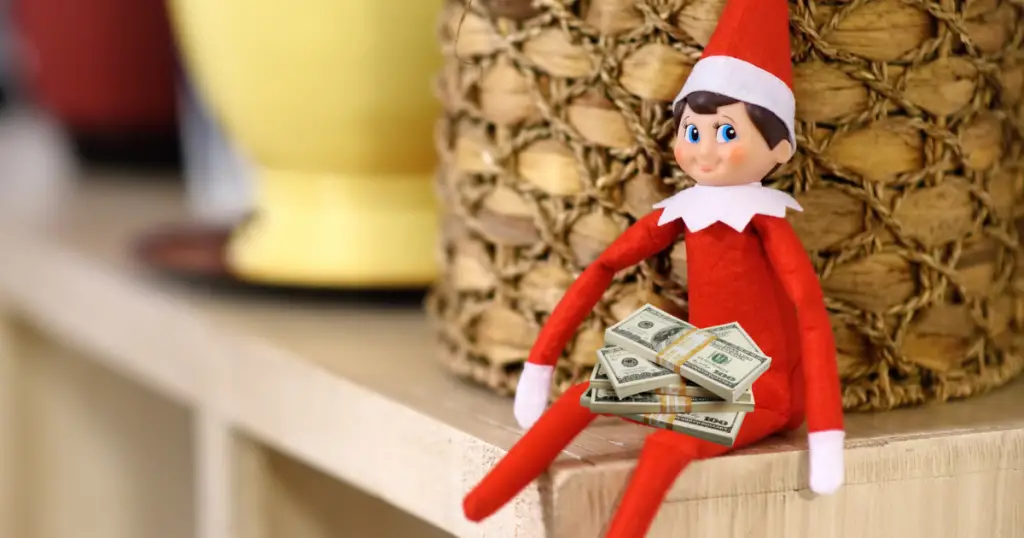 If your elf is a little more active, you can get a cute paper bag or make your own. You can let your "elf on a shelf" hold the money in an ornament or tuck it in an envelope. 
Whatever you do, it's always a fun idea to use a stuffed toy to hold money for the kids in your family. It's a super cute and festive way to give the kids in your family money for Christmas.
Other ways to make Christmas fun
This post covered some of the fun ways that you can give money for Christmas, but I also wrote a post on ways you can give money based on who is receiving it and inexpensive gift ideas you can give to anyone.
Another fun way to give money would be by playing a game. Secret Santa is an excellent choice for close friend groups who want to give gifts on a budget. Another fun game to play, especially amongst a larger friend group, is White Elephant.
Final thoughts on making giving money for Christmas fun
There are many different ways to give money as a Christmas gift, don't settle for the boring ways!
I hope you enjoyed this list on how to make giving money for Christmas fun. Be sure to try out one of these ideas for your upcomming Christmas celebration. And if you need more inspiration, check out my other blog posts on the topic! 
How do you make giving money for Christmas fun? What's the most fun gift you've received? I'd love to hear from you in the comments!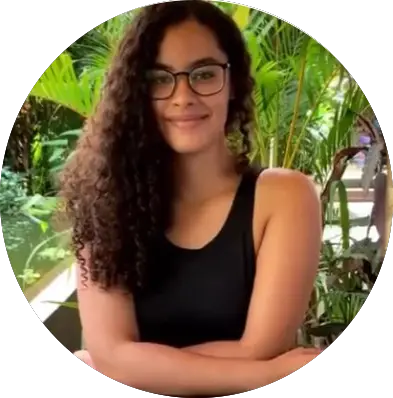 Kathryn Rucker is a sales consultant and content writer. With 7+ years of sales experience, she is passionate about helping businesses and individuals grow their sales pipelines by improving their online presence.
She has been traveling full-time since 2018 thanks to the location and financial independence she has gained from her business, Kat Rucker Consulting Group. You can connect with her on LinkedIn.