So you are traveling to Cambodia, the Kingdom of Wonder, and are looking for some extra travel hacks to save a few bucks. You've come to the right place! I am an American expat who has been living in Phnom Penh for over a year. In this post, I will share all the must-see tourist attractions and budget-friendly activities.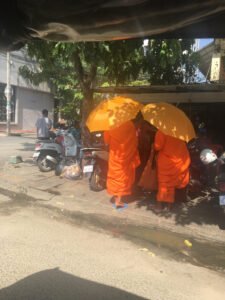 Cambodia is already known as one of the most affordable Southeast Asian countries. As a young, single expat you can expect to have a monthly budget of around $1,200, which equates to $18,000 annually.
Just because Cambodia is already affordable, that doesn't mean you can't make it even more budget-friendly without sacrificing your experience!
After I quit my job to travel the world in 2019, I had to make sure I was maximizing my dollar no matter where I was living. I was able to score discounts everywhere, from Barcelona to Kuala Lumpur! 
Now that I have been living in Cambodia for over a year, I'm sharing the best places to visit and get the most bang for your buck. Here are my recommendations for a culturally enlightening trip to Phnom Penh, Cambodia's capital city. 
What Currency is used in Cambodia?
Cambodia's currency is called the Reil. Pro-tip: 1,000 Riel is the equivalent of a US quarter as of this writing! One US dollar (USD) equals about 4,000 Riel, and 5 USD equals about 20,000 Riel. Each bill comes in a different color and is super easy to get familiar with if you are used to US Dollars.
On that note, the US Dollar is widely accepted in Cambodia! For example, if your bill at a cafe costs 5,000 Riel, then you could pay with 1 USD (equals about 4,000 Riel) and a 1,000 Riel note. 
You can typically search Google, "one us dollar equals riel," and it will provide the most current exchange rate. Most restaurants will post their exchange rate, which is usually within a few cents of the rate of that day and is not a scam. Just make sure to double-check your change!
The Logistics of Using Two Currencies 
The currencies, for the most part, are interchangeable, so you do not have to worry about converting if you are coming from the US. I would recommend bringing cash if you are coming from the US. That way you won't have to worry about ATM fees or exchange rates once you arrive. 
If you do wait to pull money out on arrival, the ATM fees are similar to those in any Western country and vary by bank. On average, you can expect to pay $2-5 if using a foreign/out-of-network card. 
I would double-check the current situation of the US Dollar in Cambodia prior to any trips in 2021 and beyond on Move to Cambodia. Word on the street is that Cambodia may begin phasing out smaller US bills (ones and fives) soon. Move to Cambodia is an excellent resource for basic expat information like this. 
Traveling to Phnom Penh, Cambodia (Cheaply)
Travel by Land
If you have other stops in Southeast Asia planned, it might just make sense to visit Cambodia via the land border with Vietnam, Thailand, or Laos! It can cost as little as $8, and you arrive within 5 hours by bus. You can book a private van or a bus to take you through Giant Ibis.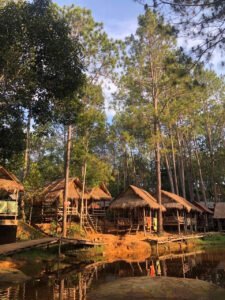 They even hold your hand through the immigration process, so you don't have to worry about getting stuck at the border! Most countries are eligible for a 30-day tourist visa on arrival.
If you are intending to come to Cambodia to work, make sure you come via air and obtain a business visa. They will not issue business visas at the border and you will have to leave and re-enter if you did not obtain the correct visa for work. 
Once in Cambodia, continue traveling from city to city via bus because it is cheaper and you get to see the gorgeous countryside. It takes about as long as a flight anyways if you factor in how long it takes to get on a plane these days given security measures. 
Travel by Air
The cheapest way to enter Cambodia by air is via Malaysia. These flights can be as cheap as $57 one way! Other cheap points of entry via air include Vietnam and Thailand, which typically cost closer to $75 one way. 
Flights are also the best way to visit Cambodia if you are planning on staying longer than two months and need a business visa. Note, they do not issue business visas at the land border crossings! You will have to leave and re-enter because the 30-day tourist visa can only be extended once for an additional 30-days.
Getting Around  Phnom Penh for Cheap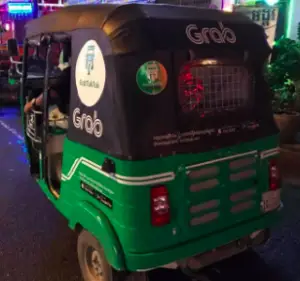 On average, it costs you $1 for a TukTuk ride, a motorized autorickshaw. It costs around $2 if you are going all the way across the city. If you have a hectic day planned, you can hire a driver for around $10 a day.
Download the Grab App and don't bother haggling with a stranger on the streets, they always try to charge more even if you are showing them the market price on Grab!
Grab is Southeast Asia's version of Uber/Lyft and allows you to order TukTuks, cars, and (in some countries) motorbikes. You can select to pay via cash or card and I've had no issues hooking it up to my US cards. Depending on what cards you have, there may be a conversion fee so be aware of this prior to setting up your Grab account.
Plan your itinerary by location, starting in the popular areas first. Most of the main attractions are clustered together, so you can dedicate a day to discovering one part of town using Google Maps and TripAdvisor! 
To find current events, check out the events page on Facebook or join the Phnom Penh Foodies group.
What to do in Phnom Penh on a budget
The great thing about Cambodia is that a lot of the must-see attractions are either cheap or free. In fact, I couldn't think of a single "must-see" activity that costs over $15! 
Toul Sleng Genocide Museum
Like every country, Cambodia comes with a lot of history, and not all of it is happy. Back in the 1970s, there was a massive genocide that took place. One of the schools was converted into a prison of sorts. Today it is a museum, Tuol Sleng Genocide Museum, and UNESCO heritage site that you can explore to learn more about the past. 
They have a self-guided audio tour that I highly recommend, including tales from survivors. It costs $5 for the museum ticket and an additional $3 for the tour, which makes it one of the cheapest and most well-done audio tours I've seen in any country.
The National Museum of Cambodia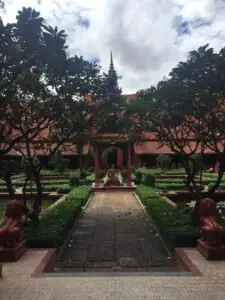 It costs around $10 to visit the national museum. This is a bit pricey in my opinion since their audio guide wasn't working when I visited a few weeks ago.
Without the guide, you can walk through the museum in about 2-hours. Unfortunately, there is no air conditioning and part of the museum is outdoors so be sure it is a cool, non-rainy day when you visit.
Despite all of this, I enjoyed looking at various statues and learning about India's influence on religion in Cambodia. The outdoor garden was also lovely to sit in whenever I got tired!
Riverside, The Royal Palace, and Wat Phnom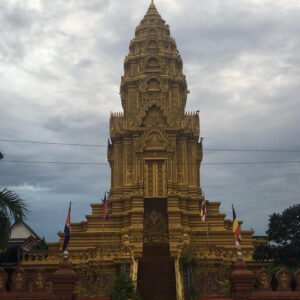 Riverside is a great place to take a walk and see the local scene after visiting the Royal Palace and Wat Phnom. As the name suggests, it is right by the river, and it is excellent for people watching. 
Last weekend, I saw a local dance group dancing to Gangnam Style, and the weekend before there were street performers doing flips!
Grab a beer at a street-side or rooftop bar for only $2 and enjoy the view. Common options that you will find anywhere include Tiger Beer, Cambodia Beer, and Angkor Beer.
 If you are looking for more of an expat craft beer experience, check out The Box Office. In addition to beer, they also have food and occasionally comedy performances by various expats living in Cambodia and Vietnam.
Central and Russian Markets 
It's always free to look! These bustling outdoor shopping centers are located near Riverside and Russian Market, respectively. You can find all sorts of cute clothing and very convincing, affordable, knockoffs of designer brands. In addition to clothes, there is also local food, and you can find great deals on produce! 
Across the street from the market are many boats that have beautiful lights strung across them and they can take you out on the river. It costs only $5 for a 1-hour trip and you can purchase drinks onboard as well. If you are looking for something romantic or for a group, it only costs $20 for a private trip! 
Food in Phnom Penh on a Budget
As you've probably noticed by now, I love food and can't help but mention all of the amazing restaurants I enjoy going to throughout this post. Phnom Penh has a truly magical food scene that is extremely affordable and I wanted to quickly share a few of my favorite places. I'm willing to bet that Phnom Penh's restaurants will be a highlight of your trip!
Budget Bites in Phnom Penh
There are lots of international cuisine restaurants throughout the city, with most meals costing around $6 or less. For local food, check out  Eleven One Kitchen, which has a fantastic menu with most meals costing only $4. If you want an even better deal, I highly recommend Greek Souvlaki's $1 tapas night or Al's $2 Tacos(Cambodian/ American Fusion).
Healthy on a Budget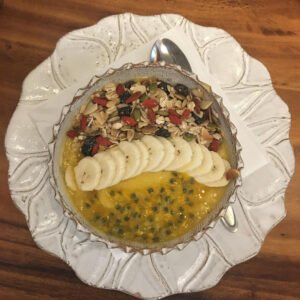 For healthy and vegetarian/ vegan food, the most popular places to go to are Backyard Cafe and Vibe Cafe.
They make everything in-house from dairy-free yogurts and cheeses to nut butter and pestos. If you are looking to do a juice cleanse, they've got you covered.
The best part is they donate some of their earnings to local non-profits!
A Bit of a Splurge
My favorite restaurants in town are Penh.278 and Mexicano.
Penh.278 has a fantastic working lunch special for $15 that includes 3-courses and a drink. Mexicano, and their sister location Itacate, has some of the best Mexican food I've ever had. Whenever I am in the area I always have to stop by for their fantastic fish tacos! 
Where to stay in Phnom Penh on a Budget
Hostels!
In Cambodia, hostels are an excellent and affordable experience. Many of them have pools, bars, and occasionally free breakfast! On the cheap end, they will cost you around $12 for a room in a shared dorm. You can find private rooms in hostels for around $17 and up, depending on what time of the year you are visiting.
Onederz 
If you are looking for a hostel located near the action on Riverside, I recommend checking out Onederz hostel. They have a fantastic rooftop pool with an amazing view of the river and meals cost around $4 with everything from burgers to local cuisine. 
I haven't stayed at this hostel myself, but I do visit here for the pool and food every once in a while. Also, cocktails are only $2! What a perfect, cheap activity for a hot day in Phnom Penh!
Mad Monkey
Mad Monkey is a popular chain of hostels in Southeast Asia and you can find several of their locations in Cambodia. I haven't stayed there personally, but my boyfriend has and says that it is a lot of fun if you are looking for a more social atmosphere. They often have themed nights that are open to the public which includes karaoke, happy hours, and costume events.
They have a swimming pool, a rooftop bar, and a restaurant at the Phnom Penh location. If you plan on visiting a few of their hostels, they have a cute Mad Monkey Passport booklet you can take with you and get stamped at their various locations! Rates start at $10 a night for a shared 6-bed dorm in Phnom Penh.
Billabong Hostel
I loved my stay at Billabong because of their salt-water pool that is surrounded by a mini-garden. Their rates start at $12 a night and this location has more of a laid-back atmosphere. 
They also have all-girl dorms available, which I really enjoy. Co-ed dorms are great too, but to be honest there are a lot less girls traveling which makes for my favorite travel hack. Often you can score a bed for the $12 dorm price, but there may only be another 3-5 girls in the room! This hack works in every country I've tried it in (Italy, Vietnam, Cambodia).
Budget Luxury: Urban Resorts
For the same price of a 3-star hotel in the states, you could be living large in Phnom Penh! It costs about $50 a night to stay at a 4-star and up hotel, which easily surpasses every hotel I've ever stayed in before this.
Rooftop pools, en suite pools, waterfall pools, and Koi ponds are available galore in hotels. These hotels are a full-day activity by themselves, plus they are the perfect location for any budding Instagram influencers who are looking for an amazing backdrop. 
Some of these hotels double as an Expat get-away, so you will find lots of new friends who know their way around. Here are a few of my favorite hotels.
Penh House Hotel and Jungle Annex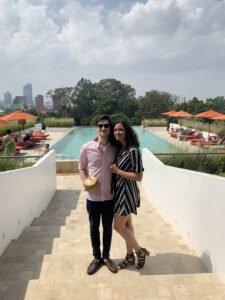 If you are traveling on a budget, my guess is you are staying at hostels or one of the very affordable hotels in the area. If you are looking for a taste of the luxurious lifestyle with none of the expense, look no further than Penh House. Their nightly rate fluctuates, but it ranges from $44-$75 depending on the season. 
They have a gorgeous rooftop infinity pool that you can access for free if you have breakfast. For just $10, you can have a nice breakfast with a view and enjoy the pool for the day. The cost of upping your Instagram game? Priceless.
Baitong Hotel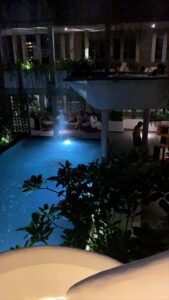 The Baitong Hotel and Resort is visually stunning. From the moment you walk in, you feel like you've stepped into a world of relaxation. It is made better by the three rooftop pools, including one that acts as a waterfall into the other pool below!
Rates range from $50-$100, depending on the kind of room that you would like. Most of the rooms come with a balcony and the best rooms include a private outdoor cold water jacuzzi to escape the heat! Ask for their weekly/ monthly rates if you are looking to stay for a while to receive a good discount!
Baitong is a resort, which means that this hotel is more private than the ones that allow outside access to their pool. This hotel is also located near my favorite restaurants, Penh.278 and Mexicano. Be sure to stop by for an amazing culinary experience!
Phnom Penh's 5 star hotels
I know what you are thinking, "I thought this was a budget post! Why is there a section about 5 star hotels?!" I had to include this section because all of these hotels are actually open to non-guests for their pools or dinning experiences! And for those of you that may come from an insanely state like California (aka me!), these hotel rooms will rival the cost of a 3 star hotel back home.
Hyatt
I aboslutely love brunches at the newly opened Hyatt Regency! They are a bit pricy, depending on what you order, but the venue is more than worth it if you are looking for a splurge. It is also a great place to work or read a book since it has a wide variety of seating locations in the main restaurant as well as a few drinking lounges. 
A typical afternoon at the Hyatt will typically run me around $30, but they do occasionally run specials as well.
Rosewood
The Rosewood has the best views in Phnom Penh, hands down. This five star hotel screams elegance and has breathtaking views of the Mekong River. If memory serves, they have over 14 floors and the building towers over everything else in the area. 
They typically host affordable cocktail hours on the rooftop deck and the Living Room is a great place to stop for an over priced, $6 tea. Once again, the ambiance is more than worth it and this is a great location to work on your side projects at!
The Bale Resort Phnom Penh
The only reason why I put The Bale last is because this five star resort is actually located just outside the city! Getting there via tuk tuk is easy, but finding your way back can be a challenge. In case you haven't noticed the theme, this is yet another place that is so worth the effort! For $10 in food purchases, you can enjoy their gorgeous pool that overlooks the Mekong River. 
What to do in Phnom Penh while avoiding the heat!
It is guaranteed, there will be a time that you cannot stand being in the sun anymore. It will likely happen by day three of your visit, maybe earlier, depending on what time of year you come.
4D Movie Theater
I know what you are thinking, "I came to Cambodia for the culture, not the theaters!" Let me tell you; this is worth seeing and not just because it is insanely hot here. Cambodia has some of the only 4D movie theaters in the world and they make you feel like you are in the movie itself.
When I saw Frozen 2, there was a flower scent when they were in a forest! The seats move during the fight scenes, "lightning" flashes, waterfall "mist" falls on you. Everything! And tickets cost only $8, which is still less than a standard ticket back home.
If you want a more cultural experience, Cambodian movies are also dubbed in English and can be seen for as low as $2. Heads up, I hope you like horror films because they are the film of choice out here!
Your New Caffeine Fix: Boba
I really love stopping for milk teas and they are widely available in Phnom Penh. Popular chains include KOI Thé, The Alley, Daboba, and Brittea. Honestly, you can't go wrong with any boba shop. The drinks cost around $2, and it is culturally acceptable to linger in their air conditioning for hours. Some of the boba places will even whip out a blow torch to caramelize the sugar on the top of your drink! 
If you are looking for your typical coffee fix, my favorite local chain is Brown's Cafe. Cambodia also has Starbucks and The Coffee Bean and Tea Leaf if you are looking for more familiar brands. Coffee is also a big thing out here, so you will find some high-quality brews for affordable prices as well as all of the typical Western-style drinks, for Western prices, however.
How to get from Phnom Penh to Siem Reap
Phnom Penh is such an amazing city to explore, but it is still a bit of a small town and you will probably be able to see most of the main attractions in a week. Another great place to explore is Siem Reap!
The roads in Cambodia are pretty bad still, so if you don't mind a bit of a splurge or if you are going with friends then it may be worth it to rent a car. Of course you can find your typical car rentals and drive yourself, but where is the fun in that? Find a local taxi service and enjoy having a private driver! This would especially come in handy if you plan on visiting the temples, as they can drive you between the locations.
Just a few hours away from Phnom Penh by bus, this little town is not one to miss.There are sleeper buses as well, so you can arrive bright and early to hit the temples! Angor Wat's temples, a UNESCO Heritage Site, is the perfect way to wrap up your time in Cambodia.
I hope this post made you more excited about visiting Cambodia! Which of these places are you planning on visiting? Leave me a note in the comments!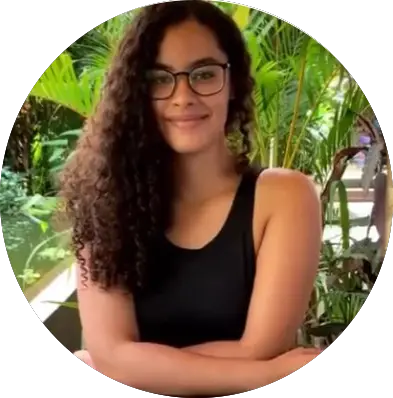 Kathryn Rucker is a sales consultant and content writer. With 7+ years of sales experience, she is passionate about helping businesses and individuals grow their sales pipelines by improving their online presence.
She has been traveling full-time since 2018 thanks to the location and financial independence she has gained from her business, Kat Rucker Consulting Group. You can connect with her on LinkedIn.
Kathryn Rucker is a sales consultant and content writer. With 7+ years of sales experience, she is passionate about helping businesses and individuals grow their sales pipelines by improving their online presence.
She has been traveling full-time since 2018 thanks to the location and financial independence she has gained from her business, Kat Rucker Consulting Group. You can connect with her on LinkedIn.