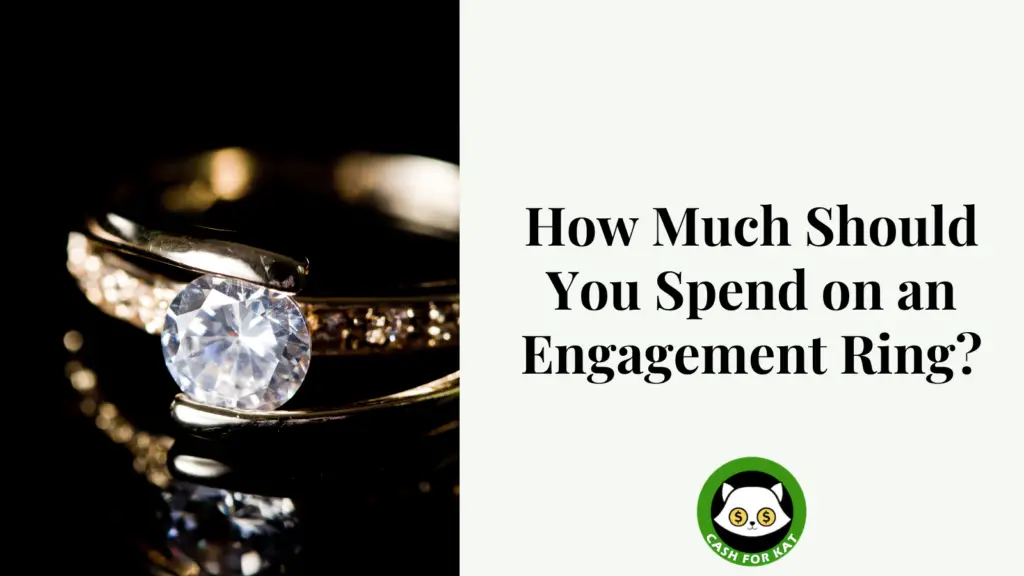 Congratulations! If you are wondering how much you should spend on your engagement ring then that means you are probably getting close to popping the question or answering the big question!
Over the last few years, people have really started to broaden their horizons when it comes to wedding ring styles. Younger generations are starting to question the value behind the more costly traditions and are looking to find options that have a more sentimental value. 
I'm personally excited to cover this topic because I just got engaged last month! Many people were surprised that my fiancé and I picked out our rings together, but I think that this made the experience even more special. We were able to truly align behind the cost and find options that were personalized. 
I'm excited to share some of the things I learned during the ring shopping process and how you can find the perfect ring that represents your love. 
Table of Contents
What does the average engagement ring cost?
When my fiancé and I first started looking at rings we had no idea what we were getting into. Naturally, our first thought was to figure out the average cost and go from there.
The Knot says that the national average cost of an engagement ring is $5,900! But, as you can imagine, this cost can be much higher or lower depending on the financial situation of each couple.
Another factor that can significantly impact the cost of an engagement ring is the location of the couple. According to Business Insider, men in California and Washington tend to be the biggest spenders.
On average men in these states will spend over $10,000 on engagement rings! At the other end of the spectrum,  men in Maine and Utah tend to be budget-minded and will spend closer to an average of $3,000. 
Why are we putting a price expectation on love?
No matter the price, it is clear that buying an engagement ring can be a big commitment in more than one way.
To me, a ring is supposed to be an expression of your love. There should never be any societal pressure on you to spend two or three month's worth of salary on an engagement ring!
Obviously, there's no right or wrong answer when it comes to how much you should spend on an engagement ring. Simply put, you should spend how much you prefer to spend and can afford. Above all else, you should also be mindful of your partner's desires.
One final thing that you should consider before settling on a price range is the cost of your wedding. Once you tally up the various events, clothes, food, etc. you will really start to understand where you want to put your money. For example, would you rather have a flashy ring or spend money on beautiful engagement photos Rhode Island with friends and family that will last you a lifetime?
If you have these conversations openly with your partner, you will be starting off this new chapter with a healthy and realistic dialogue around finances.
How much salary should you spend on an engagement ring?
The traditional rules that state that you spend two or three month's worth of your salary to purchase the engagement ring are outdated and irrelevant. You might be wondering, "Where did this rule of thumb come from?" The answer: marketing. 
Engagement rings are a relatively recent phenomenon. In fact, they only truly started to become popular in the 1940's thanks to a strong marketing campaign by a diamond mining company. The silly rule of spending three months' gross income on an engagement ring was created solely as a marketing ploy to entice buyers to spend their hard-earned money!
It is obvious that these rules on spending were completely made up. These days, the most important part is selecting a ring looks beautiful to your partner. Make sure you get something worthwhile that your partner cherishes for the rest of their life!
Should you spend 3 month?s worth of Salary?
According to Reddit's personal finance thread, most of us money-savvy people agree that this is a ridiculous rule.
People often feel the pressure to follow tradition when it comes to weddings. Traditional or not, the idea of spending potentially one-fourth of your annual salary on an engagement ring is straight-up irrational.
Trust me, there are many other unique and romantic ways to showcase your love for your fiancé-to-be. One way can be through buying a modest ring that allows you to use your money to secure a better future life together.
And remember, looking for an affordable ring does not necessarily mean you will be stuck with cheap-looking options! You could even consider picking up an easy side hustle that can cover the cost of the ring completely and maybe help you save for the wedding too.
Here are a few questions to ask yourself before buying an engagement ring:
What is our total income as a couple?
Do we have sufficient money in the bank?
Are we willing to sacrifice certain luxuries to pay for the ring?
Will we have to finance our purchase?
If yes, how much is the interest rate and how long will the payoff take?
What other major expenses will emerge shortly after the engagement, for example, wedding, honeymoon, a baby?
Do we really need a larger than life ring?
If so, would it be expensive enough that you should consider insuring it?
Will your fiancé feel safe wearing it everywhere?
Will you be purchasing a wedding ring too?
Is there a family ring that may be suitable or can be reshaped/enhanced?
Will the engagement ring purchase negatively affect our financial commitments?
Are you okay in splitting the cost of a ring with your future spouse if they are fine with it?
How much money should I spend on an engagement ring?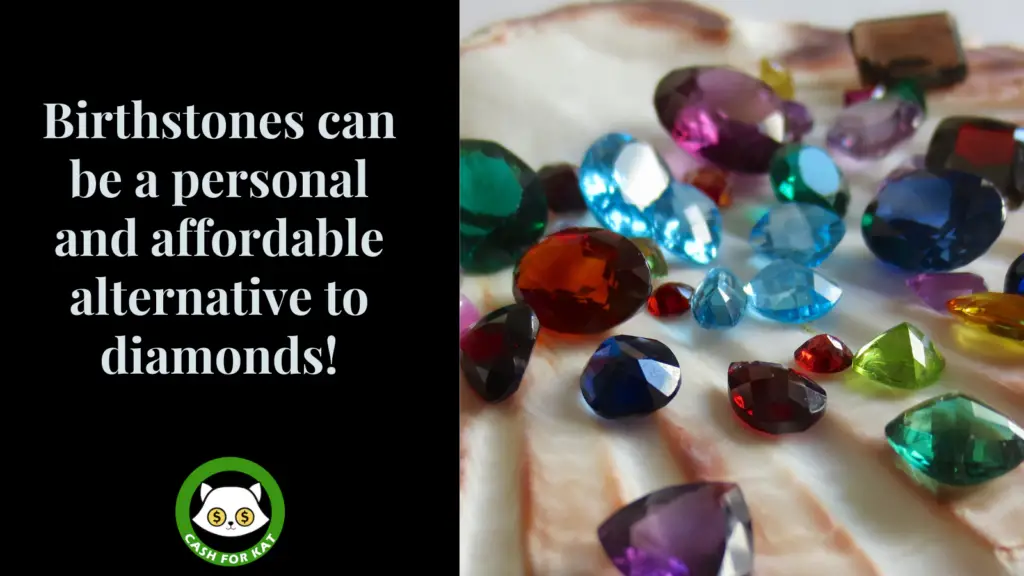 There is one key letter in the above question, and it is the letter "I"! At the end of the day, this decision is about you and your partner. It is not about what society thinks is best or what other people might say.
Let's be real, no one should be looking THAT closely at your hand for that long anyway! Besides, most of us are not gemologists. As long as the rock is sparkly, most of us will be sufficiently impressed!
If you have the money and the desire for a large diamond, then go for it! If it is important to you in a cultural, sentimental, or for whatever reason other reason, then do what makes you happy!
What I am not going to do on this blog is engagement ring shame. As Christine Quinn from Selling Sunset says, 'The budget is love'. 
When it comes to deciding how much to spend, you might want to use an engagement ring calculator. These can help you consider your financial situation to determine a more realistic cost of an engagement ring.
Use an Engagement Ring Calculator
Now that we've covered how important it is for you to find a price range that is realistic for your personal situation, here are a few tools that can help put you in the ballpark. One great way to do this is by using an engagement ring calculator!
Using this engagement ring calculator from CreditDonkey will help you find out a range that makes sense based on your particular financial situation.
I highly recommend this tool because it asks you practical questions about your lifestyle. this includes questions on credit card debt, savings, and future plans!
Engagement ring shopping can be a daunting task. That its why it is good to start your search with a budget in mind. Nothing is worse than looking at the perfect ring that happens to be way out of your price range. Setting a budget can also help you and your partner take a look at styles online that are within price range.
How much should you spend on an engagement ring for a man?
Love is love! That's why you can follow the same advice laid out in this post regardless of who you are proposing to. This means starting with the calculator above is an excellent idea.
One thing that does tend to be a bit different though, is that there are usually way more non-traditional and creative options for men. I spent a lot of time looking into different options for my boyfriend-now-fiancé and saw that there were silicone rings, titanium, steel, etc. 
Of course, you can have an engagement ring made in a more feminine style out of these materials, but I found that there were more premade material choices for men's sizes. Typically men will wear their wedding ring early as an engagement ring, so at the end of the day, you are likely going to be buying one ring.
Expanding upon these thoughts, you could even choose to ditch the ring altogether! When gay marriage was legalized, a lot of couples who had been together for decades wanted to use a more permanent expression of their commitment and opted to get a tattoo! I think this is a beautiful, cost-effective, romantic, personal, and unique idea. 
How to save money on your engagement ring
Once you have a clear budget and find the most suitable ring, it's time to start thinking about ways to save up. It's wise to cancel any memberships or subscriptions that you aren't using. You should also browse through multiple shops to compare prices before deciding if "it's a keeper". 
You might also think about putting this purchase on your credit card to start earning airline points for your honeymoon. This is a good idea if you are able to pay it off immediately. If not, then you are better off choosing a ring that you can pay off before you get charged interest.
If you have a lot of debt already, it may be a good idea to see how much of it you can tackle before the big day. This is something that I am working on myself since I did acquire some debt when I quit my job to travel the world at 23.
It is nice to start a new chapter with most (or all) of your debts paid off. It is also completely possible to make progress on any debts you may have while still saving for a wedding. If you are interested in tackling debt before the big day, I recommend reading my post on the debt paydown methods that are working for me!
Shoud you insure your wedding and engagement rings?
Now that we've covered how much engagement rings cost and a few initial ways to save money, let's talk insurance! If you are spending several thousands of dollars on rings, it may make sense to look into a policy that covers them.
The Diamond Pro shared a survey that verifies that the average wedding ring cost for a male wedding band was about $510. For women, this number doubles to $1,100! Just like engagement rings, the cost of a wedding band depends on the metal used, setting, design, and the number of diamonds.
After calculating the cost of all these rings, you may want to consider insuring your purchase. Rings are often lost at sea and who could forget Kim Kardashian's Paris robbery.
Considering a ring is usually worn daily, there are good odds that at some point over the years something may happen to it. Once you are spending an amount similar to a car, then it may be time to consider insuring accordingly!
Practical tips on how to save money on your engagement ring
Most likely, you've come to the conclusion that maybe an expensive ring isn't exactly worth it. I don't blame you!
Now it is time to share some of the ways that you can quickly cut these costs in half. I learned a lot about rings during my initial research process. Eventually, we decided to support a local jeweler which was both a more sustainable option as well as more budget-friendly.
Here are some of the key ways you can control your spending on rings: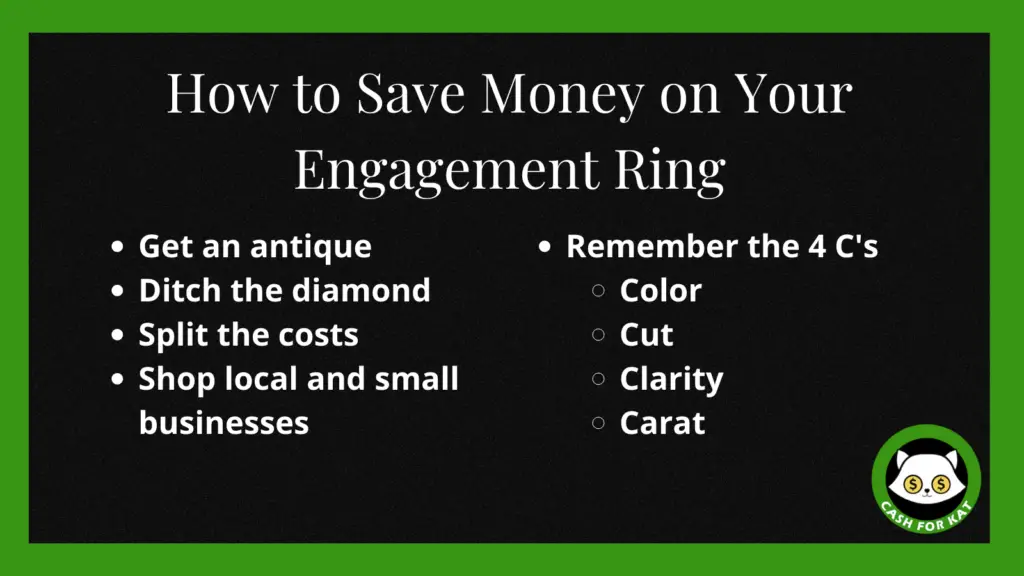 Get an antique
Using an antique ring can be great for many reasons. The first is that most ring styles are timeless! Of course, there are more vintage styles as well which can give the ring a more unique feeling. It is a very sweet thought that your loved one's ring is one of a kind!
Additionally, you may be able to find a family heirloom that is suitable. Even if you don't like the ring options in your family, you still have options! You can try having the ring reshaped or taking the jewels from it to use in a new ring.
Forget the diamond
Yes, we all love the look of a sparkly diamond ring! However, colored stones such as sapphires and emeralds can also look jaw-droppingly gorgeous.
Here is a fun fact that may surprise you. Michelle Yeoh wore her own emerald ring during the filming of Crazy Rich Asians. She said they did this because the diamond ring originally designed for her was too lousy! 
These days, everyone is aware that real diamonds aren't always the most ethical choice. This was one of the many reasons that we opted to go with birthstones. Why would we spend our hard-earned money supporting an industry that we don't believe in?
Remember the 4C's- Color, Clarity, Cut and Carat
Understanding the basic 4Cs that are used globally to ascertain the quality of gems will help you save! Cut and color are the key deciding factors of a diamond's value. Selecting a flawlessly cut diamond in the colorless range is often more important than the carat size.
So it may make more sense to have a smaller diamond if the quality is higher! Similarly, you can play around with the different types of metals to reduce the cost of your rings. Silver will cost you much less than platinum and most will not know enough about metals to tell the difference by sight alone.
The quality of your stone and the type of metal you select will likely have the biggest impact on the price you end up paying!
Share the Costs
At the end of the day, you are entering into a partnership and many couples start to think of everything as "ours". Perhaps it is time to apply this thinking to rings!
Since purchasing an engagement ring might be the costliest purchase your bank will see in a while and it's still just a small part of getting married! Sharing the cost can be a very easy way of setting realistic expectations.
Real brides weigh in on this idea and agree that going dutch on rings is perfectly fine!
Support local and small businesses
There are plenty of reputable local and small jewelry businesses that you can pick from! You will often receive better customer service and the ability to customize the rings more at smaller shops as well.
Many small businesses have online storefronts and it is easier than ever to find discounted prices from a reputable store. You can get a good idea of the styles that you like and what the general price range will be for certain metals or jewels.
It is always wise to look at the jeweler's history, years in business, and return policies. Another helpful tip is to read the customer reviews and testimonials to get an idea of their customer service. 
Should you pick your engagement rings together?
Many of my friends and family were surprised that we went ring shopping together. I think people still have a super romanticized vision of being surprised with a ring when you least expect it.
Personally, I would hate it if someone I was dating spontaneously proposed without bothering to check if that was a step I was ready for! In particular, my finance knows how important personal finance is to me and thus it was natural for us to discuss budgets for the ring. Isn't that part of having a healthy financial relationship with your partner?
Ultimately, we decided to go shopping together because my fiancé was really overwhelmed with the idea of trying to make a selection on his own. I was also a bit worried that he would choose something that I wouldn't feel as comfortable wearing every day as I don't usually wear jewelry.
Don't shy away from shopping together if you both enjoy taking major decisions together! Even though you have an idea of what the ring will look like before the special day, there are still many ways to make the proposal special and surprising.
Pros of shopping for an engagement ring together
I recommend having your partner pick out the initial designs and settings themselves. Then you can weigh in to let your partner know which designs out of their selection you gravitate towards more.
This is great because you can still keep things a surprise and have a few options to choose from. You will definitely want to communicate on ring style because there are so many different kinds out there. Since your partner is the one who will have to wear it every day, they should have some say in a style they like!
Ring shopping is a major investment and often puts needless stress on your partner's shoulders. You can ease that pressure by accompanying your significant other when they make a big purchase for your special day! 
You may even end up picking out the perfect ring together. That is what happened to us and it was great to both come to the decision at the same time!
The big reveal: How much money we spent on my engagement ring!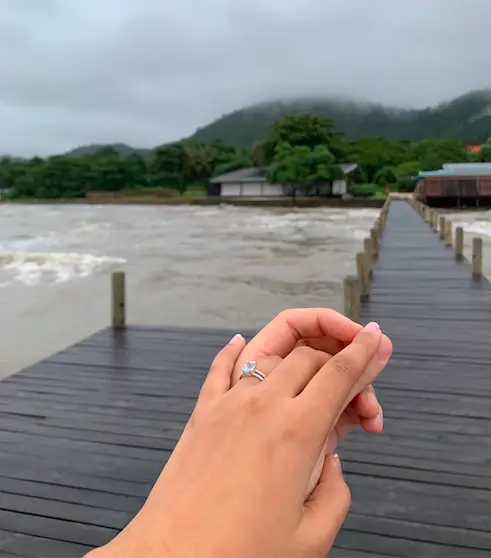 As I am a big believer in financial transparency and changing society's expectations by encouraging dialogues around money…. I've decided to share the details of my engagement ring and how much it cost. 
To be honest with you, when we first went shopping we were definitely looking at going traditional with a diamond. After the initial excitement wore off, we really weren't impressed with what we would be getting for our money. 
If you are spending $1,000 or so on a ring, chances are you are getting something mass manufactured. That means the style is similar to many other rings and the diamond is likely lab-made. All of the rings were beautiful but they just didn't feel like us. 
Going custom can be cheaper!
I quickly learned that you can control the cost of the ring by deciding which parts are most important to you. If you want a big diamond, then maybe going with a more affordable silver band can help bring the price down. Maybe the value of the ring is more important than the "wow" factor, in which case you may select platinum and many accent diamonds. 
For both of our rings, we found jewelers who utilized mostly locally sourced materials (since we live in Cambodia!). My ring has his birthstone, an aquamarine, with small white zircon stones around a white gold band. His ring is made out of silver, since he can't wear gold for religious reasons, and has my birthstone, an emerald.
Even though the emerald cost more than my aquamarine, our rings ended up costing almost the same as the metal used in his ring was a more affordable option. The total for both rings came out to around $800 and we each paid for the other's ring since the costs were similar.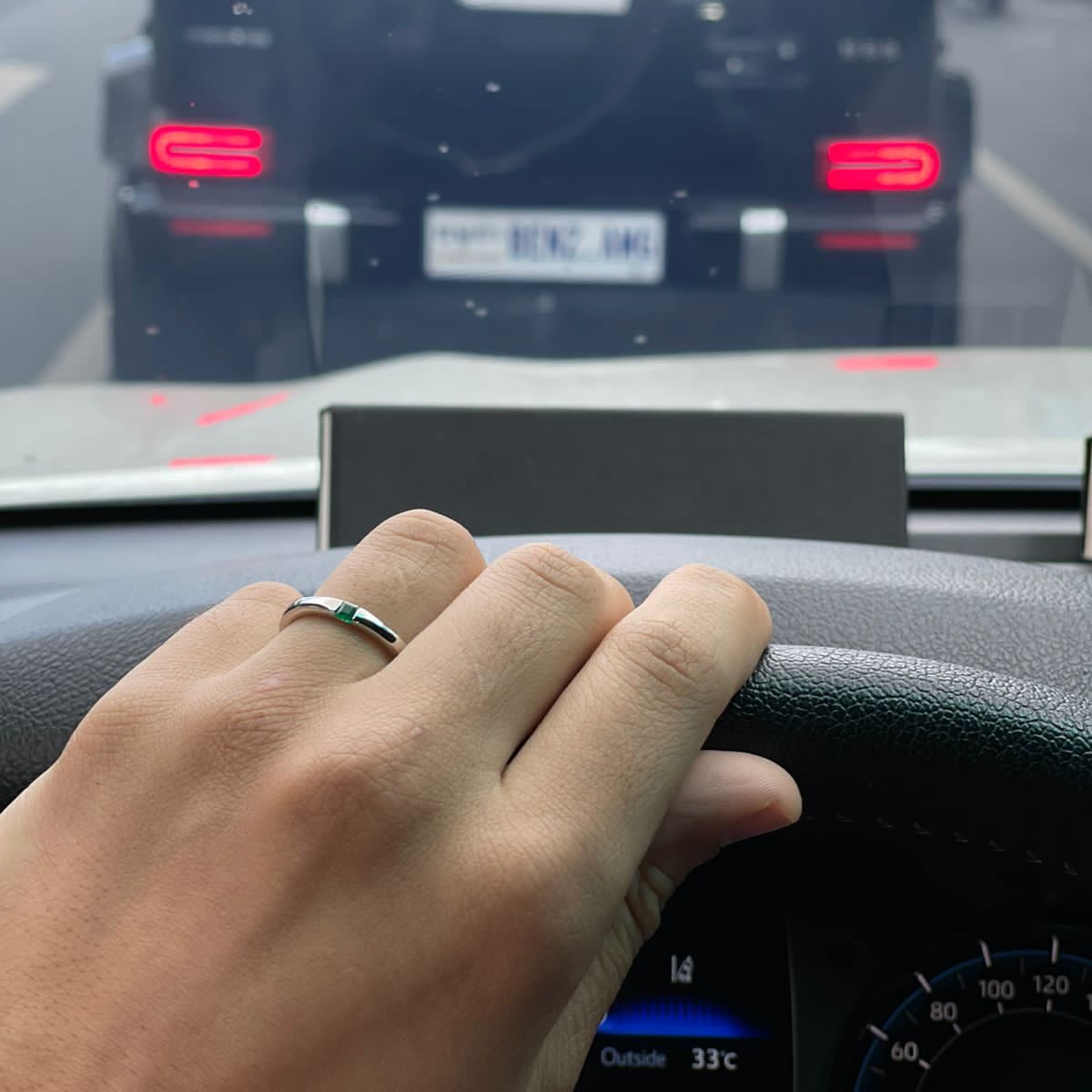 Would we spend this much again?
Absolutely! I loved being a part of the process and found it to be very romantic. We actually went ring shopping together for the first time on Valentine's day with the intention of learning about styles that we might like. 
It was a bit of a surprise that we found the perfect ring while we were together. Since it had worked out so well, we decided to continue shopping together till we found his ring! I think our shopping story is so unique and it is so fun to share it with people who ask about our rings.
Having the story, the memories, and creating something special together means more to me than following tradition!
How much did you spend on your engagement and wedding ring? If you haven't purchased one yet, what do you think your upper spending limit would be? Leave a note in the comments, I'm nosey!