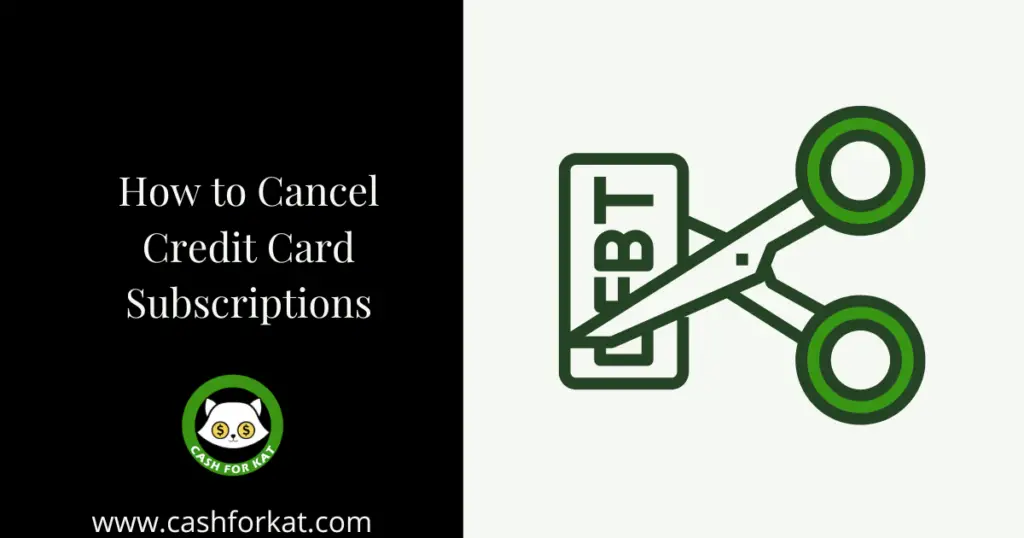 A few years ago, companies really got good at convincing us to sign up for monthly subscriptions. These days, you can sign up for anything to be sent to you on a regular basis. Clothing, groceries, product samples… everything!
Credit card subscriptions can be convenient for accessing various services and products, but sometimes it becomes necessary to cancel them. You've probably started to notice how quickly these costs start adding up. Just having Spotify and Netflix costs you over $20 a month, which is $240 a year! 
This post will cover all of the ways you can get rid of recurring charges on your credit card. I will also share some tips on how you can prevent them from getting out of hand in the future!
Table of Contents
The 5 Ways You Can Cancel Your Credit Card Subscriptions:
There are several approaches available to cancel your credit card subscriptions effectively.
By understanding these options, you will be empowered to navigate the subscription cancellation process with ease. You will also be able to make informed decisions about your financial obligations!
Here are the 5 ways you can easily cancel subscriptions on your credit card:
Online
By Phone
Call Your Bank
By Using Tracking Tools
Cancelling or Changing Credit Card
1. Online Subscription Cancelation

Log into your account for the company whose subscription you wish to cancel. You will then need to go to the banking information page, which is usually under "accounts" or "settings". You should find the cancellation option there and complete this yourself.

Do keep in mind when canceling a subscription that you are still obligated to make payments until it has been processed!

If you can't find the specific subscription, you may need to email the company or utilize the steps below by calling your bank to sort it out. 
Steps to cancelling subscriptions manually online:
Search your email inbox for "payment receipt"; "payment reminder" etc.
Access the associated account 
Go to settings 
Delete subscription
Go back to the email and remove yourself from the marketing list
If you don't follow these steps, the company may send you to collections. Then the missed payments will negatively impact your credit score! A low credit score will make it harder for you to get affordable loans in the future. That is why you want to be careful that you've canceled everything correctly.
2. Canceling Credit Card Subscriptions by Phone
Even if you cancel online, it is still a good idea to call the company to confirm that the cancellation went through!
This method is also great in case you find that you can't cancel using online methods. In some instances they can even issue a refund for your trouble! Tip: Always try asking for a refund if you are cancelling within 24 hours of the payment being initiated. Sometimes payment is pending but hasn't gone through.
I will say that this is one of my least favorite options. It usually takes more than 20 minutes to cancel via phone. Automated response systems, waiting for the operator, explaining the issue, etc. all make this process tedious. Some companies will even try to upsell you during the cancelation process!
Of course the experience will vary by company, but I recommend using this as one of your final methods.
Steps to canceling your credit card subscription by phone:
Perform a Google search for the company's customer service number OR check their website's "contact us" section.
Check for their operating hours
Call the company (if an automated machine answers, try saying operator or pressing "0" a few times to by pass the machine)
Discuss with the Call Center Representative or their manager (if your situation is complex)
When using this method, be careful when getting transferred as the calls often drop. You may also find that the help line you get transferred to takes even longer to answer.
I recommend always getting the name of the person who is transferring you and the phone number of the new department you are being transferred to. This can prevent restarting the explanation process from the beginning!
3. Cancelling by calling your bank
Calling the bank that issued your credit card can stop the payment from going through. You will need to call a few days before the payment is set to be taken from the card to ensure you have enough time to cancel.
If the charge is for a product or service you've already received, then you do owe this money and should not use this method of canceling!
Steps to cancelling by calling your bank
The steps for cancelling by calling your bank is the same as those listed above. This can often be a better method because your bank might be able to warn you if it is a subscription eligible for cancelation.
In many cases, you may still need to cancel directly with the company itself. That being said, your bank can give you more options for cancelation that might be relevant to your card and situation.
4. Manual cancelation by using subscription tracking tools
There are so many budgeting apps and personal finance tools that can sync to your card and detect recurring charges. If you want to have a better idea of your total financial picture, then this would be a great option for keeping tabs on your bills!
Later in this post, I will share some popular tools you can use to track these pesky recurrent subscriptions.
How to cancel by using subscription tracking tools:
Select the budgeting app that works best for you
Give access to your bank or import your data
Review the automatic reports that are generated
Identify recurrent expenses, separating subscriptions to be removed
Use any of the methods in this post to remove subscriptions
I like this method because you will truly be able to see what subscriptions are useful vs. sucking your bank account dry. This method can be a bit more time consuming, but you will find that it helps you cancel the most subscriptions in one go.
Additionally, some apps do more than budgeting. There are a few apps that focus on helping you cancel subscriptions on your credit card and can work on your behalf to proactively remove them. Often this is as easy as pressing a button!
5. Cancel or Change the Credit Card
If you are unable to cancel the charge using the methods above, then you will definitely need to get into contact with your bank.
They can initiate a stop payment on their end as long as you are contacting them quickly. And by quickly, I mean within about 24 hours of the charge taking place. Noticing a trend?
This method should only be used when all other methods have failed as you can negatively impact your credit score if you owe someone money and try to cancel this way! Only use this method if the charge/subscription was NOT authorized by you.
Here are the steps you will need to take to cancel a subscription through your bank:
Call and ask for more info on the charge
Ask for it to be suspended
Confirm when the charges will stop
Ask if the last charge(s) can be refunded
This whole process usually takes less than 20 minutes from start to finish. I've also found that asking for more information on the charge is very useful. This ensures that you don't accidentally cancel important charges.
There have been many times where I've called to cancel a charge only to realize that it was a payment I had authorized! Occasionally the name of the business you purchased from and the name the charge appears under are different.
Many companies will operate under a parent company or out of a different location. All of which can make it a bit more challenging to make sure you are canceling the right charges!
Another benefit of this method is that the bank can usually refund the charge if it was not authorized by you and was made on a credit card. This perk varies depending on your bank and credit card's policies, but is pretty standard these days and worth asking about!
How to cancel all your credit card subscriptions using a worksheet (Free!)
This is a bonus method of removing your subscriptions! I created my own subscription removal sheet that can help you identify subscriptions quick and easy.
This sheet is perfect for identifying what common subscriptions need to be removed so that you can go straight to using the methods above to cancel. You will also like this sheet if you are concerned about giving third party apps access to your data.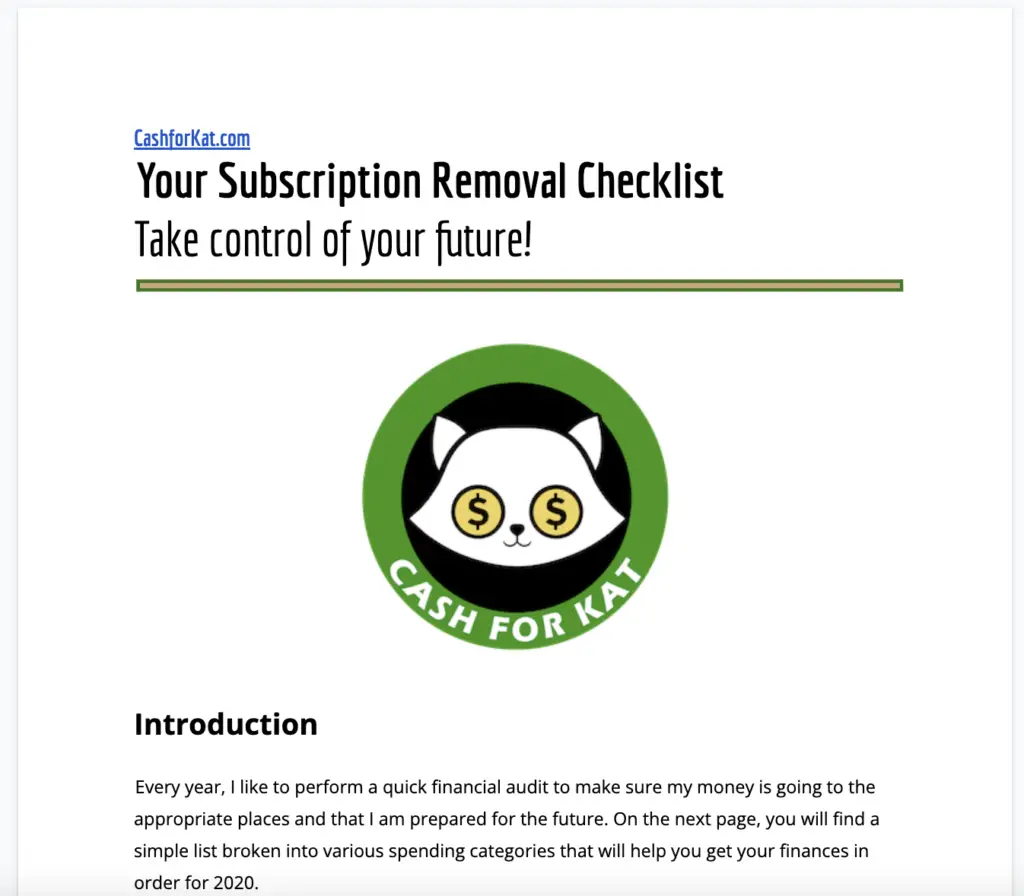 If you only have a few subscriptions, then this worksheet may be all you need to use. If you have a lot of subscriptions, then you can use this worksheet as a tracker to collect information from your statements.
I like to use this worksheet at least once a year to cut down on ongoing expenses.
Even getting rid of one subscription will save you about $100 over the course of the year! And it usually only takes a few minutes to get rid of them. 
Further on in this post I've included a few budgeting tools that you can use to make this process faster. I recommend starting with the worksheet for those of you who are new to personal finance. It is really useful to manually comb through your statements to see your spending patterns.
Best tools to cancel credit card subscriptions
These days there are hundreds of different apps, platforms, templates, etc. that can help you keep track of your finances. Most of them have built in notifications that can help you spot recurrent charges quickly.
A good place to start looking for these tools is through your bank. This will be much more secure than giving a third party your account information. Another benefit is that it helps to ensure the data is as up to date as possible. If you are looking for some easy and basic tools, then you may find everything you need at your bank!
The benefit of third party apps is that they can often help you visualize your spending with graphs. They also have additional tools that can help you calculate and project your spending patterns instead of just monitoring.
No matter what you choose, these tools are sure to help you save money in minutes!
Banks with subscription canceling tools
Two well known companies that offer these account management tools are Chase and Capital One. Read on to learn more about the Chase Account Manager feature and Eno from Capital one!
Chase Saved Account Manager
Using the Chase Saved Account Manager allows you to see where your credit card information is stored. Naturally, most of these places store your information so they can charge you each month!
This provides an easy-to-follow list of companies that you might need to unsubscribe from. This tool also helps you canceling subscriptions you no longer want.
If you already have a Chase account, simply navigate to the "Security Privacy" tab to get started!

Eno from Capital One
If you have a credit card through Capital One, you can use the free tool Eno to track your subscriptions and track your spending. This tool is also great for monitoring your account.
Budgeting tools for canceling subscriptions
No matter what your budgeting style is, there are sure to be many tools that can help you both manage your finances and cut down on subscriptions.
Most tools have a free version that you can use, with options to gain deeper insights if you switch to a paid plan. For the purpose of canceling subscriptions, most free plans should have all the functionality you will need.
AskTrim.com
This is a comprehensive tool you can use to track your subscriptions monthly. Also known as Trim, you can cancel your subscriptions and even set up a cancellation to occur when your contract ends. Trim will take care of the cancellation when the time comes.
This tool can also keep track of how much you spend on a subscription and alert you if the monthly cost has increased. They can even reach out to your credit card company and negotiate a better price on your behalf!
According to their website, most Trim users save an average of $620 a year through this tool!
Hiatus
This tool will send you a notification before a monthly subscription payment comes off your credit card, giving you enough time to cancel if you no longer want that subscription.
You can also take advantage of Hiatus by using it to analyze your finances and help you negotiate deals with companies that could be offering you a better deal. Hiatus also provides personalized financial advice.
RocketMoney (Formerly Truebill)
Rocket Money will help you to create a clean and tidy list of your subscriptions. You can cancel your subscriptions with a click of a button, as well as set up reminders for bill payments.
This popular app has saved members over $100 million in the last 5 years and has over 2 million members!
DoNotPay
DoNotPay likes to deem itself the world's first robot lawyer and offers users help with appealing parking tickets, cancel subscriptions, and get refunds for late deliveries. They utilize AI to find the subscriptions you need to cancel.
You can also sign up for a free trial to a subscription, and DoNotPay will cancel that subscription before you start to pay for the subscription!
Mint.com
Mint is one of the most popular budgeting platforms around! This is a great tool if you are a bit more hands on when it comes to budgeting.
They have special features that allow you to manage your subscriptions. Mint can also send you a reminder before the bill comes out of your account and alerts if the monthly bill has increased.
Bobby
If you are not comfortable connecting your credit cards or bank accounts to an app then Bobby is for you. You do have to put in all your information manually, but you can track monthly expenses and recurring subscription charges and the billing cycle to help track the payments better.
Note that this is only an app, there is no web version for those of you who prefer to use a computer for your finances. That being said, Bobby does have a very simple and friendly user interface.
Additionally, they are one of the few apps that allow you to keep track of foreign currencies!
Track My Subs
As you can guess by the name, Track My Subs has some of the most comprehensive tools available for tracking your subscriptions. You can see everything in a chart form and get a detailed breakdown of how much you are spending each month. 
The free version allows you to track up to 10 subscriptions and you don't need to use your credit card to sign up!
FAQ about canceling credit card subscriptions
How do I cancel all credit card subscriptions fast?
So far we have covered all the ways to remove individual subscriptions. What if you need to remove a lot of subscriptions at the same time?
The obvious way would be to cancel the card, but that is not something you should do spontaneously as it could negatively impact your credit score. Another option would be to ask the bank to send you a new card! 
This would change your numbers and the company would no longer be able to charge you with the information they have on file. Be careful though! If this is money that you owe for a product or service you've already received, then they could send you to collections! 
How can I see all my subscriptions on my card?
The best way is by using a budget tracking tool like Mint.com or creating your own spreadsheet to keep track. 
Creating a credit card spreadsheet doesn't have to be complicated or fancy, you can use an excel spreadsheet if you want or find a free template online for credit card tracking.
When you are creating your spreadsheet, you might as well make it comprehensive to keep you in good standing with your credit cards.
Before starting, gather up all your credit cards to add and all the bills and subscriptions you pay with each credit card.
How can I use my own spreadsheet to track subscriptions?
Making your own spreadsheet is always a good idea, even though it is very manual. You will be able to organize the information that is most useful to you and in a way that makes sense for you.
The downside is that you will likely need to keep the data fresh. Most people will do this monthly, but quarterly can be sufficient if you are willing to dedicate an afternoon to the task.
This method is also wonderful if you are interested in "credit card churning". This is a fancy way of taking advantage of sign up bonuses and points to maximize your credit card earnings.
Here are some columns you will want to include in your spreadsheet:
Card issuer
Card name
Card owner (If you and your spouse have joint cards)
Open date
Expiration date
Credit limit
 Annual fee
Rewards earned from card
What is a recurring payment?
A recurring payment on your credit card is when you have given a company permission to charge your credit card regularly for a service or a product. 
Common recurrent charges would be things like gym memberships, utilities, and entertainment services. In addition, many people have started to order their daily household products or even clothing through these automated services!
You may be surprised to find subscriptions you have long forgotten about and no longer use but are still paying for on a regular basis. So how do we get rid of these long-forgotten subscriptions?
The first step would be to identify all the services you have charging your card. Then you need to decide which services you no longer need and which ones are still important to you.
One of the easiest ways to identify the services that you will need to cancel is through a worksheet. Worksheets are a simple but effective tool for quickly finding recurrent charges on your bank statements.
You can save yourself some time by thinking through some of your current subscriptions. That is why I've created a free worksheet to help guide you through this exercise!
Eno will also notify you when the free trial period is over for a subscription. This gives you time to cancel if you don't want to continue with that particular subscription.
Final thoughts on canceling credit card subscriptions
Canceling credit card subscriptions may seem like a daunting task, but with the right knowledge and tools, you can successfully navigate this process.
In this article, I shared five effective ways to cancel your credit card subscriptions: online, by phone, contacting your bank, utilizing tracking tools, and considering the option of changing your credit card.
Each method offers its own advantages and considerations, allowing you to choose the approach that best suits your needs and preferences.
Remember to review your subscriptions regularly and make adjustments as needed. With these insights, you can confidently manage your credit card subscriptions and make informed decisions that align with your financial goals.
Have you ever had difficulty canceling a credit card subscription? What steps did you take to resolve the situation?
What other strategies do you use to keep track of your credit card subscriptions and manage your finances effectively?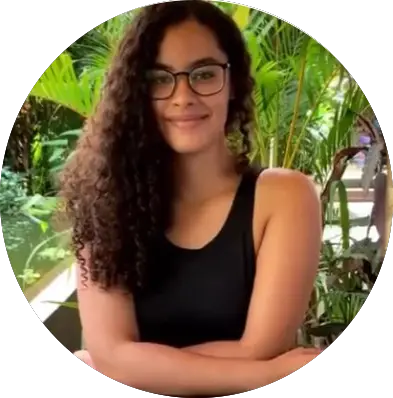 Kathryn Rucker is a sales consultant and content writer. With 7+ years of sales experience, she is passionate about helping businesses and individuals grow their sales pipelines by improving their online presence.
She has been traveling full-time since 2018 thanks to the location and financial independence she has gained from her business, Kat Rucker Consulting Group. You can connect with her on LinkedIn.