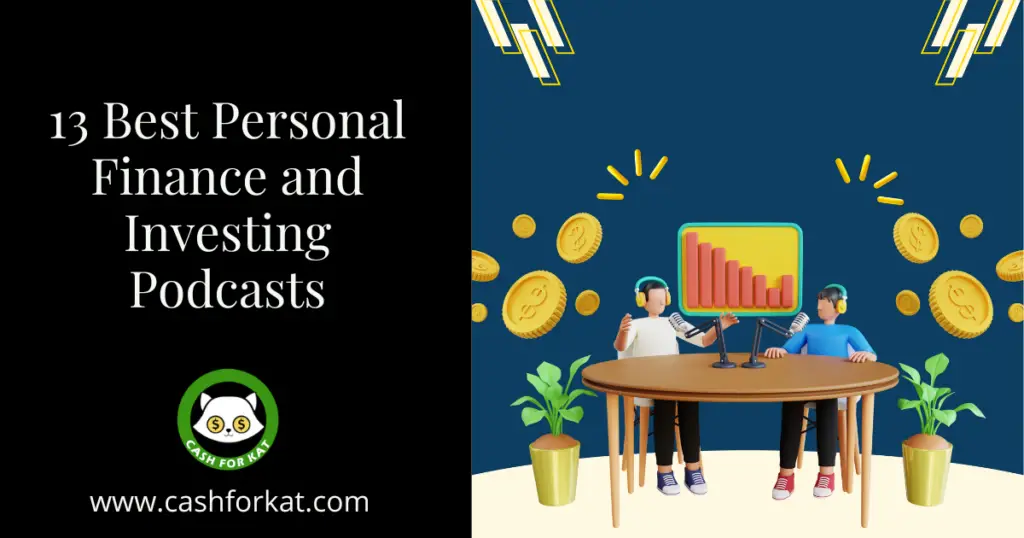 The world of podcasting has exploded in popularity over the past few years. In this ever-expanding landscape of audio content, investing podcasts have emerged as a valuable resource for those seeking to grow their wealth and make well-informed financial decisions. 
Investing is a complex and ever-changing topic that requires constant learning to improve your skills. With the help of podcasts, you'll be able to make better investments and make wiser decisions.
In this article, I'll share some of my favorite personal finance podcasts as well as some of the most popular podcasts in the personal finance community. 
Table of Contents
Cash for Kat's Top 3 Best Personal Finance and Investing Podcast Picks
As I'm a personal finance blogger, you might have already guessed that my preferred learning method is reading other blogs. And you'd be correct! 
That is why I only have two podcast recommendations for you. That being said, these podcasts are so engaging that I believe anyone will love them. Afterall, they convincced me to tune in for years!
1. So Money by Farnoosh Torabi
So Money is probably one of the reasons why I can speak about personal finance and actually sound articulate. Before I found Farnoosh's podcast, I was already into personal finance but found all the terms to be overwhelming to learn. 
I would listen to this podcast every morning on my commute to work in SF. Since most of her episodes are 30 minutes long, this is the ideal podcast for daily listening.
Farnoosh breaks things down into an easy to understand format and has amazing guests on a regular basis. Plus, I love supporting and learning from women in finance!
The So Money podcast has over 1,521 episodes to date. You will never run out of amazing content to listen to!
2. Millennial Money Minutes Podcast by Grant Sabatier and Matt Zubricki
I found the Millennial Money Minutes Podcast through Grant's blog, Millennial Money. Grant hosts this podcast with fellow personal finance blogger, Matt from Distilled Dollar (blog discontinued). 
As you may have guessed by the name, this podcast covers personal finance topics in 5 minutes or less. Of course, I often binged my way through them!
The short length and simple explanations make this podcast ideal for people who are new to managing their finances. Some episodes I particularly enjoyed are the ones on buying back time, lifestyle inflation, and automated savings.
3. The Best Interest Podcast by Jesse Crammer
I would say Jesse's podcast is the one that I currently listen to the most, since we are connected on LinkedIn! Whenever I see his post pop up in my feed, I immediately give his podcast a listen.
This podcast is better for people who already have a solid understanding of personal finance, though he does sprinkle in some 101 type episodes as well. To date, The Best Interest Podcast has over 57 episodes and covers topics such as the debt ceiling, FTX Collapse, and Warren Buffett's latest shareholder letter. 
Two years ago, Jesse was kind enough to ask me to be a guest on his podcast. Then episode I was on is called Kat Rucker of Rucker Sales Consulting– E12. We discuss how I started my business while traveling! 
10 Best Personal Finance and Investing Podcasts
I can't listen to every amazing podcast available as there simply isn't enough hours in the day. So I turned to Reddit, Spotify Podcasts, and Apple Podcasts to find some of the best podcasts that members of the personal finance community recommend.
I've compiled these recommendations into the "best of" list you see below!
If you'd like the full recommendations, you can check out these Reddit threads:
What Are The Best Personal Finance Podcasts on Spotify/Apple Podcasts?
Best Podcasts on Spotify for Someone New to Personal Finance?
1. Smart Money by Nerd Wallet
Smart Money by NerdWallet is an informative and user-friendly personal finance guide. NerdWallet, a trusted personal finance platform, offers expert advice and tools to help individuals make smarter money decisions. 
This comprehensive podcast covers budgeting, saving, investing, and retirement planning, providing actionable insights for readers at any financial stage. NerdWallet's expertise and guidance empower readers to make informed financial choices and achieve their goals.
2. The Money Podcast by Bigger Pockets
The Money Podcast by BiggerPockets is hosted by Scott Trench and Mindy Jensen.
Scott is the CEO of BiggerPockets and bestselling author of Set for Life. His expertise lies in money management, calculated risks, and real estate investing.
Mindy is a seasoned real estate investor with over twenty years of experience. She brings extensive knowledge in buying, selling, and flipping homes.
Together, they provide valuable insights, practical tips, and proven strategies for building wealth through real estate and smart financial decisions.
3. Afford Anything with Paula Pant
Afford Anything is a popular podcast hosted by Paula Pant. Paula is a seasoned personal finance expert, speaker, and writer who has achieved financial independence by making smart choices with her money. 
On the podcast, she explores the concept of financial freedom and how it allows individuals to afford anything they truly desire in life. There are over 447 episodes to date!
 Paula covers a wide range of topics, including real estate investing, entrepreneurship, money mindset, and lifestyle design. With her engaging style and practical advice, Paula empowers listeners to take control of their finances and live life on their own terms.
4. The Money Guy Show by Brian Preston and Bo Hanson
The Money Guy Show is hosted by Brian Preston and Bo Hanson. Brian and Bo are both Certified Public Accountants (CPAs) and Certified Financial Planners (CFPs) with extensive experience in the field of finance. 
On the show, they provide valuable insights and advice on a wide range of financial topics. Some of their popular topics include: investing, retirement planning, tax strategies, and wealth building. With their expertise and engaging personalities, Brian and Bo break down complex financial concepts into understandable and actionable information for their audience.
5. The Stacking Benjamins Show by Joe Saul-Sehy
The Stacking Benjamins Show is a popular podcast hosted by Joe Saul-Sehy and co-hosted by a rotating panel of experts and personalities. Joe, a former financial advisor and media personality, brings a unique and entertaining approach to personal finance discussions.
 The show covers a wide range of money-related topics, including budgeting, investing, retirement planning, and financial independence. With a mix of expert interviews, listener questions, and humorous banter, "The Stacking Benjamins Show" offers informative and engaging content to help listeners navigate their financial lives. 
6. Motley Fool Money Show by Chris Hill
The host of this podcast is Chris Hill, and a rotating panel of financial experts from the Motley Fool. This investing podcast covers a wide range of financial topics, from stock market news to personal finance strategies. 
Although these topics can seem dull for people not into finance, crypto, or the stock market, the Motley Fool Money Show crew provides great insight into trending business news and many investment opportunities. 
Motley Fool Money releases new  30-45 minute-long episodes every Tuesday and Friday. Episodes are high-quality, making this investing podcast even more enjoyable. 
7. Invest Like The Best by Patrick O'Shaughnessy
Invest Like The Best is another popular investing podcast hosted by Patrick O'Shaughnessy, the CEO of O'Shaughnessy Asset Management. This investing podcast is focused on interviews with top investors and investing experts in order to provide listeners with unique and in-depth insight into the world of investing. 
New episodes are released every Tuesday, and they are 60 minutes long. Invest Like The Best covers topics like behavioral finance and psychology, emerging market trends and opportunities, growth investing strategies and tactics, and many more
8. Animal Spirits Podcast by Michael Batnick and Ben Carlson
Two financial experts, Michael Batnick and Ben Carlson, decided to create this great investing podcast called Animal Spirits. Focused on behavioral finance and market psychology, this show explores different ways in which our emotions and various behaviors can impact our investment decisions. 
New episodes are released every Wednesday and Friday, and the average episode duration is 35-45 minutes. Besides financial topics, these two guys talk about life and about the things they enjoy reading or watching. This podcast is a great source for investors of all levels, plus, it's very entertaining!
9. We Study Billionaires by Preston Pysh and Stig Brodersen
We Study Billionaires is investing podcast hosted by Preston Pysh and Stig Brodersen, and, it's focused on exploring the investment strategies and philosophies of the world's most popular billionaires. 
Pysh and Brodersen also cover a wide range of other topics, from macroeconomic trends to personal finance strategies and more. These two guys offer their listeners unique perspectives on the field of finance and investing, with in-depth analysis and interesting interviews. 
New episodes are released every Saturday, and they are 45-60 minutes long.
10. Mad Money with Jim Cramer
Mad Money with Jim Cramer is a popular finance television show hosted by Jim Cramer, a seasoned stock market analyst, and former hedge fund manager. Cramer has a lot of experience in the finance field, so his expertise gives listeners insights and analysis to make better investment choices. 
The duration of Mad Money With Jim Cramer is 45 minutes per episode, and they release new ones during weekdays. This podcast is interesting for everyone who wants to stay ahead of the curve in the world of investing, and learn how to make better investing decisions.
Why Should You Listen To Investing Podcasts?
Investing podcasts provide valuable insights into a variety of topics that any investor should be aware of. These podcasts also give individuals actionable tips they can implement. This can help you make more informed decisions when it comes to your investments. 
All of these investing podcasts are absolutely fantastic sources of important information about trending things in the marketplace.
Final Thoughts on the Best Personal Finance and Investing Podcasts
Investing and personal finance podcasts serve as invaluable resources for any investor wanting to stay up-to-date on the latest trends as well as learn how to make more effective money management decisions. Additionally, many investing podcasts provide education on personal finance, such as managing debt, saving for retirement, and building a solid investment portfolio.
These podcasts are just one of the many tools in your money journey.  With many options available – now is an ideal time for any person looking to gain a better understanding of finances and increase their success rate!
What are your favorite investing podcasts? Do you have a personal finance podcast recommendation? I'd love to hear your top picks in the comments section below!