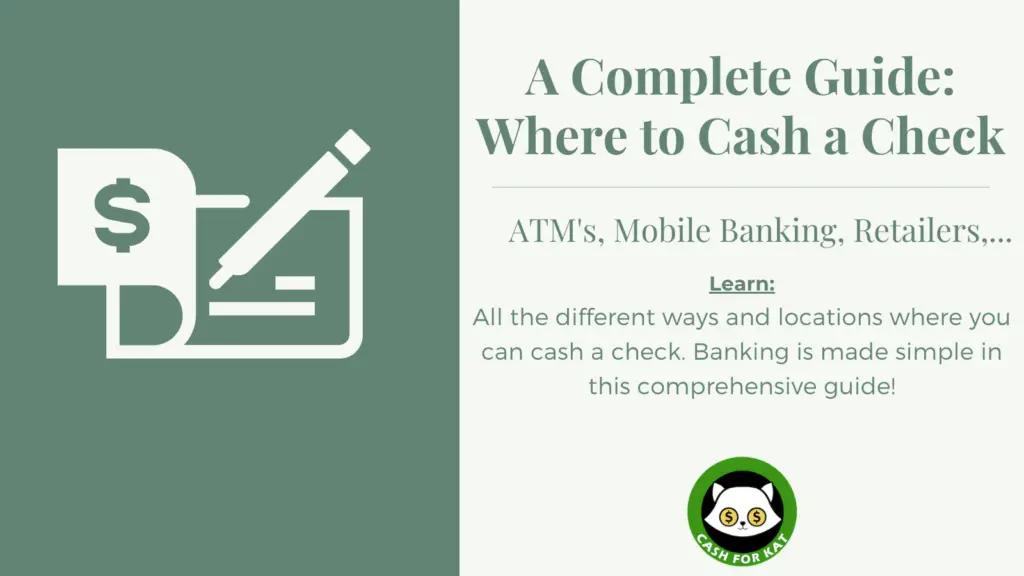 When you are starting to learn all about the world of banking, it can feel that there are so many different items to consider and steps to take. Banking should not feel overly complicated. In fact, banking is here to help you! Many things that seem scary, like the steps you need to take to cash a check, are actually very simple.
My first experience with cashing checks came when I was about 7 years old. My grandparents used to send me checks in my holiday cards instead of cash. Of course, the checks would then need my signature to be deposited! That is why learning to write a check was one of the many business lessons my dad taught me at a young age.
Not too surprisingly, cashing checks is quickly becoming obsolete. Many people no longer learn how to handle a check until one shows up at their door! In this article, we are going to break down checks and how to cash them to help you feel confident about this next step in your banking. Banking can be made simple and easy!
How to Cash a Check in 3 Easy Steps
1. Find a bank or credit union
When you cash your check, always try to go to the bank or credit union you are currently banking with. Just find a branch near you and head right over! Banks love it when you receive money because they are receiving money too. That is why the bank you currently do business with will always be the easiest option for you to cash a check at.
It is important to note that not all banks will be able or willing to cash your check if you do not bank with them. In fact, they will almost always add a small fee to the transaction if you are not one of their clients. Working with your regular bank will make it convenient and help you save money as you cash your check.
2. Sign the back of your check where the small x is – AKA endorse your check!
The bank needs to know this check is yours and that you approve the depositing of this money. Flip over the check and sign your name on the back of the check. This shows the bank that you are the intended recipient of the check and that it is officially approved by you to be cashed. Similarly to signing a contract, nothing can be done with the check until it has been endorsed.
3. Present your check to the bank
Last but certainly not least, you will need to present your check to the bank itself. If you are deposit it at your local branch with a teller, you will need to present a form of ID to deposit the check. You can also use your debit card and pin number to establish which account you are want the check to be cashed to.
There may be features at your local bank to do an electronic form of cashing a check through their ATM machines, or even through a mobile banking app by taking a photo. Any methods using an app are typically for customers only as they require logging in. If you are receiving regular checks that need to be cashed, this is a great method that is very easy and convenient!
Frequently Asked Questions About How to Cash a Check
1. Can you cash a check from any bank?
Not all banks or credit unions will allow you to cash a personal check with them if you are not a customer. They want to prioritize their customers and keep as much money at their bank as possible. If a bank cashes a check for a non-customer…. then the money isn't being put into one of their accounts!
So while it is completely possible to find a bank that will do these transactions for you, this is usually not the easiest way to cash your check. If a bank or credit union allows you to cash your check, be aware that there will probably be some fees involved for processing the check.
2. Where can I go to cash my check?
Where to cash a personal check (Top 3 Best Places)
When it comes to the best places to cash your check, the number one place to go is the bank or credit union you are a customer of. You will get the best customer service there and also avoid certain banking fees during this transaction. The bank that issued the check is another place that would be able to help you and would be more convenient if you were not able to get to your normal branch.
The third option that is a good choice is to access banking through a major retailer like Walmart or 7/11. You can access these services by heading to their customer service desks and working with their money services. Using these services may lead to additional service fees.
Where to cash a check (Top 3 WORST Places)
Payday lending stores
A third party bank (not affiliated with your bank or the issuer's bank)
Money Transfer services
There are some places that you should avoid when it comes to cashing your check. You've worked hard for your money and want to make sure you can keep most of what you have earned and not get bogged down by enormous fees.
Payday lending stores will cash any check at any amount but can have various service fee rates. One example is from Cash Money, that will charge you 2.99% of your check to cash it. Save your money by seeking out a branch of your bank or credit union.
3. How to cash a personal check from another bank
If you receive a check from another bank, you can deposit it at your local bank branch! Make sure the check is made out to you and that you have endorsed the back of the check. Head on over to your bank branch and ask your teller how you might deposit your next check. Tellers are your best friends at the bank!
4. How to cash a check from an ATM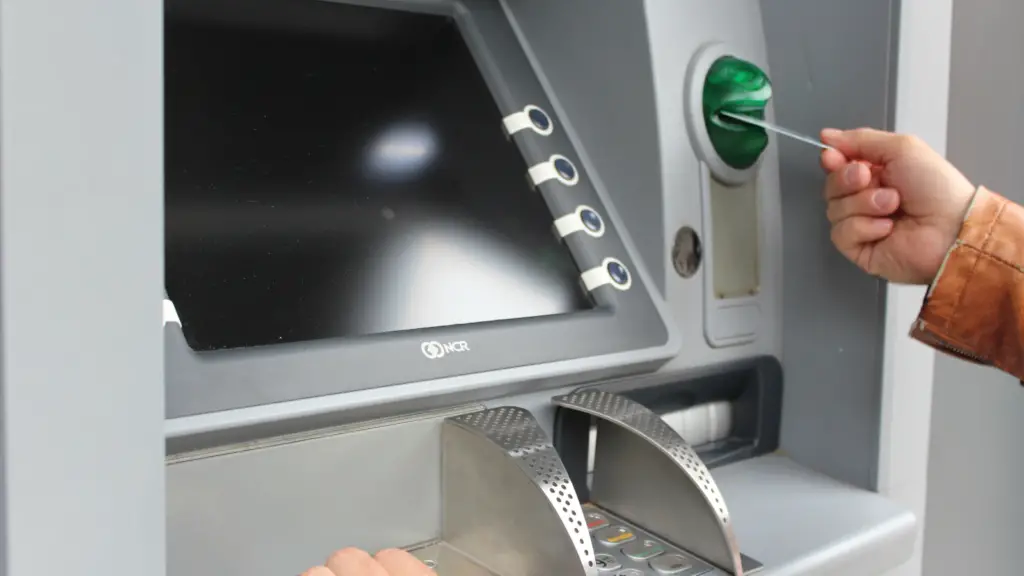 Cashing a check at an ATM is one of the most popular ways to cash a check. Head over to your bank branch and to their ATM section. Make sure you have your check in hand and your account card (debit card) to access your account.
Make sure you read over the check to ensure it has been filled out correctly. Some ATMs will require you to cash your check through an envelope while others will allow you to insert the check directly. If there are any questions about how your ATM machine works, reach out to a teller who can direct you through the process.
The best part about this method is that most bank branches have ATM's located outside. This means you can self-serve at any time and can cash your check outside of normal business hours. This option also tends to be much faster than waiting in line and having the teller do it for you.
5. Where can you go to cash a check without ID?
What happens if you are running late to cash your check and you forget your ID at home? Maybe you don't have time to run back before the branch closes. There can be many reasons why you may not have your ID on you and there are still a few ways that you can cash your check without your ID.
First, check out your ATM at your local bank branch. Many ATMs are now equipped to cash checks. This would not require your ID but a debit card that will connect the machine to the proper account. This is a good way to get your check deposited into the correct account and at a quick pace.
A second option would be to sign the check to someone else. This is a simple process that requires you to designate the check to a trusted person. This person will then be able to deposit the check to their account. This process works best if you trust the person since they will need to transfer the money back to you. To sign a check over to another person, simply endorse the back of the check as you would when submitting it yourself.
Of course, another option would be to have another form of identification. Typically, any ID that has been issued by the state or government, such as a passport, would suffice. Just make sure it has a photo on it and is still valid!
6. How to cash a check on your phone
Mobile banking has made it easier than ever to cash a check from the comfort of your own home. Deposits are now as simple as taking a picture! Once you have received your check, you will have to ensure you have a mobile banking account set up and electronic check deposit is activated.
Once this is activated, you will most likely have to endorse the check with your signature on the back. The final step would be to take a picture through the app of the front and back of the check. Each bank is different! Check with your local bank branch about this feature and how you can get started with mobile deposits.
Cashing a Check Should be Fast!
No matter what method you choose, cashing your check should be a very fast process. At best, you can do it with a few clicks on your phone which will have your money deposited in minutes. At worst, you may need to take a trip to a bank or ATM.
As long as you bank with a popular retail chain or local credit union, there is a good chance that you can complete this task in less than an hour. In my personal experience, I find ATMs to be the easiest solution to my problems as I have accounts at a few different banks. This means that I am usually walking by an ATM that I can use at no cost when I get off the bus or go to a cafe.
Not only should cashing your check be a fast process, but you can also enjoy a bit of the novelty. Who knows! in a few years we may not even be using credit cards or checks anymore!
Do you have a favorite method for cashing a check? Which one of these do you still need to try? Leave a comment below!