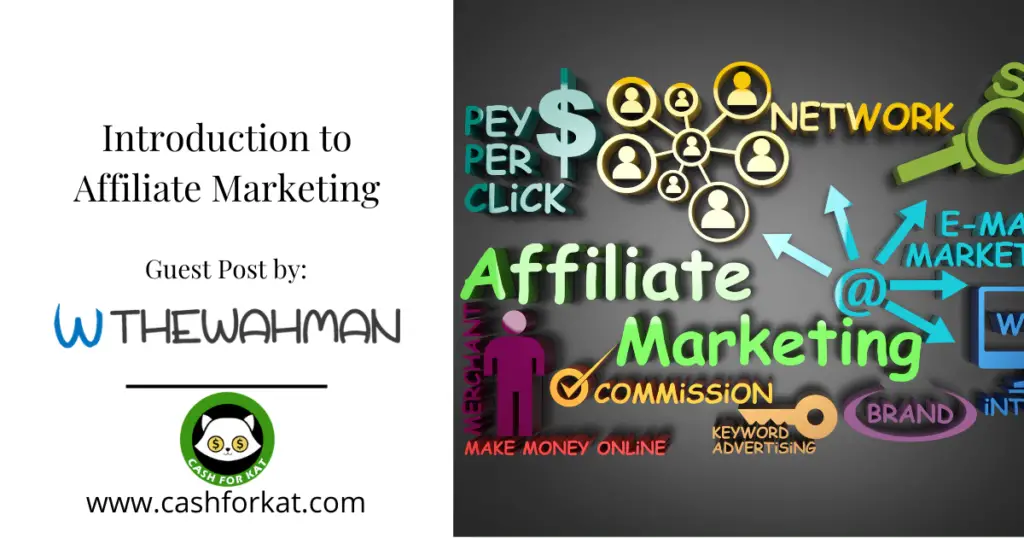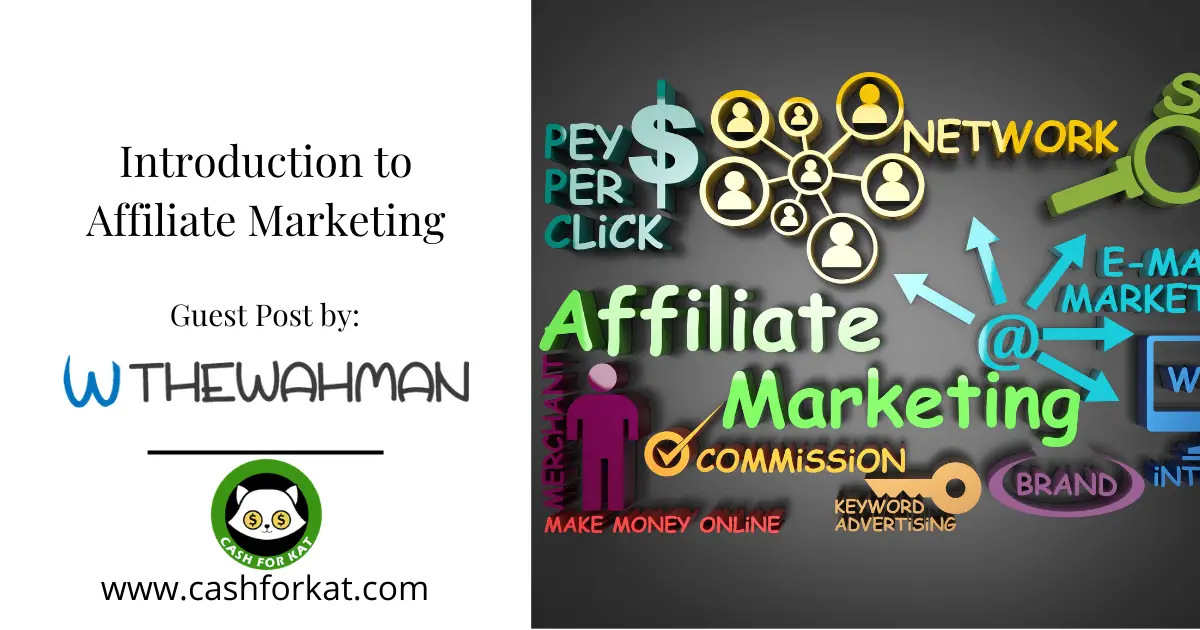 Today's guest post on, "Introduction to Affiliate Marketing", was written by Matt from thewahman.
This is Cash for Kat's 9th guest post! If you would like to check out our other guest posts, you can find them under the Guest Post Category. Our last guest post was on 10 Best Side Hustle Apps to Earn Extra Money by Ash and Peri.
Without further ado, here is everything you need to know about getting started with affiliate marketing!
An introduction to affiliate marketing
If you're looking for a new way to make money online, affiliate marketing might be just what you're looking for. 
Affiliate marketing is a great way to make money by promoting other people's products and services. 
Here, we will discuss what affiliate marketing is, how it works, and some of the benefits of becoming an affiliate marketer. We'll also provide some tips for getting started with affiliate marketing.
So if you're ready to learn more about this exciting and profitable business venture, keep reading!
What is affiliate marketing?
When people hear the term "affiliate marketing," they often think of online banner ads and annoying pop-up ads. However, affiliate marketing is much more than that.
It is a type of performance-based marketing in which a business rewards an affiliate for each successful sale that the affiliate brings to the company. In other words, it is a way for businesses to tap into new markets by partnering with people who already have a large following.
For example, if a company wants to sell its products to a new audience, it could partner with an influencer who has a large social media following. The influencer would then promote the company's products to their followers, and the company would pay the influencer a commission for every sale that they generate.
Affiliate marketing is an effective way for businesses to reach new customers, and it can be extremely lucrative for those who are able to successfully promote products.
What does affiliate marketing involve?
Affiliate marketing is one of the most popular ways to make money online. The basic idea is simple: find a product or service that you like, and then promote it to others. In return for your efforts, you'll earn a commission on any sales that you generate. 
Of course, successful affiliate marketing requires more than simply finding a good product. You also need to understand how the affiliate marketing system works, and what strategies are effective in promoting your chosen product.
But with some effort, you can quickly start to see some money rolling in.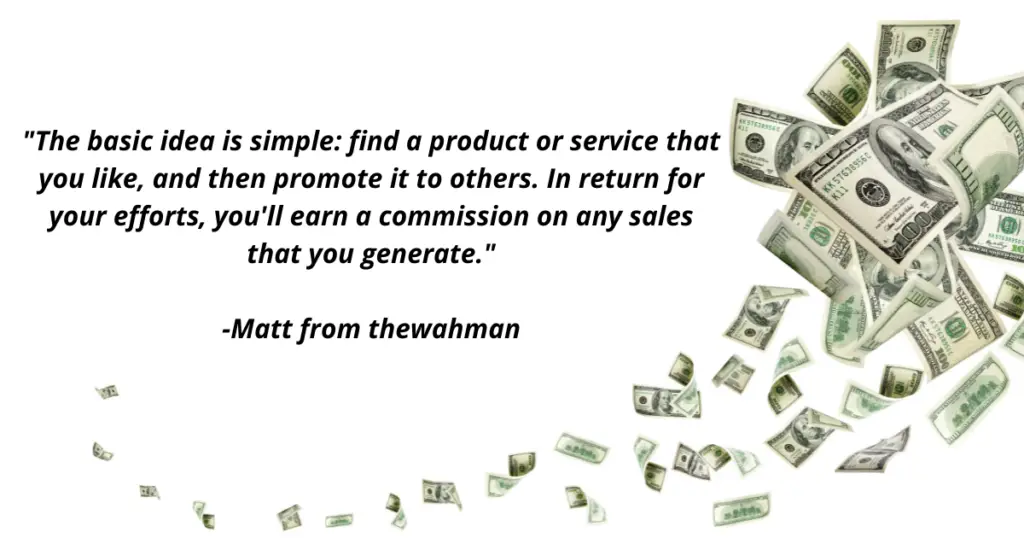 Is affiliate marketing worth it?
If you're thinking about venturing into affiliate marketing, you may be wondering if it's really worth your while. After all, there are a lot of online scams out there, and it can be hard to tell if an opportunity is legitimate or not. 
However, the truth is that affiliate marketing can be extremely profitable for those who are willing to put in the work. In fact, there are many people who make a full-time living from affiliate marketing. 
While it may not be easy to get started, affiliates who are able to build a successful business can reap a lot of rewards. If you're willing to invest the time and effort, affiliate marketing can be a very lucrative way to make money online.
How do you start affiliate marketing
Affiliate marketing is super easy to start. All you need is a unique referral link and a way of promoting that link.
For example, if you have a blog about fashion and you review and promote different products on your blog, you could be an affiliate for a clothing company. If someone clicks on your unique link and makes a purchase, you would earn a commission.
There are three main players in the affiliate marketing process:
the merchant (also known as the brand or retailer)
the network (also known as the affiliate program)
the publisher (also known as the affiliate).
The merchant is the company that creates and sells the product or service.
The network is an intermediary between the merchant and the affiliates (publishers) that allows affiliates to find products to promote and provides tracking for merchants to see how much their affiliates are earning.
The publisher is an individual or company that promotes the merchant's products or services in exchange for commissions.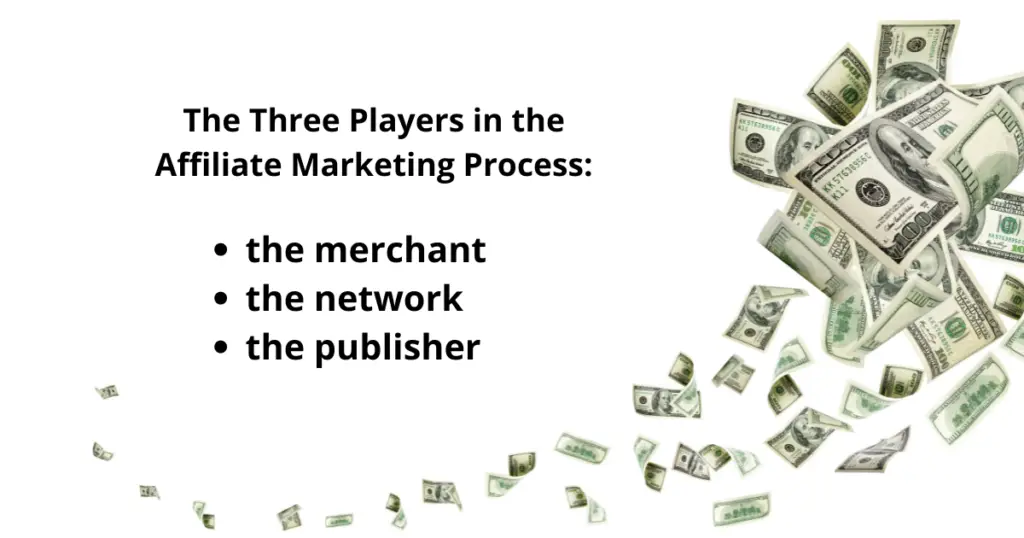 How affiliate marketing works
In order for affiliate marketing to work, all three players need to be involved. It's not enough for the merchant to create a great product – they need to partner with an affiliate program (or network) that has high-quality affiliates who can promote their products. 
Likewise, it's not enough for affiliates to simply sign up for a program – they need to be actively promoting the merchant's products and driving traffic to their website. Otherwise, there's no way for the merchant to know how much they're earning from their affiliates.
This is why most successful affiliate programs have an application process. They want to make sure that their affiliates are committed and have a genuine interest in promoting their products. 
Once an affiliate is approved, they'll be given a unique link (called an "affiliate link") that they can share on their website or social media channels. When someone clicks on this link and makes a purchase from the merchant's website, the affiliate will earn a commission.
Choosing an affiliate program
One of the first steps in starting an affiliate marketing business is finding an affiliate program (or network) that offers products or services that align with your niche. For example, if you love makeup, you might sign up for a beauty-related affiliate program like Amazon Associates or ShareASale.
However, don't go sign up to every affiliate program you see. Not all programs are created equal – some are much more reputable than others. So, it's important to do your research before signing up for any program.
What are some tips to succeed in affiliate marketing
If you want to be successful at affiliate marketing, there are a few things you need to keep in mind.
1. Have a website that converts
The first step to being successful at affiliate marketing is having a website that converts. This means that when people visit your site, they should be interested in what you're offering and more likely to buy the products or services you're promoting. There are a few ways to make sure your website is converting well.
Make sure your content is relevant and interesting to your target audience. If you're trying to promote products that nobody on your site is interested in, you're not going to make any sales. 
Write compelling copy that will make people want to buy what you're selling. And finally, use effective call-to-actions (CTAs) throughout your site to encourage people to take the next step and purchase the product or service you're promoting.
2. Drive traffic to your site
Another important factor in affiliate marketing success is traffic. You can have the best website in the world, but if nobody knows it exists, you're not going to make any sales.
There are a variety of ways to drive traffic to your site, including search engine optimization (SEO), social media advertising, and paid traffic sources like Google AdWords.
3. Build an email list
Another great way to promote products as an affiliate marketer is through email marketing. This involves building up a list of subscribers who have given you permission to contact them with offers and promotions. You can then send them periodic emails with links to products or services you're promoting, which they can then purchase if they're interested.
To build an email list, you'll need an email service provider such as MailChimp or AWeber. You will also need a way of collecting emails from visitors to your sites. This can be through a sign-up form on your homepage or pop-ups throughout your content. Once you have collecting emails set up, simply add your affiliate link in each of your promotional emails prompting recipients to purchase the product.
Affiliate marketing can be a great way to earn some extra money from your website if done correctly. Remember that success starts with having a website that converts well, driving traffic to your site, and building up an email list of subscribers who trust your recommendations. Follow these tips and you'll be well on your way to affiliate marketing success.
What not to do
There are some things you should avoid in affiliate marketing if you want to be successful.
Don't: Spam your links everywhere
When it comes to promoting your affiliate links, quality is more important than quantity. You might be tempted to spam your links all over social media or even in the comments section of other blogs, but resist the urge! This will only lead to people tuning out your promotions and could even get you banned from your affiliate program. Instead, focus on promoting your links in a few strategic places where they will actually be seen and clicked on by potential customers.
Do: Follow the Terms and Conditions of your affiliate program
Before signing up for an affiliate program, be sure to read the terms and conditions carefully. Some programs will have strict rules about how and where you can promote your links. If you don't follow these rules, you could end up getting booted from the program. 
Once you're accepted into an affiliate program, take some time to familiarize yourself with the rules and requirements so that you can be sure to follow them.
Don't: Promote products you wouldn't use yourself
It's important to only promote products that you would actually use or recommend yourself. If you wouldn't use the product yourself, why would you expect anyone else to? 
Don't waste your time promoting products that aren't going to sell simply because the commission is higher. It's not worth it in the long run. Stick with products that you know will sell well and that you would feel good about recommending to others.
How do you get paid
Something else that you have to consider is how you will get paid. 
First, what is the currency of the products you are promoting? If they are in different currencies, it may be worth considering a multi-currency account (like Wise) so that you can minimize any conversion fees. 
Second, what payment methods do your affiliate program offer? Some programs only offer PayPal, while others may offer bank transfers or direct deposits. 
Third, how often will you be paid? Some programs only pay out once a month, while others may have weekly or bi-weekly payouts. 
These factors shouldn't be a make or break for your platform selection, but it is important to understand.
Final thoughts on affiliate marketing
So there you have it! That is affiliate marketing in a nutshell. Although it might seem like a lot of work, if you do it right you can make a lot of money.
Just remember to be patient and to always keep learning and growing as an affiliate marketer. With these tips, you will be on your way to success.
Are you interested in trying affiliate marketing? What affiliate programs have you heard of? We'd love to hear from you in the comments section below!

Matt is a stay-at-home dad and business owner. He has been able to create his dream life while working at home.
With a master's in business, Matt lives in Sweden and is interested in helping others find ways to make money. He writes about finding new income streams and increasing passive income on his website thewahman.