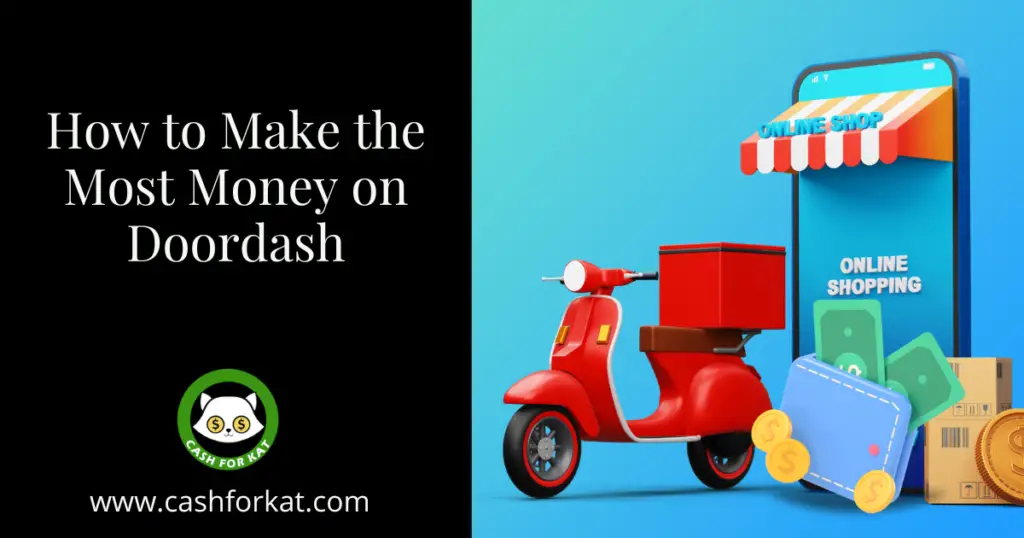 By now you may have heard of (or used)
DoorDash
. The app is a popular platform and
side hustle
that offers individuals the opportunity to make money as delivery drivers. 
Due to its convenient and flexible nature, users of the platform are always looking for ways to maximize their earnings. 
In this article, I'll share some tips on how to make the most money on DoorDash. I'll explain why the effort of driving can pay off in big ways and how to ensure you get the most out of every delivery!
Why DoorDash?
Working for DoorDash is a great way to increase your income while still having the freedom to work when you want. The simple sign-up process makes it easy to start earning an income ASAP. By following these tips, you'll get the most bang for your buck!
The Possibilities of Earning Through DoorDash
DoorDash offers a great opportunity to earn an income. However, many dashers are unaware of all the benefits DoorDash has to offer. 
As of 2021, there were about 2 million couriers delivering for DoorDash. According to Glassdoor the average salary of a courier driver ranges from $17 to $20 an hour. 
That said, if you approach your DoorDash deliveries with a strategic mindset, you'll see that there's a lot of room for growth than you may have anticipated.
But what are the possibilities of earning through DoorDash?
The delivery platform offers three main ways to make money. Let's discover more about them!
1. Base Pay
DoorDash offers a base pay which represents the minimum amount of money every dasher gets for a completed delivery. The DoorDash app calculates the base pay according to various factors, including:
Delivery distance
Estimated delivery time
The desirability of the order
The base pay is typically higher during peak delivery hours and lower during slower delivery times. 
2. Tips
DoorDash delivery drivers can also receive tips directly from their customers. Customers have discretion over how much they'd like to tip. These tips are very important for all dashers, and without them, their income relies on the base pay which can be very low.
Although the tip rate varies based on your customers, most people who order from DoorDash tend to tip 10–20% of the order's total. Of course, there's always going to be a customer who won't tip you, which is why I'd recommend not relying on tips. 
3. Promotions
DoorDash also offers various promotions and incentives to increase your final earnings. Some of those promotions include peak pay and guaranteed earnings incentives.
What Are Some Tips On How To Make The Most Money On DoorDash?
Since DoorDash allows you to set your own schedule, opt to work a peak times such as lunch hour or dinner time. You should also definitely take advantage of working on Surge Pricing days and utilizing bonus offers. Another helpful tip is to try to stay active even during slower periods. Doing your best to understand surge zones and even using multiple devices for simultaneous orders can be helpful for earning more.
Additionally, it's important to remember that tips are always an extra bonus so be sure to be polite and friendly with each customer!
7 DoorDash Tips for Increasing Your Earnings
1. Find the Best Time of The Day To Dash
The time of the day in which you do deliveries can have a significant impact on your overall earnings. Because of that, you should find the best time to dash to increase your earning potential. Most of the time, peak hours are during lunch and dinner, as that's when most people order food.
However, peak hours could also be during the mornings and late evenings. If possible, experiment to find out which of these times works best for you and to create your dashing schedule.
2. Maximize Tax Write-Offs
Did you know delivery drivers for DoorDash are not regular employees? These people are independent contractors, meaning that all dashers are responsible for paying their own taxes.
As dashing already carries various expenses, you can maximize tax write-offs by deducting the costs of gas, tolls, equipment, or any other business-related expense you may have.
Taking advantage of these deductions can allow you to significantly reduce your tax bill and therefore have higher yearly earnings.
3. Provide an Excellent Experience for Your Customers
To increase your earnings possibility on DoorDash you need to provide an excellent customer experience.
After every delivery customers can rate you and their satisfaction. Good ratings will boost your deliveries and earnings, while low ratings could cause you to lose opportunities.
Because of that, try to increase your customer support experience by being punctual, efficient, friendly, and adaptable. This will allow you to leave a good impression on your customers and thus lead to higher earnings.
4. Schedule Your Deliveries in Advance
When there are a high level of dashers in any particular area, the area may turn grey on the Dasher side of the app. This prevents new dashers to the area from taking on any deliveries.
Because of that, it's a good idea to schedule your deliveries in advance and choose to deliver in higher-paying locations. If the area you usually service is starting to get more competition, don't fret—there's a workaround. Simply access the DoorDash app a day before and book the area and time slot you want to work at beforehand.
A great thing about this DoorDash trick is that you can book dashes up to 6 days in advance, which gives you plenty of time to prepare and create a steady delivery schedule.
5. Know Which Deliveries To Accept (And Which Ones To Decline)
Dashers who deliver on DoorDash make a base pay for each delivery. This is determined by the delivery distance, expected delivery time, and other factors.
Because of that, not every delivery will be worth your time. It's essential to learn which deliveries will earn you money and which deliveries may lose you money.
As a rule of thumb, try to avoid deliveries with a base pay lower than $2 per mile. Anything lower wouldn't even cover your gas costs.
Additionally, you should try to avoid:
Orders too far away from hotspots
Orders from Walmart
Fast food drive-through orders
6. Patiently Wait at a Dash Hotspot
DoorDash creates a map of hotspots that typically get the most deliveries. For example, these are areas with dozens of restaurants that receive a high amount of orders. Although these hotspots are not always 100% accurate, patiently waiting at a Dash hotspot should typically allow you to get more high-paying deliveries which will help to increase your earnings.
7. Use Your Bike for Deliveries
While making DoorDash deliveries using your car may be convenient, but earning potential would be much higher when using a bike. Making deliveries with your car will result in spending money on gas, possible repairs, and vehicle maintenance. These aspects can affect your final earnings.
On the other hand, using a bike for your deliveries has no hidden costs. You can earn more as your spending costs decrease.
Why Should I Use DoorDash?
Delivery driving on DoorDash may seem tedious, but hard work on the app pays off in big ways. DoorDash rewards its drivers with bonuses or incentives such as surge pricing discounts and completion bonuses.
Additionally, DoorDash will set goals for its drivers, such as completing a certain number of deliveries within a set period. Completing these goals can result in additional rewards like increased hourly payouts or bonus amounts for individual drops!
Is Driving For DoorDash Worth It?
Making DoorDash a worthwhile side hustle depends on your circumstances. If you live in an area that you know has a high delivery rate—a college town, a busy city, etc.—Dashing may be a great way to earn income. Factors like driving a hybrid car, living close to restaurants and grocery stores, and scheduling are also important to consider.
Who Should Drive For DoorDash?
Anyone who has a mode of transportation can work for DoorDash. A bike, motorcycle, car, and Vespa are all valid types of transportation. Those who are looking for a side hustle with flexible hours and a straightforward design will benefit from Dashing.
Final Thoughts
Making money through DoorDash can be incredibly rewarding, especially when done correctly.
 Anyone can work for DoorDash and make a sizable income from doing so by looking into the hidden benefits and maximizing the app's full potential. 
Delivering during peak times, minimizing spending costs, and utilizing tax write-offs are all examples of how you can earn more. By following these tips, drivers can increase their earning potential substantially.
Have you delivered for DoorDash before? How much money do you think you could make as a DoorDash delivery driver? I'd love to hear from you in the comments!