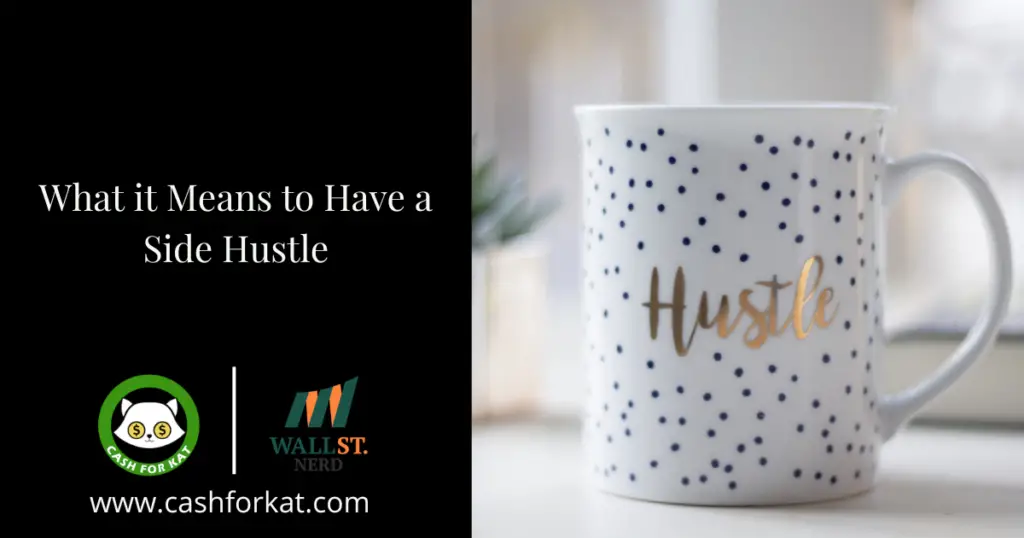 Today's guest post on, "What it Means to Have a Side Hustle", was written by Alexander Kelm from The Wall St. Nerd.
This is Cash for Kat's 7th guest post! If you would like to start at the beginning, check out Zero to Full-Time Income by Kathrin from A Chat with Kat. Our last guest post was on Why is a Budget Important by Robyn from A Dime Saved.
Without further ado, here is everything you need to know about what it means to have a side hustle and how it can bring you freedom!
What it means to have a side hustle!
When it comes to money, most of us probably wouldn't mind having a little more of it.
Maybe you want to have an advance on paying off debts, plan a wedding, or get one step closer to being a homeowner.
Whatever you're planning, a side hustle is always a good idea.
Nearly half of full-time workers in the US have at least one side hustle. Many of them earn up to an extra $1,000 a month, often more.
And in today's digital world, it's never been easier to get a side hustle.
What is a side hustle?
While side hustling has been around for a while, it has really become popular in the recent years with the rise of the gig economy (ie: Fiverr and UpWork).
A side hustle is a way to earn money alongside your full-time job. Most commonly, a side hustle refers to a second job that is done part-time.
Having a side hustle or two not only gives you the freedom to pursue your passion. It also allows you to get paid and develop your skills in your spare time.
You can use the money on the side to treat yourself at the end of the month or save it for later -depending on what suits your lifestyle and current situation best.
Why should you have a side hustle?
Why not?
Having multiple sources of income creates a real safety net in case something goes wrong.
We live in unprecedented times when it comes to economic stability. Jobs that used to be something "for life" can now disappear overnight.
This is why it is so important to have an extra layer of income on top of your day job.
Most people fall into three categories when asked why they have a side hustle:
Nearly half of employed Millennials have one or two-second jobs. That's 10% more than Generation X and nearly 50% more than Baby Boomers.
It's no wonder Millennials are taking on side hustles in today's uncertain and ever-changing economy. As education debt in the USA and other developed countries continues to rise, extra money is more than welcomed by many.
There's no worse feeling than realizing you barely have anything left after paying your bills. And we're not talking about having to say "no" to happy hour because you treated yourself to new shoes last month.
A side business is a great way to have an extra job at the ready that allows you to spend extra money. But essentially, it's a way for you to take back the reins on your finances and create your own future.
It's also a great way to develop and expand your skills, network, and even learn how small businesses work.
Strive for financial freedom
Financial freedom (or lack thereof) is a serious issue, and scientists have even figured out how money can buy us happiness.
A side business is a great way to take steps toward financial freedom.
You can use the extra money to:
Pay off debts
Invest more money
Fund big expenses, like a wedding or special education
You may have to wait a long time if you are looking for a promotion in your job, as wages have not been increasing globally for some time.
At the same time, the cost of living for the average person has risen steadily in recent years.
Taking matters into your own hands and putting a price tag on your skills and time can make a real difference on your path to financial independence.
Career development
The best thing about side hustles is not the money, although it is a benefit of course. It's about developing professionally and learning new skills. It can make you more marketable in the long run.
Throughout the working day, you perform a predefined set of tasks. For example, you have been hired as a business developer and have a set of tools and specific goals you want to achieve.
If you are working on your day job in business development, you are probably not familiar with the accounting or invoicing departments. It's just not your job, is it?
A side business could provide you with valuable experience and teach you many new skills.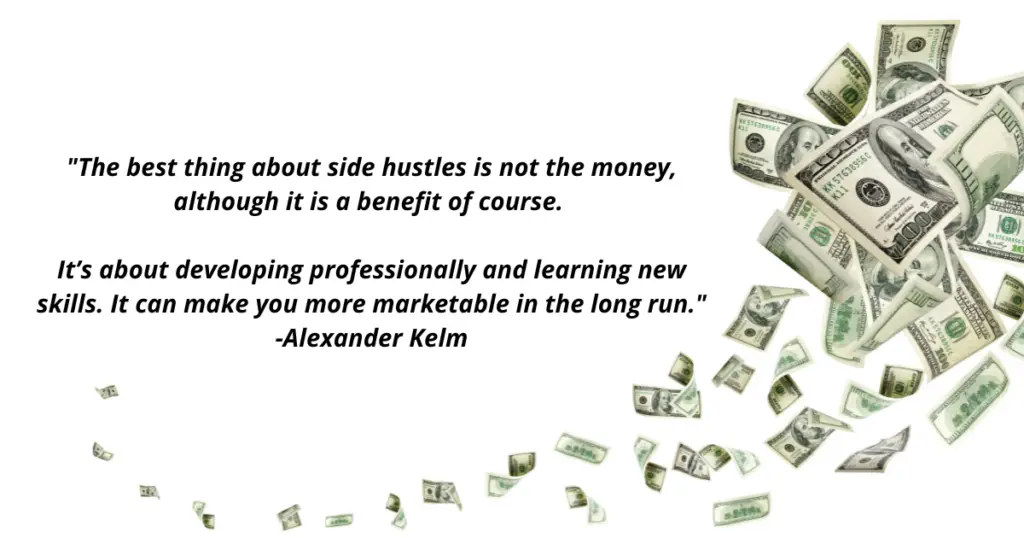 Why I became a Side Hustler
My main job is still as an employee at a local start-up incubator where I advise and support founders with their business projects. This is also a lot of fun for me, as I deal with creative and smart minds on a daily basis. (I have already written about my work as a start-up consultant – you can read more about my work here).
The work alone doesn't satisfy me personally, and from my point of view, it's not a job I want to do for the rest of my life. Therefore, I have started to create my own projects that can also provide me with another income.
My current side hustles
I would like to introduce my current side hustles. As my passion for investing is in equities, it is not particularly surprising that I have made a small side hustle out of this. Through my accounting skills and understanding of business models, I have been able to build a 6-figure stock portfolio that generates me 4-figure returns from dividends per year. I mostly reinvest this income back into shares or company participations.
Through years of experience as an investor, I decided in 2017 to teach about investing in stocks at a local community college. By lecturing, I have created another source of income that brings me money every month.
Last but not least, my favourite – Wall St. Nerd – a blogging and affiliate marketing business, with plenty of scope to create. Wall St. Nerd is my personal website and blog. Here I show you how to make money, invest it and build businesses. Through Wall St. Nerd I make money from personal coaching, ads and affiliates – that is, from products I use myself. (I also wrote an article about my income sources – you can find it here).
So, now you know my top 3 side hustles. But wait, there's something big yet to come.
My new side hustle – the e-commerce marketing agency
Since the spring of 2022, I have started an e-commerce marketing agency with a friend. Our company is based in Germany and the Netherlands, so we can focus strongly on the local market and know directly what our customers want.
Since Germany is not yet as digitally developed as other countries, this plays directly into our hands, and we were able to accept our first orders quickly after the foundation. First and foremost, we decided to develop websites, but later it became clear that online shops are more in demand because the margins here are much higher than for websites for companies or start-ups.
Furthermore, we now also look after clients in terms of paid advertising and can generate even higher margins through this.
I still work as a start-up consultant, but by focusing more on eagledev.xyz, we were able to generate a turnover of 20,000 euros in the first three months. And that's just as a sideline.
Together with my co-founder, I am now planning to restructure the company from a partnership into a corporation so that I can also hire employees. That way we can process even more orders, create jobs, and personally earn more money. But my biggest goal is to be able to hang up my 9-5 job and be my own boss.
What does it mean to me to be a Side Hustler?
Being a Side Hustler is very special, but also very time-consuming and exhausting. Above all, you learn a lot, not only how to deal with software and its technologies, but you also learn a lot about yourself.
You develop personally very quickly and, on top of that, you earn more money, allowing you to buy the things you want and travel as you wish. The bottom line for me is Side Hustling equals Freedom!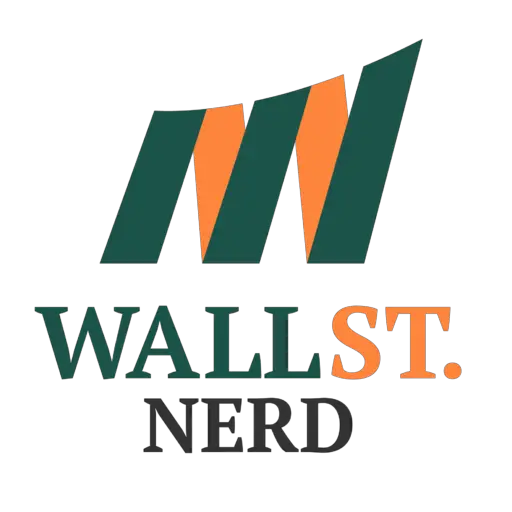 If you enjoyed this post from Alexander Kelm, check out his website. For more about investing, online business, or side hustling, plus Alexander's journey toward financial independence, be sure to follow him on Twitter at @KelmAlexander.