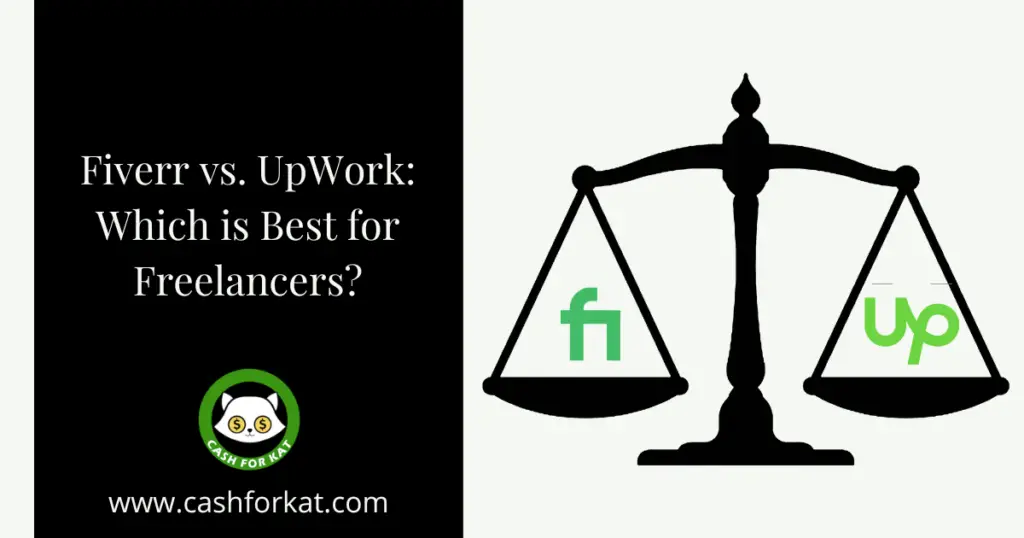 If you are a freelancer, you have likely heard of both Fiverr and UpWork. They are two of the most popular freelance marketplaces on the internet. But which one is better for you?
To answer this question we will focus on the three things that matter most to freelancers: ability to get clients, platform fees, and how long it takes to get paid!
Read on to learn if Fiverr or UpWork is the best for you to try out first as a freelancer!
Table of Contents
How hard is it to find clients on Fiverr vs. UpWork?
Fiverr and UpWork are two very different platforms when it comes to how you find work!
On Fiverr, it is the freelancers who post "gigs" and the clients who are able to browse through the options! On UpWork, you are able to respond to specific projects that are posted by clients using a virtual currency called "connects".
This alone should make it obvious why UpWork is easier for freelancers who are looking for their first clients! Read on to learn more about why actively applying to projects through UpWork is better than waiting for clients to find you on Fiverr.
If you are new to freelancing, I would recommend you also read my article on which freelancing websites are best for beginners! In this post, I cover the 7 most popular platforms and share which one is the most beginner friendly.
UpWork is easier to find clients because you can actively apply
The first freelancing platform I ever signed up for was UpWork and I will say it has changed a lot since I made my first $400!
When it comes to finding clients, I like UpWork more than Fiverr. That is because you can tailor your offerings to clients based on the project overviews they provide. It is easier to sell services when you can speak directly to the client before they make a purchasing decision. Additionally, you are in a better position to charge higher rates because you can really speak to your qualifications.
All of this can set you up for success on the platform. Of course the downside is that everyone else can do the same! That is why it is important to be very thoughtful about how you find clients on UpWork.
Fiverr is harder to find clients because it is passive
To get started on Fiverr, all you need is a profile that outlines your services. Once you have a profile, potential clients can browse through your various offerings in your project catalogue. The issue with this is that it is easy for them to look through hundreds of other profiles that are likely very similar to yours!
Most freelancers find that they have to invest time or money to get their first few clients on the platform. For those that invest their time, they try to get their first positive reviews by undercutting their rates and working below their value. For those who invest money, they tend to pump money into ads until they find a strategy that works for them or land there first several clients.
If you do not implement either of these techniques, you will find it very hard to get started on this platform for most fields (virtual assistants, content creators, etc.). That being said, if you are a specialist or are able to verify your past clients on the platform you might have more luck!
Fiver vs. UpWork: Who charges the most fees?
I will say that Fiverr really has UpWork beat in the fees department. This makes sense because Fiverr's original selling point was being able to purchase work for $5! Even though they've since expanded to offer a variety of price ranges, the emphasis on affordability is still there.
I would also like to note that Fiverr's fee system is much more simple to understand. UpWorks fee system reminds me of filing taxes, without the fun promise of a refund!
Read on to learn the nitty gritty details of both UpWork and Fiverr's fees.
Fiverr charges the least fees
In 2021, Fiverr significantly changed their fees for the better! They only charge a fee of 5.5% on orders above $50, with orders below that amount being charged a $2 "small order" fee.
Honestly, I don't have much more to say here! Fiverr charges super low fees and that is super great for everyone involved!
UpWork Charges the most upfront AND ongoing fees
On UpWork, they charge a steep 20% for the first $500 you earn with a client. Once you hit this threshold with that client, they then charge gradually less. For earnings between $500.01 and $10,000 with one client they will take 10%. For earnings over $10,000.01, they take 5%.
So unfortunately, most freelancers will end up always paying 20% unless they land a large client or are able to get recurrent work with one client. While both of these are possible, I can tell you right now that only one of my projects has passed the threshold into the 10% category!
Fiverr vs. UpWork: Payment Methods
The clear winner in this category is UpWork! This is likely because they have been around for an extremely long time and has always been open for international freelancers.
This category was harder to determine, because I think that the use of third parties like Payoneer and PayPal really makes both platforms accessible. That being said, UpWork does seem to offer slightly more methods which can really be a big deal because there can often be fees associated with payouts on top of the platform fees.
UpWork offers the most payment methods and currencies
UpWork is a global company and it truly shows when it comes to the different payment methods they have available! You can get paid in over 15 currencies across 70+ countries! Even though I usually opt to receive payments through the US, as a traveler it is nice to know that I can switch it to one of my international accounts too.
UpWork's payment methods include: US Direct deposit, International Direct Deposit, Payoneer, PayPal, US Dollar Transfer, and M-PESA by Vodafone. Of course, there are different fees associated with each payment method so take that into consideration when selecting your method!
Fiverr offers limited payment currencies (when compared to UpWork!)
According to their website, Fiverr allows you to withdraw funds in 6 currencies. This is significantly less than UpWork, though they do cover most of the western currencies for those of you who are located in these areas or have accounts that can accept these currencies.
Here are the 6 currencies Fiverr offers payouts in:
USD ($)
Euro (€)
British Pound (£)
Australian Dollar (A$)
Canadian Dollar (C$)
Israeli Shekel (₪)
I will note that Fiverr does allow you to withdraw through third parties (Payoneer and PayPal), which may be able to convert to your local currency if you have these kinds of accounts already! As with any payment method, there may be additional fees associated so be sure to take this into account when setting your prices.
Fiverr vs. UpWork: Speed of Payment
This category is a bit more challenging to compare because of the way UpWork is structured. They offer both hourly and fixed rate contracts, whereas Fiverr freelancers offer set projects (aka gigs).
For the purpose of this post, I will be comparing UpWork's fixed rate payout to Fiverr gigs. It is important to note that both platforms offer slightly faster payments for more experienced freelancers as well! It seems that they are both trying to appeal to talent and I've noticed they've both changed their payment terms over the last few years to be a bit more freelancer friendly.
UpWork can pay out in as fast as 5 days!
For fixed contracts, you can get your money in as little as 5 days! This is two days faster than Fiverr is able to pay out.
It is important to note that for hourly UpWork contracts, you will have to wait 10 days for the clearing period to pass. I will note that most of the projects I personally see on UpWork tend to be hourly, but it really does depend on the project. You can even sort by which kind of projects you prefer if the payment speed is a major selling point for you.
Fiverr takes longer, with a 7 day payout period
Fiverr's payout period is a bit longer, but still not bad because it takes only one week!
All in all, I would say that UpWork is the better platform for freelancers. They have more payment options, faster payouts, and it is easier to find clients. What do you think? Let me know in the
Fiverr vs. UpWork: Which is best for Freelancers?
After considering the three categories listed, I would have to say that UpWork is the best overall platform for experienced freelancers. For newer freelancers, your mileage may vary a bit more because you will need to really be selling yourself no matter what platform you use!
UpWork is the better platform for freelancers because they offer more payment options, faster payouts, and it is easier to find clients. They may loose in the fee category, but this is really a platform for more professional freelancers or those who run a freelancing business.
Fiverr is still a great option for freelancers who want to put together packages and have their clients select from their set offerings. This can make it a bit simpler since they are able to do the same work over and over again, even if it is harder to get started on this platform.
Have you tried UpWork or Fiverr? Which freelancing platform do you prefer? Let me know in the comments below!