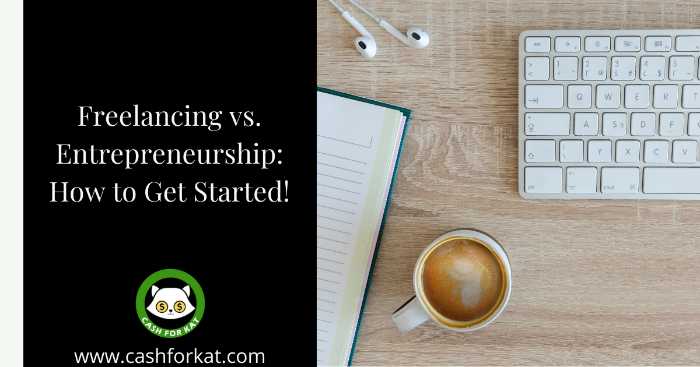 Making the decision between freelancing vs. entrepreneurship is not always an easy choice. There are pros and cons to both options, and it can be difficult to decide which path is right for you.
In this blog post, we will discuss the differences between freelancing and entrepreneurship, and help you decide which route is best for you.
Table of Contents
Freelancing vs. Entrepreneurship: What's the difference?
There is a lot to consider when comparing freelancing vs. entrepreneurship. The biggest difference between freelancing and entrepreneurship is that freelancers are self-employed, but they are not necessarily their own boss.
Freelancers provide services to multiple clients or companies, and they have the freedom to set their own hours and rates. You can even make a freelancing business while still working a 9-to5!
Entrepreneurs, on the other hand, are in business for themselves. They are responsible for every aspect of their business, from finding customers and managing finances, to marketing and team building. As you can imagine, entrepreneurs often face many financial setbacks that they have to overcome to be successful.
So which option is right for you? Let's take a closer look at the pros and cons of each to help you decide.
The Pros and Cons of Freelancing
Freelancing is often the starting point for individuals who eventually grow into entrepreneurs.
That is because freelancing gives people a taste of freedom! And, it can be a great way to earn extra income or supplement your current income.
The biggest downside of freelancing is that you are not in control of your work. You may have to work on a project basis and they may not always be a project you are interested in.
Additionally, freelancers can often feel isolated, as they do not have the camaraderie that comes with working in an office.
Freelancing Pros:
Easier to get started on a platform
You can be your own boss
Control over your workload
Choose your own hours
You can work from anywhere in the world
Freelancing Cons:
You may have to work long hours to find potential clients
You are responsible for your own taxes and health insurance
Your income can be unstable
Issues getting paid by clients
You may not have job security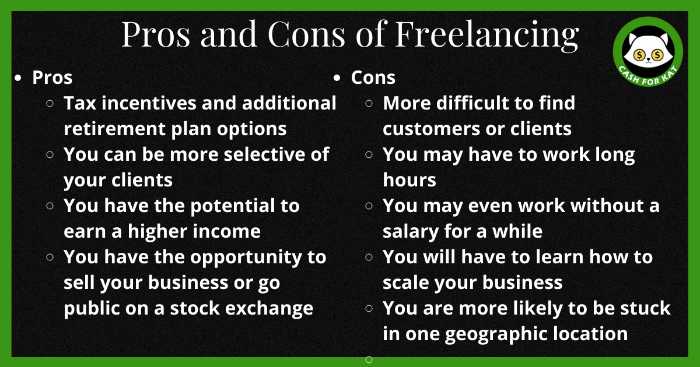 Overall, many freelancers decide to sell their services while still working a traditional job. Some are able to gradually increase demand to the point where freelancing becomes a steady job and they are able to quit their day job!
How to get started Freelancing
If you're interested in freelancing, the best way to get started is by finding a platform or marketplace that connects freelancers with clients.
Once you create an account and complete your profile, you can start applying for projects. Some platforms are even set up so that you don't need to apply for projects, the clients are able to search for you!
Upwork and Fiverr are all great platforms to get started on. You have to be very strategic about finding your first few clients, but from there it can be easy to make at least a few extra hundred dollars each month.
The Pros and Cons of Entrepreneurship
Many successful freelancers end up taking the plunge into entrepreneurship. This is part of why it is so hard to choose between freelancing vs. entrepreneurship!
While freelancing is typically a one-person show, it can grow to the point where you have more clients than you can support.
When you start to scale is when you become more of an entrepreneur instead of a freelancer. If your business is running without you always being present, then you are stepping into entrepreneurship!
Entrepreneurship Pros:
Tax incentives and additional retirement plan options
You can be more selective of your clients
There is potential to earn a higher income
You have the opportunity to sell your business or go public on a stock exchange
Entrepreneurship Cons:
It can be even more difficult to find customers or clients
Working long hours to get your business off the ground
You may even work without a salary for a while in favor of paying a team!
Learning how to scale your business
You are more likely to be stuck in one geographic location
Overall, Entrepreneurship can come with big financial risks but it is extremely rewarding to be a business owner. You have the opportunity to earn more money and can also leverage other people's money (or banks!) to scale quickly.
And even though it can feel risky to get started, it might make you feel better to know that 78% of small businesses are profitable.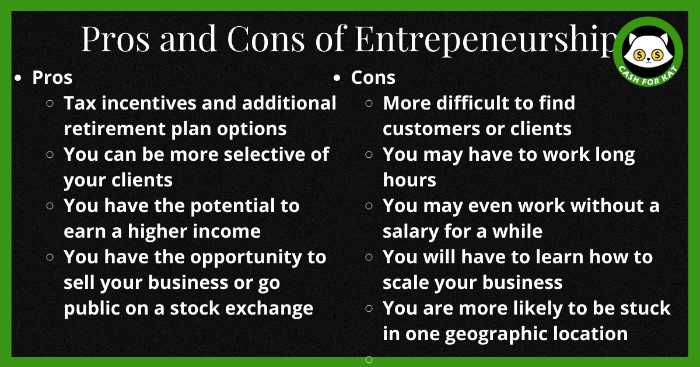 How to get started as an entrepreneur
If you want to pursue entrepreneurship, the best way to start is by coming up with a business idea. Once you have an idea, you can start researching the industry, writing a business plan, and finding your first clients. You will also want to find an office, or co-working space, and prepare a space for you to be able to work from home successfully.
You'll also need to think about how you're going to finance your business. If you're not able to get traditional financing, you may have to look into crowdfunding or angel investors.
Starting your own business can be a daunting task, but there are plenty of resources out there to help you start. I started my first business at 24 years old and shared some of the exact steps I took to create a sales funnel.
How I decided between freelancing vs. entrepreneurship!
It always feels weird to tell people that I started my business somewhat by accident. I had quit my job to travel the world at 23 and knew I would need to build an income to continue that lifestyle.
I decided to offer my services as a virtual assistant since I thought that there would be a good amount of demand. Eventually, I realized that I would be able to earn more money by offering sales-related services instead.
As my business grew, I naturally started to look for ways to earn more money that wasn't tied to me sitting at a desk. This was the turning point where I started to look into selling services that were more scalable.
Ultimately, I knew I would want to hire people to do some of the work while I focused on finding new business and growing the current projects we had!
This is why freelancing vs. entrepreneurship is not always a choice between one or the other. You can grow from being a freelancer into being an entrepreneur. And just because you are a business owner that doesn't mean you wont take on some freelance projects too!
Freelancing vs. Entrepreneurship: Which is better?
So, which is better for you? Freelancing or entrepreneurship?
Neither option is necessarily better than the other – it all depends on what you're looking for in a career.
If you want the freedom to choose your own projects and set your own hours, freelancing may be the right choice for you. But if you're looking for the opportunity to build something bigger, entrepreneurship may be the way to go.
I'd love to hear from you in the comments section! Are you a freelancer or taking the leap into entrepreneurship?