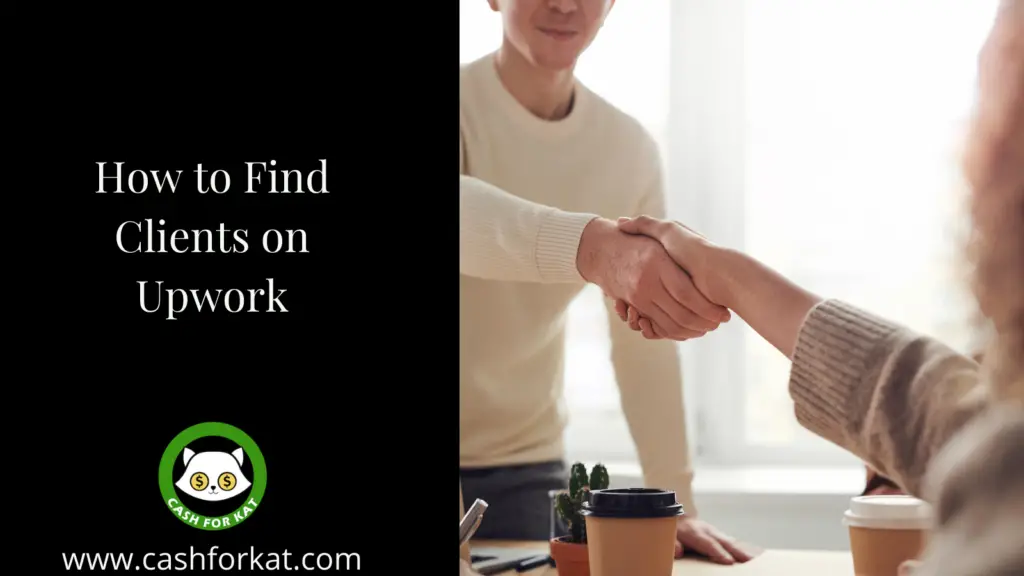 This post is a detailed guide on how to find clients on Upwork in 2023!
As you may have already guessed, there is a good reason that I've been quiet on the blog for the last three months. And that reason is that I've been really focused on increasing my income before the New Year!
In December, I dedicated some time to see if it is possible to gain long-term projects through Upwork. This post will cover all the tricks I've been using to find clients!
Table of Contents
How to find clients on Upwork in 2023
Upwork made a lot of changes to their platform that have made it a bit more user-friendly. It is now easier to filter through jobs, they are more generous with the number of connections requests you can send, and you can now verify yourself on the platform using a government ID.
Even though the platform is better in many ways, it is also much more challenging to find clients. I had to spend significantly more time updating my profile and writing personalized responses than I did when I first joined Upwork back in 2020.
Here is how I find clients on Upwork:
Be selective on jobs
Spend time personalizing
Only apply to detailed job posts
Find their pain points
Give them something to look at
Find recurrent clients
Use filters
Ensure you have the time
Get verified
Get reviews from your Upwork clients
As you can see, this list is much more detailed than my post on this topic from 2020! As more people turn towards working for themselves, you really need to go the extra mile to stand out.
The good news is that there is still a large demand for good talent. This means that there are lots of interesting projects available and some have decent rates!
Be selective on jobs
When I first tried Upwork, I would apply for jobs that I thought were interesting and that I could potentially do. This was great because I could expand my skill set and work on fun projects.
Unfortunately, this approach no longer works for me because of how saturated the platform is. I now apply only to jobs when I know I am a 90% fit for and have relevant experience. Even with this approach, I've learned that you really need to go the extra mile to close good clients. Keep reading to learn my other tips!
Spend time personalizing
Many of these jobs may state that they are willing to pay up to a certain rate, but the reality is that they will be flooded with offers from people who are willing to take the lower end of their pay scale.
Fortunately, many of these offers will come from people who are not a good fit but it still makes it a challenge to stand out. This is why I recommend that you be selective on jobs because you will need to spend at least 30 minutes creating a decent response to the post.
A good personalized post should reflect the needs the client stated in their post, provide a solution, and back that solution up with experience. The more relevant numbers/facts/examples you can use, the better!
This means that you should read the job description carefully. Sometimes you can even look at a few projects they've posted in the past to learn more about the client.
Only apply to detailed job posts
Let's be real, if the client hasn't taken the time to fill out the information about the job itself then they probably aren't going to take much time reading your application either. Additionally, it will be challenging for you to find their "pain points" that you can speak to when writing your messaging.
Save yourself some time by only applying to detailed job posts that give you enough information for you to make a case as to why the client should work with you!
You will need all of the information in their job description to create a detailed cover letter. It is not enough just to list out some of your past projects when going through the proposal process. You will really want to tailor your cover letter to get clients quickly!
Find their pain points
In sales, a pain point is a key issue that a client is facing. Usually, it will be variations of common problems. Some examples would be not having enough time to complete a task or that they are looking for someone who has specialized experience.
If you can identify what their main problems are, you can use your past experience to prove that you are a good fit. Be very specific about the projects you've worked on in the past, the approach you take, and the results you've had in the past.
Give them something to look at
In many creative fields, people are able to provide a portfolio of work for potential clients to look at. This is so powerful because it shows the client what they can expect.
Unfortunately, this does not translate to all fields of work! As someone who works more so in the realm of sales, it can be challenging to show my experience just by following Upwork's format. That is why I have started to give potential clients a detailed outline of how I would work with them.
This goes above and beyond what most other freelancers think of doing for these job posts. It also gives me a better chance of landing more clients at a higher rate because they can see that I put a lot of thought into my work.
This can include things like a launch call or providing drafts of work by a certain date. You can even include details such as the technologies that you use! Anything that you can include that will demonstrate your knowledge or ability is important. These little things will go a long way to convincing a client to work with you over a cheaper freelancer.
Find clients on Upwork that have recurrent projects
I don't even bother applying to one-time projects anymore unless they are for over $1,000. It takes at least 3 hours to find an ok client. This includes the time it takes to apply, finalize the requirements of their project, and communicate with them.
This means that those $200 gigs that will take you 10 hours to complete are only paying around $15 per hour after you account for the time you spent getting it in the first place. And you earn even less per hour if the client needs you to revise anything!
The only way a lower-paying project makes sense is if they are going to need your services monthly. It is better to find a few clients that pay monthly than to have a "higher" valued one-time project.
This is how finding more clients on Upwork can become easier over time. You can try focusing on finding one new recurring project each month instead of piecing together an income through one-time projects!
Filter out the bad clients to find the good clients!
This might be the most important thing you can learn about how to find clients on Upwork.
The reality is that you have only a limited amount of connections and can't apply to every halfway decent post. You have to be just as selective at finding a potential client as they are about finding a good deal.
Here are some of the criteria I use to filter out bad-fit clients:
They are new to Upwork (haven't hired anyone before)
The client's payment is unverified
If the client has spent less than $500 on Upwork
The client already has 20+ proposals (most people do first come, first serve out of the best proposals they receive)
If the project is less than 25 per hour OR the one-time project is less than $1,000
Their post is over 5 days old
The client hasn't viewed the post in the last 24-hours
If the client has bad reviews from other freelancers/ always gives freelancers bad ratings
A lot of disqualifiers, I know! As you can see though, it is pretty obvious why I've put these in place. I only want to work with clients who I know are serious about finding a freelancer through Upwork, are actively looking, and have realistic expectations/clearly defined goals.
If you set yourself up for success by being intentional about the projects you select, then you and the client will both have a better experience on the platform.
Ensure you have the time
Though it doesn't always come up in conversations, you should always be prepared to answer the question of how much time you have available for a project. Clients want to know that you have the capacity to give their project the time it deserves.
I'm personally extremely busy with my main contracts and already work around 50 hours a week. Since I know my schedule and energy levels, I always make sure that any project I take on will not detract from whatever I am currently working on.
This means I restrict my time to 1 hour per weekday for business-related calls and any additional projects I take on have to be flexible enough that I can work on them on Saturdays or if I have free time throughout the week.
As your business grows, you might be able to automate or create templates for a lot of your tasks. If your projects are large enough, you might even start to scale with a small team of your own!
Get verified
Upwork allows you to confirm your identity by taking a picture with your passport, state id, etc. This is great because it shows potential clients that you are a serious freelancer and also (obviously) a real person.
It also allows you to qualify for jobs that are only available in your country of origin. This may give you more opportunities than other freelancers depending on the job market and what clients are looking for. As with anything in life, your mileage may vary so be sure to check on Upwork to see current opportunities.
Get reviews from your Upwork clients
Reviews are one of the main things your potential clients will look at. If you've already done some work, you can reach out to a past client and ask for a review.
Of course, the best time to get a review is while you are currently working on the project. If you are doing ongoing work, there is no reason that you have to wait until the contract closes to ask for a review!
Before you close any contracts, you should always make sure the client is satisfied with your work and tell them you appreciated working with them. This sets finishes the project nicely and usually gives them the hint to leave a review.
One final tip is to try and get reviews from people who are similar to your target client. Most people want to work with someone who is more of a specialist in their field. By taking on relevant projects and receiving good reviews for them, your prospective client will consider your proposal more seriously.
There are many ways to find new clients on Upwork
Though these are the 10 things that have worked best for me, you may want to spend some time thinking of your own criteria. You may have noticed that most of my methods have more with my job selection criteria and the application process than the job itself!
This is because the job hunt on Upwork is starting to mirror the job hunt you would do in real life. You have to be more prepared for the interview process, be ready to speak to your skill-set, and be thoughtful every step of the way. Gone are the days of just applying to every opening on the platform!
I wish you the best of luck on your journey to finding clients on Upwork! If you have any questions, please leave them in the comments section and I will be sure to answer!
Have you found clients on Upwork before? What are the criteria that you use to find clients?