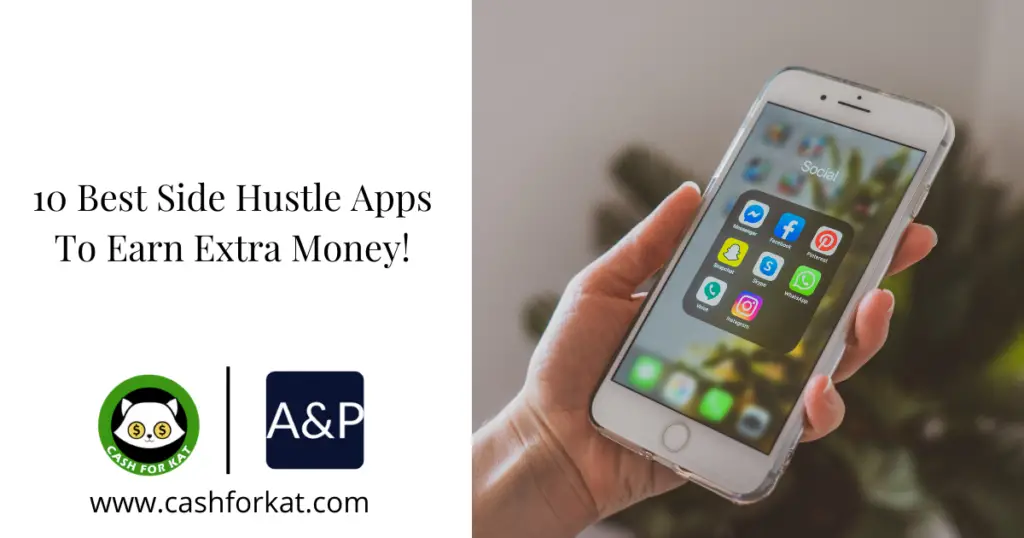 Today's guest post on, "10 Best Side Hustle Apps To Earn Extra Money", was written by Ash and Pri from AshandPri.com.
This is Cash for Kat's 8th guest post! If you would like to start at the beginning, check out Zero to Full-Time Income by Kathrin from A Chat with Kat. Our last guest post was on What it Means to Have a Side Hustle by Alexander Kelm from The Wall St. Nerd.
Without further ado, here is everything you need to know about the best side hustle apps you can use to earn extra money!
10 Best Side Hustle Apps To Earn Extra Money
Earning extra cash through side hustles doesn't have to be complicated. Now, you can download side hustle apps and earn extra money directly from your smartphone. 
More and more people are turning to side hustles these days. According to a survey by Self.inc, 45% of Americans are working on a side gig to earn more money. Whether you want to make extra cash to strengthen your personal finances or save up for a big purchase, side hustle apps are an excellent way to start earning more. 
Adding an extra stream of income goes a long way. Learn how to start a part-time job or add a side gig after your day job with these side hustle apps you can download today.
Table of Contents
Online Side Hustle Apps for Quick Cash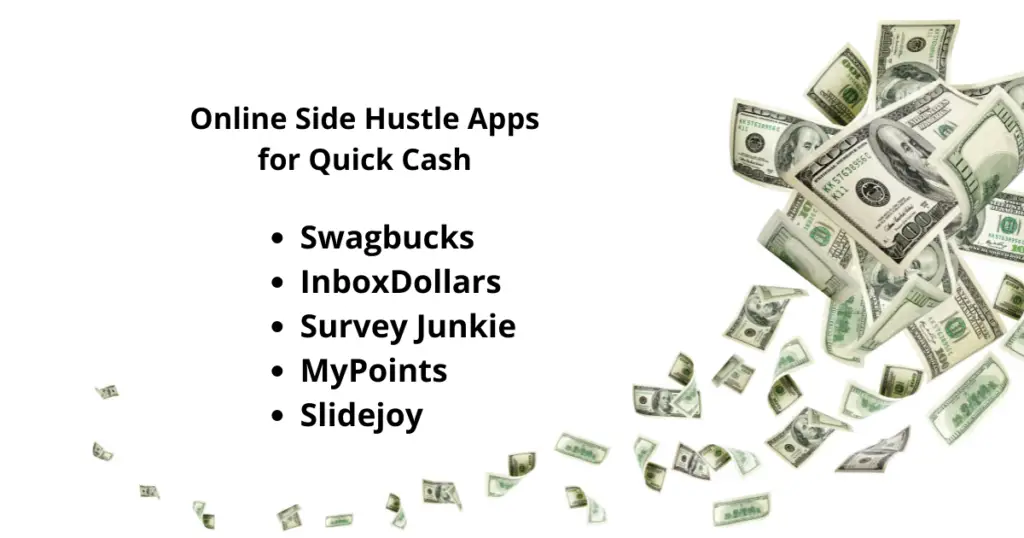 First, let's dive into the apps that allow you to make money at home.
1. Swagbucks
You can make a quick buck with Swagbucks today. This free online membership program app rewards users for completing small tasks like answering surveys, playing games, watching videos, searching the web, and more. 
Once you've completed the task, you'll earn SB points. If you make 100SB, it's equivalent to $1.
Swagbucks by Prodege has been around for over a decade. It's a trusted app by many people and has a B+ rating on Better Business Bureau's page. It has also been featured on Forbes, Wall Street Journal, and Mashable. 
Why we like it: You get rewarded with 1000 Swagbucks points just for signing up, which can be converted to $10. You can redeem not only cash but also gift cards and checks. You can also use Swagbuck points for donations (e.g., Red Cross, Doctors Without Borders, etc.). 
Earnings Payment Method: PayPal
Platform: iOS, Android, or access their site on your computer
2. InboxDollars
InboxDollars is another way to earn money that requires low effort. Brands partner with them so they can gain consumer reviews and insights about their products or services. You simply need to watch their ads and videos or play games on your phone. 
InboxDollars has been around since 2000 and has paid users over $60 million. When you want to withdraw cash, note that there's a $30 payment threshold for the app. 
Why we like it: You can have a $5 sign-up bonus even before working on the app. Plus, it's a great pastime because you have tons of options to earn money online. 
Earnings Payment Method: PayPal
Platform: iOS, Android
3. Survey Junkie
Another side hustle app you can download is Survey Junkie. Survey Junkie is created to help brands shape their products and services by asking real people to take surveys online to gather consumer insights. 
You can join the core Survey Junkie community and the SJ Pulse Community. SJ Pulse focuses on behavioral research. 
To start, build a profile and then complete surveys to earn points. When you earn enough points, you can redeem real money and send it to your PayPal. You can also exchange the points for e-gift cards. 
Why we like it: Answering their surveys can make a difference to brands. We think these types of surveys help build brands that are truly concerned about their market. 
Earnings Payment Method: PayPal
Platform: iOS, Android, macOS, Windows 
4. MyPoints
If you like shopping online, MyPoints is the app for you. This online rewards platform lets you earn money while you shop. Use the app while shopping on their partner brands so you can earn a percentage of your purchase back. 
Earning more points is possible by answering surveys, searching the web, playing games, watching videos, printing coupons, referring a friend, and completing daily bonus tasks. 
Shoppers get the most value from this app. MyPoints have partner brands, and the surveys help those brands improve their work. 
Why we like it: Members can get up to 40% back from their purchases. Plus, they have a versatile redemption option, too. You can exchange your points for cash or gift cards from Amazon, Barnes & Noble, and other popular retailers. 
Earnings Payment Method: PayPal
Platform: iOS, Android
5. Slidejoy
Earn a few extra bucks with Slidejoy. This side hustle app allows you to earn money by renting out your lock screen since it fills the lock screen with ads. 
You'll see the ads on your lock screen and engage with them by sliding left to unlock your phone. After that, the ad will redirect you to the advertisement's YouTube video or landing page. Of course, you still have the option to ignore the ads and unlock your phone normally. 
When signing up, you have two options: cash or donation. Choosing a cash account allows you to earn some money on your account. Meanwhile, a donation account means you agree that all your earnings from Slidejoy will go to charities. 
Why we like it: This app is an easy way to make extra money on the side. You simply have to unlock your phone to do the tasks. You can do this mindlessly during your free time. 
Earnings Payment Method: Square Cash, Paypal, or Google Play Credit
Platform: Android
Freelance & Gig Apps To Make Extra Money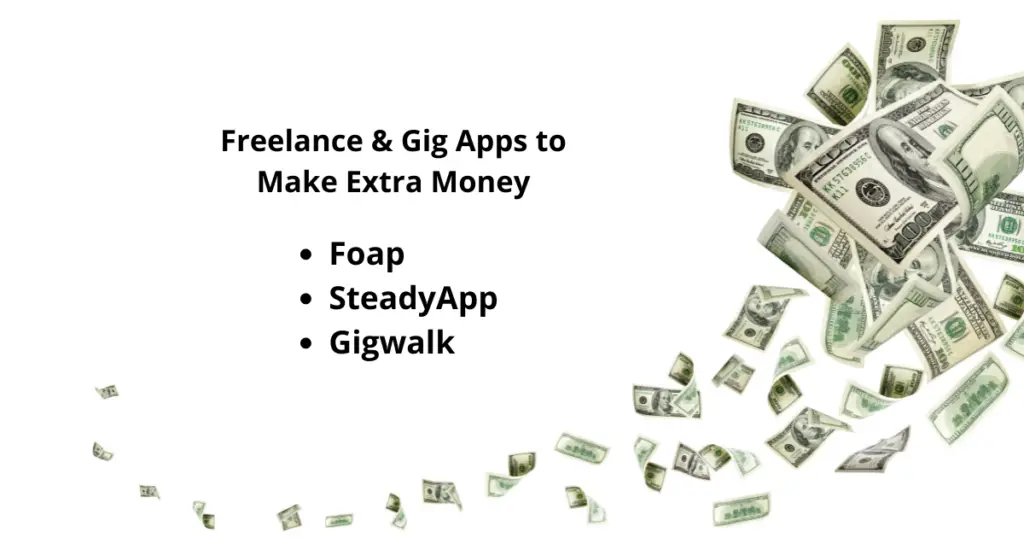 The gig economy is booming. Monetize your skills and hobby to improve your financial health. Earn more money during your spare time with these side hustles.
6. Foap
Are you good with photography? Shutterbugs will love this side hustle app. Foap is a legitimate way to earn money by selling your photographs or videos on their website. 
There are specific tasks called "Missions," where you photograph a subject based on the client's request.  You can also shoot video requests from brands. It's 50/50 earnings for you and Foap. 
Why we like it: Businesses buy from this app, so it's a great way to boost your portfolio if you're trying to get into freelancing or professional photography. Some big brands that bought photos and videos from Foap include Heineken, Nivea, Volvo, Viselio, and more.
Earnings Payment Method: Paypal
Platform: iOS, Android
7. SteadyApp
SteadyApp lets you use your existing skills to earn more money. Get paid to tutor kids, create graphic design elements, start blogging for niche clients, create advertisements, complete data entry, drive, or take part in any other part-time gigs.
Why we like it: SteadyApp allows people to choose from various gigs. They also have an income tracker feature to help you manage your income and an income booster feature to help users earn cash incentives with the help of their partners. 
Earnings Payment Method: Paypal, Cash, Bank (for members of income booster)
Platform: iOS, Android
If you are looking for more options, check out our list of the Best Freelancing Websites for Beginners!

Editor's Note
8. Gigwalk
Gigwalk helps brands collect data through the Gigwalkers. As a Gigwalker, you can become a mystery shopper or do a retail audit. You will work on tasks within your location, like checking if an item is marketed at a specific store, safety checks and inspections, surveying locations, and more. 
Submit your work on the gig page then the client will review your work. Your submission will be paid within 24 to 48 hours once everything is approved, although some clients may take up to 14 days to examine your work. 
Why we like it: Gigwalk is a good way to earn extra spending cash because the pay can range from $3 to $100 per gig. Working at Gigwalk helps brands create better products and services.
Earnings Payment Method: PayPal
Platform: iOS, Android
Pet-sitting Side Hustle Apps for Your Free Time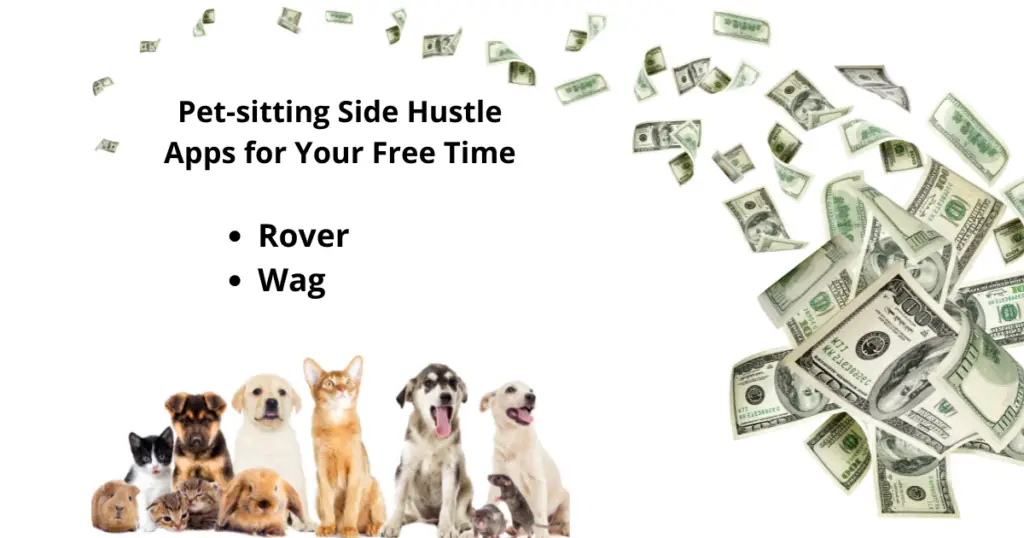 Your love for animals can help you generate extra cash. Check out these pet-sitting apps to get started.
9. Rover
Want to spend time with animals and earn money? You can join Rover as a pet sitter or dog walker. This app lets the sitter customize their services. 
For example, you can pick your schedule, set your price, and create a combination of pet care services like dog walking or boarding. Plus, you can select your preferences about the types of pets as well. 
Only people who are 18 years old and above can join Rover. Once you complete your profile and pass the background check, you can start building your profile and become an official sitter. 
Why we like it: Depending on your service, you can earn up to $1000 a month at Rover. Besides the fee you charge, you can also make a considerable amount in gratuities from pet parents.
Earnings Payment Method: PayPal or check
Platform: iOS, Android
10. Wag
Wag is a dog-sitting app that allows you to board, sit, and walk dogs. The main difference between Wag and Rover is that you can train dogs in Wag. So if you're a dog trainer, you'll want to try this app for your side hustle. Earnings from the app are based on your services and the cost of living in your area.
Why we like it: You can do this after your full-time job or during the weekends! Spending time with cute dogs is a great reason to try this app if you're a dog lover. Aside from the gig, you also get tips from satisfied customers. You can even gain repeat clients through this gig. 
Earnings Payment Method: Stripe-connected bank account
Platform: iOS, Android
Kickstart Your Side Hustle
Did an app pique your interest? These side hustle apps are a great way to make extra cash since most of them do not require specialized skills. Make money from home, take paid surveys, or walk a dog and connect with people. 
Not all side hustles are lucrative, but everyone has to start somewhere. Choose the one you like above and get started.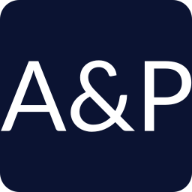 Ash & Pri are the founders of AshandPri.com, where they empower readers to make smart money decisions across all aspects of life. After achieving their FIRE goals in their 30s, they launched their blogging business in late 2021 and scaled it up quickly to generate a consistent income within a few months. You can find their expert financial advice & tips featured on sites like Forbes, GoBankingRates, Apartment Therapy, MSN, and more.