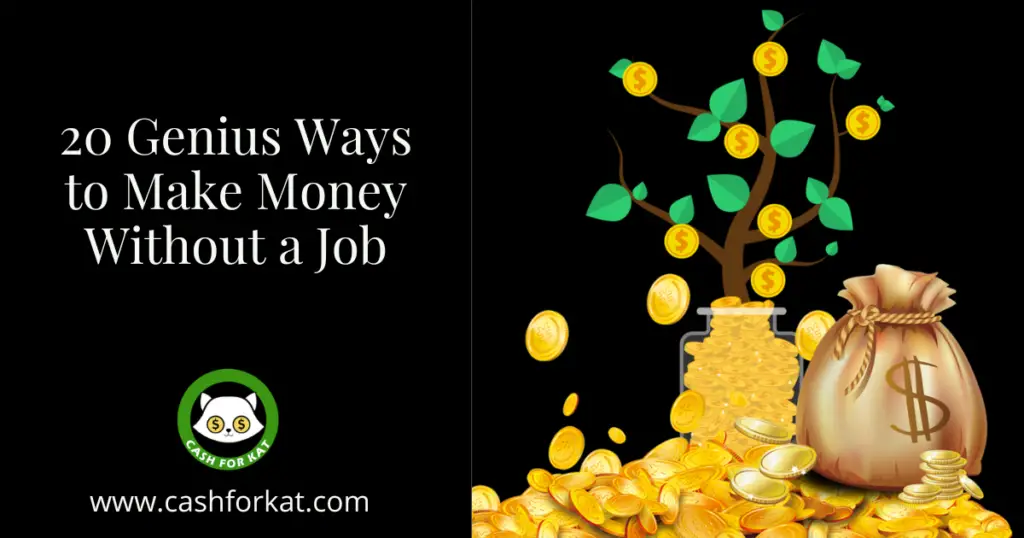 Making money can be daunting, especially if you don't have the structure of working a 9-5. With a little creativity and determination, it's possible to make a decent supplemental income through non-traditional roles. 
ICYMI: Many notice that they are able to make even more money through these side hustles than what they'd earn at a typical day job. These jobs are typically remote and can include reselling, renting out property, and starting a candy vending machine. The best part? You get to work on your own schedule. 
In this article, I'll share 20 genius ways to make money needed a 9-to-5. From renting out your possessions to selling handmade crafts online, this post has it all!
1. Renting Possessions Out
One way to make some extra cash quickly is by renting out possession. This could mean anything from renting out rooms in your house, to investing in an apartment to rent on Airbnb, or letting people rent items such as tools or camping equipment you own.
This is also a great money-making project for those who work a full-time job but want to gain another stream of income!
2. Selling Handmade Crafts Online
If you've got some creative skills, consider selling handmade crafts online through platforms like Etsy or eBay. This not only provides an outlet for creative expression, but it can also be very profitable!
All it requires is dedicating enough of your time toward making quality products. Then, you'll need to allocate time for posting them online with clear descriptions and good photos – easy enough!
3. Selling Virtual Designs
So, you're not the most crafty… That's okay!
The Internet has made starting a commerce business easier than ever. Certain websites allow you to upload your own designs onto planners or T-shirts. The platform will then take care of crafting the final product (and even shipping the item out) for you. 
4. Do Transcription Jobs Online
Consider getting a transcription job online. Becoming a remote transcriptionist is pretty easy, and it doesn't require you to have any special skills. Most importantly, transcription gigs are well-paid.
To start your online transcription journey, you can check out websites like OTranscribe, GoTranscript, and TranscribeMe.
5. Sell Your Photography Online
If you like photography and taking photos, you can turn your passion into a passive income. Various websites, such as Shutterstock, Adobe Stock, and EyeEm, allow you to upload your photos and earn a commission every time someone clicks on the photo or downloads it from the website. A plus about this side hustle is that your photos don't need to be professional to still earn some cash on the side.
6. Start Pet/Babysitting Sitting
Starting a pet-sitting or babysitting business is a convenient (and cute) way to make money on the side without necessarily requiring special skills. Neither of these jobs requires an initial investment, so you can start this gig today!
You probably have friends, family, or neighbors who have pets or kids, so that's where you can first start networking. This type of work is excellent for people who love animals or children and want to earn quick cash for working a few hours daily.
You'll need to be especially responsible and caring to have success in these roles. After you gain experience, more references will come and you'll be able to expand your network further.
7. Get Paid To Test Out Various Websites
A dozen different platforms will pay you to test websites, apps, or digital products and provide honest feedback about them. Some of those platforms include:
All you need to do is sign up and start working. This is an easy, flexible way to make money from the comfort of your home.
8. Create a Course & Sell It Online
If there's something you're good at, or you have some sort of skill or knowledge you want to share with the world and make some money out of it, consider creating a course and selling it online. 
ll you need to make this gig come true is dedication and creativity.  You can use platforms such as Canva to make a written or video course and sell it through Coursera, Instagram, or similar platforms to earn a passive income.
9. Become a Virtual Assistant
A virtual assistant position is ideal for those interested in remote work.
In fact, when I started traveling the world at 23 years old, this was the first type of freelance role I tried to obtain. It quickly snowballed to the point where I began running my own sales consultancy!
To excel in this role you'll need to be well-organized, communicative, and proficient with a computer. 
If you already have business-related skills, starting as a VA can be a great gateway into offering other services to your clients. For example, you can start running their social channels, helping with tax preparation, etc.
10. Start a Blog
For those with great writing skills, starting a blog feels like a no-brainer. Please note that it often takes at least 1-2 years to see a return on this kind of investment.
That being said, I personally grew this blog to the point where it brings in money every day… even if I don't post for a month! Granted, I'm still earning pennies but they are the most rewarding ones I've ever earned.
All you need to do is choose a blogging platform (I use Bluehost) and determine your blog's niche and name. After your blog is set up, you can develop content ideas and start publishing.
Nowadays, blogging is an excellent source of income as there are various ways to promote yourself and monetize your blog. Cash for Kat actually has 3 different income streams!
11. Become a Freelance Writer
If you have good grammar skills and know how to tell a story, consider becoming a freelance writer. This is ideal for someone who loves to write but isn't interested in starting a personal blog. You can find clients on UpWork, Fiverr, and ProBlogger.
12. Make TikToks or YouTube Videos
 If you're an extrovert who loves to be in front of the camera, consider making money out of making TikToks or YouTube videos.
Do I have to say more? I'm sure you already have a TikTok account—you just need the courage to get started. Organizing your content by making a plan is the best way to start. By promoting yourself to people interested in your niche, you can earn money through views and by promoting different products.
13. Take Online Surveys
Various websites, such as Swagbucks, Survey Junkie, Inbox Dollars, and LifePoints, will pay you a certain amount of money to complete an online survey. All you need to do is register on one (or all) of these websites, fill out your personal information, and start collecting cash.
14. Become a Mystery Shopper
As a mystery shopper, your assignment would be to go to stores and do a particular assignment, such as returning or purchasing a product. The goal is to observe the reactions and share your review with the company that hired you.
15. Rent Out Your Parking Space
If you have an available parking space, you can use it to make some extra cash on the side by renting it out. You can check in with your neighbors to see if they need a parking spot or make an online ad to promote your offer. 
16. Play Games on Twitch
If you like to play games, you can easily monetize your hobby by streaming on Twitch while playing. This platform will pay you a certain amount of money per the number of views your videos get. Twitch also allows you to get donations from viewers and earn a commission if someone buys a game through your channel.
17. Become an Online Tutor
Last but not least, consider becoming an online tutor. You can sign up to tutor others through platforms such as Tutor, Preply, TutorMe, and Cambly. There are no restrictions on what subjects you can teach — anything that falls into your area of expertise may apply!
18. Thrifting and Reselling
Thrifting and vintage clothing is a huge and sustainable trend worth investing in. To maximize this income you can create profiles on multiple different platforms like Ebay, Depop, or Poshmark. I'd recommend this gig to those who live in area with many thrift stores. 
19. Investing Your Money
Investing can be risky, but is well worth a try. You'll have to be the judge with what you're interested in investing in. Maybe it's stocks, businesses, or even collectibles. This is a great long-term way to earn passive income.
20. Create an Amazon Storefront
Alix Earle, who? Become a micro-influencer in no time with an amazon storefront. It's easy to create and you'll earn a passive income when friends and family buy from your storefront. Bonus points if you share with your followers on social media!
Another addition to this would be to create and promote affiliate links for products you enjoy. You can share these on social media.
Final Thoughts on These Genius Ways to Make Money
Overall, there are plenty of nontraditional ways for individuals to make extra money, 
Everything from renting out possessions to selling handmade crafts online can provide supplemental income streams that require minimal effort and time investments!
With the right determination and creativity, anyone should be able to find success with these strategies!
How have you made money in the past? Are there some ideas we could add to this list? I'd love to hear from you in the comments section!